'The Bachelorette': Sex Positive Katie Thurston Claps Back at Fan Who Says She's 'Not the Best Role Model'
Most of 'Bachelor' Nation supports Katie Thurston's sex positivity, but one social media user isnt' a fan. Find out what Katie Thurston said when she clapped back.
Katie Thurston is the lead in The Bachelorette Season 17, but she has also become synonymous with the term sex positive. Most of Bachelor Nation supports Thurston's outspoken attitude regarding her sexuality. But one social media user messaged the bachelorette to tell her she's "not the best role model." Find out what Thurston's reply was regarding sex positivity.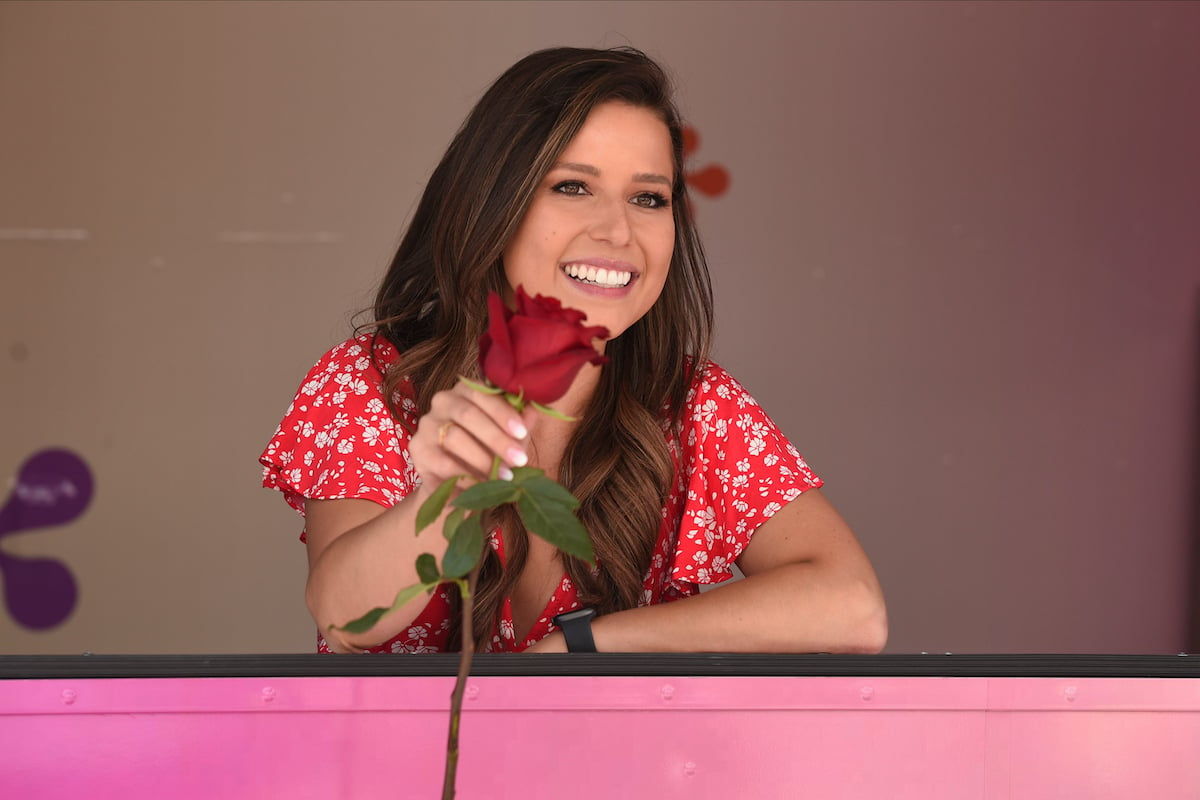 [SPOILER ALERT: Spoilers ahead for The Bachelorette Season 17, Episode 2.]
Katie Thurston brings sex positivity to 'Bachelor Nation' 
Bachelor Nation's first glimpse at Thurston was when she greeted Matt James with a vibrator during his season of The Bachelor. Throughout her time on James' season, Thurston formed a connection with the bachelor. But she was also a force to be reckoned with in the house. 
The 30-year-old bank marketing manager became an instant fan-favorite thanks to her sex-positive attitude and willingness to stand up to bullies. Ultimately, Thurston was eliminated in week 6 of The Bachelor Season 25, but the franchise announced her status as the next bachelorette during the "After the Final Rose" special. 
'Bachelorette' star Katie Thurston shuts down criticism about sex positivity on Twitter 
As the second episode of Thurston's season was airing, the bachelorette shared a message she received on social media regarding a Betches article. "Wish not so much about sex," the message started. "Younger girls [like us watch] the show, not the best role model for 13-17 [-year-olds]." 
Thurston shared the post on her Instagram Stories and Twitter with her reply. "This is the best age to talk about sex," Thurston began. 
Sex isn't a taboo topic. It's normal and natural. Chances are your teenager will engage in sexual activities so you might as well have an open conversation with them about it and offer a safe space for them to receive guidance and support.
Bachelor Nation rallied in support of Thurston's reply. "YESSS," said one fan. "Sex Education is very beneficial for young teenagers because like you said, they almost always WILL engage in some sort of sexual activities — might as well let them be educated on it." 
'The Bachelorette' Season 17 Episode 2 recap
The episode of The Bachelorette that aired on June 14 included plenty of drama. But it's one of the group dates that got Bachelor Nation talking. 
With the help of comedian Heather McDonald, Thurston's challenge asked the guys to prove their capability of becoming her "greatest lover of all time." Christian, Garrett, Tre, Quartney, Mike P., James, Justin, Thomas, Connor B., and Karl competed in the group date. 
First, the men were quizzed on their knowledge of the female anatomy. Then, they had to demonstrate what makes them Thurston's "greatest lover."  Some of the men sang songs; others performed stand-up comedy; then there was Tre, who used puppets to demonstrate his abilities in the bedroom.
Ultimately, "the virgin" Mike P. won the challenge with a letter to his future wife. "I have always wanted you to feel so loved and honored, and the best way for me to show you this is by saving myself for you," he shared with Thurston — and the rest of the contestants in the room. 
Later in the episode, Thurston sent Cody home for allegedly "being there for fame." Then, Karl added fuel to the fire by telling Thurston there were more people like Cody in the house. "My whole world is business, locking down contracts, making deals," he told cameras. "I'm going to make sure I step up to the plate; I deliver to the best of my ability."
Claiming others in the house are there for "the wrong intentions" was his method of attack. Thurston didn't take too kindly to it. Bachelor Nation will have to tune in next week to see how Karl's plan plays out.