'The Bachelorette': Katie Thurston Contestant John Hersey Spotted With Another Person From Bachelor Nation
Katie Thurston's season of The Bachelorette only just started airing, but the post-filming effects are playing out in real time. One of Katie's contestants from her new season was recently spotted with another person from Bachelor Nation.
[Spoiler alert: The following article contains predictions by Reality Steve.]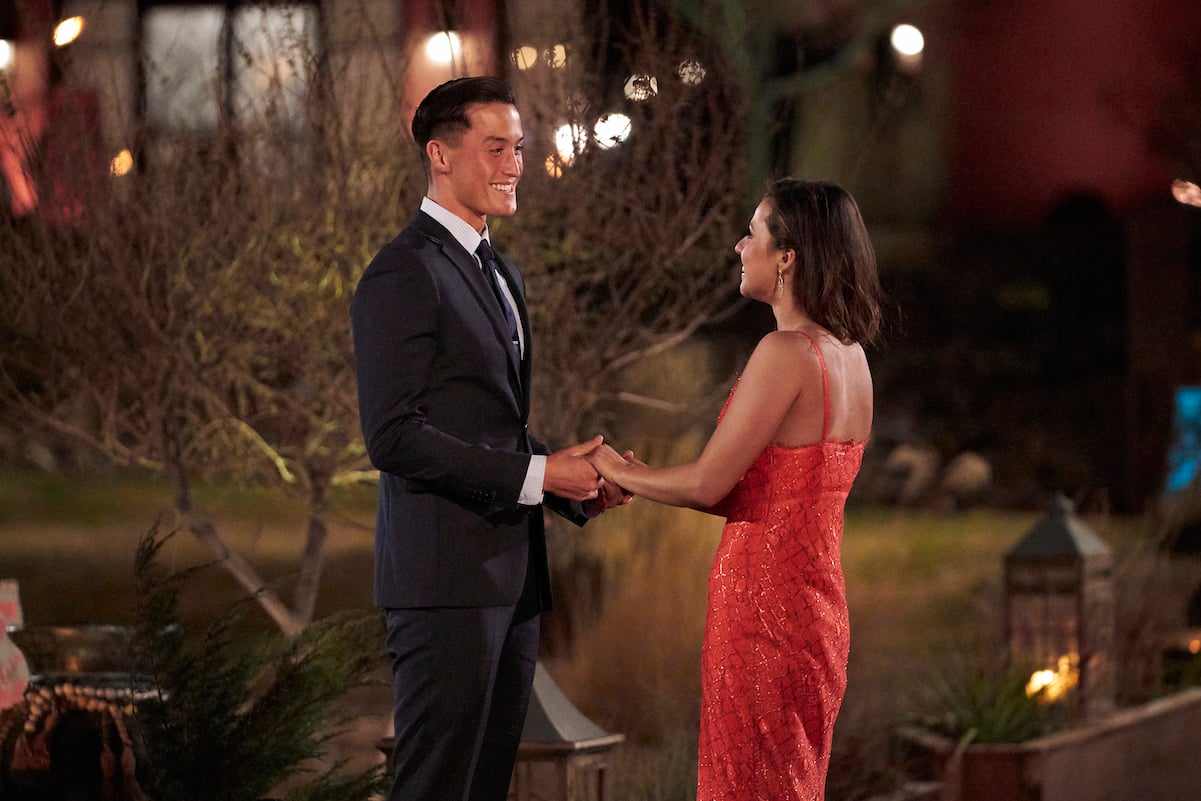 Reality Steve had formerly predicted John Hersey was in Katie Thurston's Final 4 contestants
Stephen Carbone, AKA Reality Steve, had predicted three of the final four contestants on Katie's season in mid-May 2021. He shared that Blake Moynes, Greg Grippo, and John Hersey were among the top four finalists.
However, after Katie herself posted a picture on Instagram dining at the restaurant John allegedly bartends at — Duke's La Jolla — Reality Steve amended the list of contestants. He retracted John being in the final four.
But Katie's not the only Bachelor Nation favorite spotted at John's reported place of employment.
Katie Thurston's 'The Bachelorette' contestant John Hersey seen with another Bachelor Nation alumn
RELATED: 'The Bachelorette': Reality Steve Spoilers Reveal Katie Thurston Contestant Going to 'Bachelor in Paradise' Season 7
Related post url: 
John was spotted at Duke La Jolla with a former contestant: The Bachelor's Katie Morton, per Reddit. The two were sitting together at a table, enjoying the scenic view near the beach. She was formerly on Colton Underwood's season of The Bachelor. She then competed on Bachelor in Paradise in 2019, where she got engaged to Chris Bukowski. The two split up months later, announcing their breakup in December 2019.
Reality Steve updated the Final 4 contestants on his website and John Hersey is not among them
On the day before Katie's season premiere, Reality Steve updated his final four list to reflect his new information. He shared that Greg and Blake were still among the last men standing. But Reality Steve added Justin Glaze and Andrew Spencer to the list of the remaining men.
The first night of Katie's bachelorette journey showed Greg and Andrew pretty prominently. Greg had a nervous demeanor throughout the night, but shared a special moment with Katie when he gifted her a necklace. Andrew made an impression on Katie early on by imitating an Austrian accent. The two laughed over his bad fake accent — he's actually from Chicago — later on in the night. Katie herself tried to do an Austrian accent to show she was game for the bit as well.
Katie also struck a connection with Connor Brennan, a teacher dressed up in a cat costume. The two shared cat puns while having one-on-one time, and messed up each other's makeup when they kissed. Many viewers thought that Connor would get the coveted First Impression rose — but it went to Greg, instead.
Blake has yet to show up on the season, but was teased in a preview for the June 14 episode. He first was on Clare Crawley and Tayshia Adams' season of The Bachelorette in 2020.
Reality Steve has yet to announce the final winner of the season — but he did confirm that Katie is in fact engaged.
The Bachelorette airs weekly on Mondays on ABC at 8 p.m. EST.