'The Bachelorette': Katie Thurston Defends Hunter Montgomery and His Tourette's Syndrome Diagnosis
Katie Thurston took to Twitter after the July 5 episode of 'The Bachelorette' to address fans who attacked Hunter Montgomery for 'snorting.'
Hunter Montgomery is quickly becoming one of the leading men from Katie Thurston's season of The Bachelorette. Some fans enjoy Montgomery's passion, while others in Bachelor Nation feel Montgomery could be the new villain of Thurston's season. 
During the July 5 episode, Thurston publicly addressed those fans poking fun at Montgomery's breathing. The Bachelorette star revealed something most of Bachelor Nation might not know about Montgomery's Tourettes Syndrome. 
[SPOILER ALERT: Potential spoilers about what happens to Katie Thurston and Hunter Montgomery in The Bachelorette 2021.]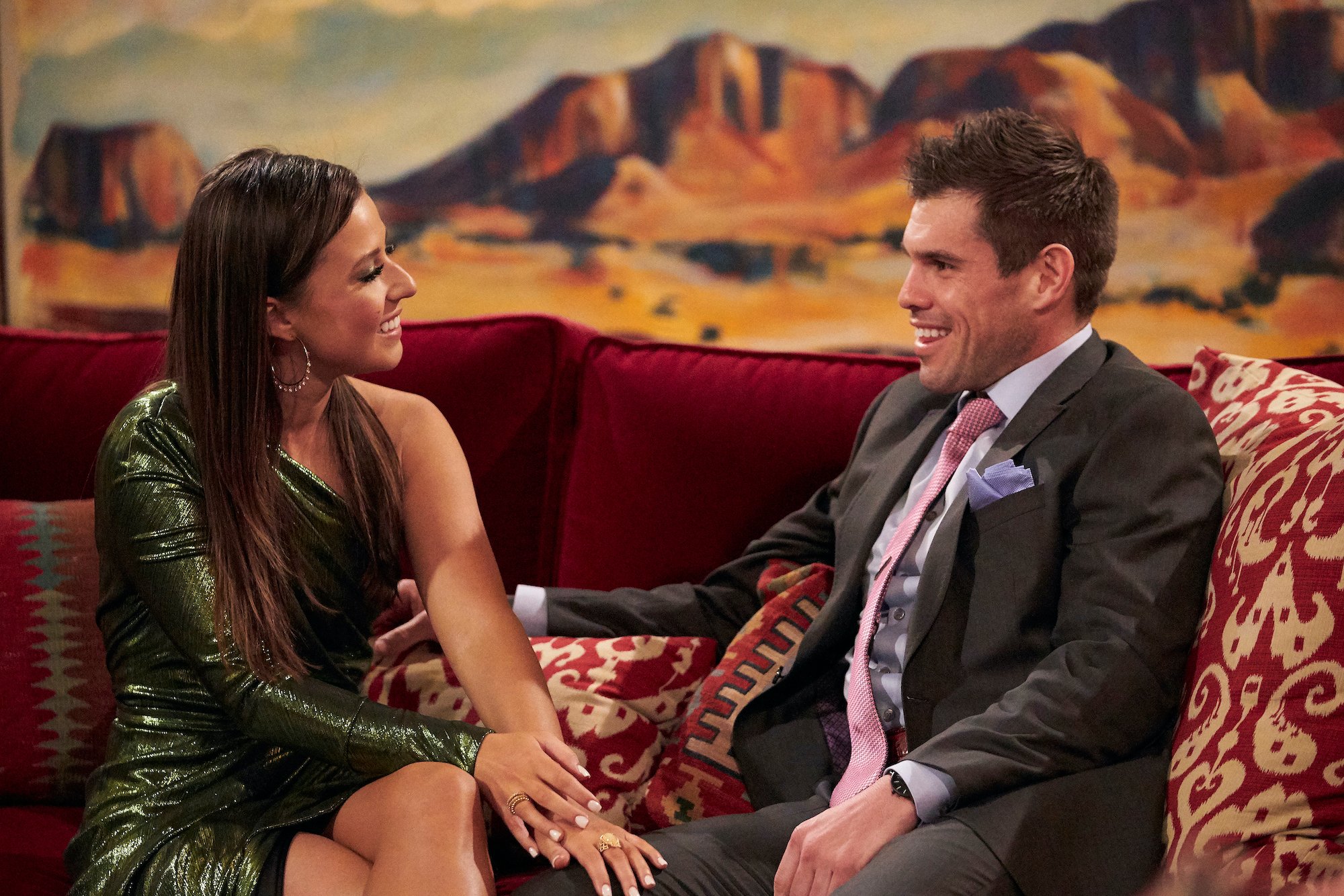 Who is Hunter Montgomery from Katie Thurston's season of 'The Bachelorette'?
Montgomery is a 34-year-old software strategist from Houston, Texas, according to his Bachelorette profile. As he revealed to Thurston during the July 5 episode of The Bachelorette, Montgomery has two children who he wants to share with her. 
"I've never introduced my kids to a woman," he tells her in the episode. "It's not something I take lightly, but I brought some pictures. I want them to meet you." 
As Montgomery mentioned previously on The Bachelorette, his relationship with his ex-wife ended after they drifted apart. He feels that he "failed that marriage" but is hopeful he and Thurston will find love during The Bachelorette Season 17. 
Montgomery is also a fierce advocate for mental health. He is currently 14 years sober and strongly encourages those battling an addiction to speak out and ask for help. 
'Bachelor' Nation 'disgusted' by Hunter Montgomery's snorting 
Some fans took to Twitter during the July 5 episode to talk about Montgomery's "snorting" habits. "There are many reasons why Hunter is completely repulsive, but that DISGUSTING snorting he constantly does makes this show almost unwatchable," tweeted one member of Bachelor Nation. 
"Hey @BachelorABC sound guys, can we please mute Hunter's constant snorting and other mucus-forward noises?" requested another viewer. Eventually, Thurston stepped in with a tweet of her own explaining Montgomery's Tourette's diagnosis. 
Katie Thurston and Hunter Montgomery talk about his Tourette's Syndrome diagnosis on social media
After seeing the outrage some fans had about Montgomery's "snorting," Thurston addressed Bachelor Nation directly. "Remember you only get to see a portion of who these men are," Thurston tweeted during last night's episode of The Bachelorette. Then she shared something most of Bachelor Nation wasn't aware of regarding Montgomery's diagnosis.
"For example, you probably didn't know Hunter has #Tourettes," she continues. "So I encourage everyone to think twice before commenting negative things about these men." 
Montgomery also addressed his diagnosis on social media during the episode. "Just to be clear, the snorting and sniffling is due to minor Tourettes, which I've had my entire life," he shared in his Instagram Stories. "Thx." 
How far does Hunter Montgomery go in 'The Bachelorette' Season 17?
According to Bachelor Nation spoiler account Reality Steve, Montgomery doesn't make it to hometowns with Thurston. Before Thurston's season of The Bachelorette premiered, Reality Steve claimed Greg Grippo, Justin Glaze, Andrew Spencer, and Blake Moynes are her top four. 
At this time, Reality Steve's rumors have not been confirmed or denied by ABC. Bachelor Nation will have to continue to tune in to see what happens between Thurston, Montgomery, and the rest of the men in her season.
The Bachelorette airs Monday nights at 8 PM EST on ABC. 
How to get help: In the U.S., contact the Substance Abuse and Mental Health Services Administration helpline at 1-800-662-4357.