'The Bachelorette': Katie Thurston's Advice to Michelle Young Makes So Much Sense After Her Finale
The Bachelorette Season 17 star Katie Thurston has some words of wisdom for the next lead, Michelle Young. The two women met while vying for Matt James' heart on The Bachelor, and their back-to-back seasons were announced together. Now, Katie is officially done with her journey, and her advice for Michelle will hit you in the feels after everything that unfolded in The Bachelorette finale.
How did Katie Thurston's season finale of 'The Bachelorette' end?
Katie's season of The Bachelorette ended unlike any other. First of all, two early frontrunners self-eliminated after making it through to the final four. Michael Allio left because he needed to go home to his son. Then after Hometowns, Greg Grippo broke up with Katie because he didn't trust the process and wanted more reassurance from the lead. However, she was still trying to remain open to other contestants.
Meanwhile, Katie ended up with Blake Moynes, who dated two previous bachelorettes, Tayshia Adams and Clare Crawley, in season 16. Blake also came in midway through filming. Thus, his romance with Katie blossomed much later than the other men, and Blake didn't say he was in love with the lead until the finale. But it seems the couple really took the time to figure things out because Katie and Blake are happily engaged now.
Katie Thurston's advice to new bachelorette Michelle Young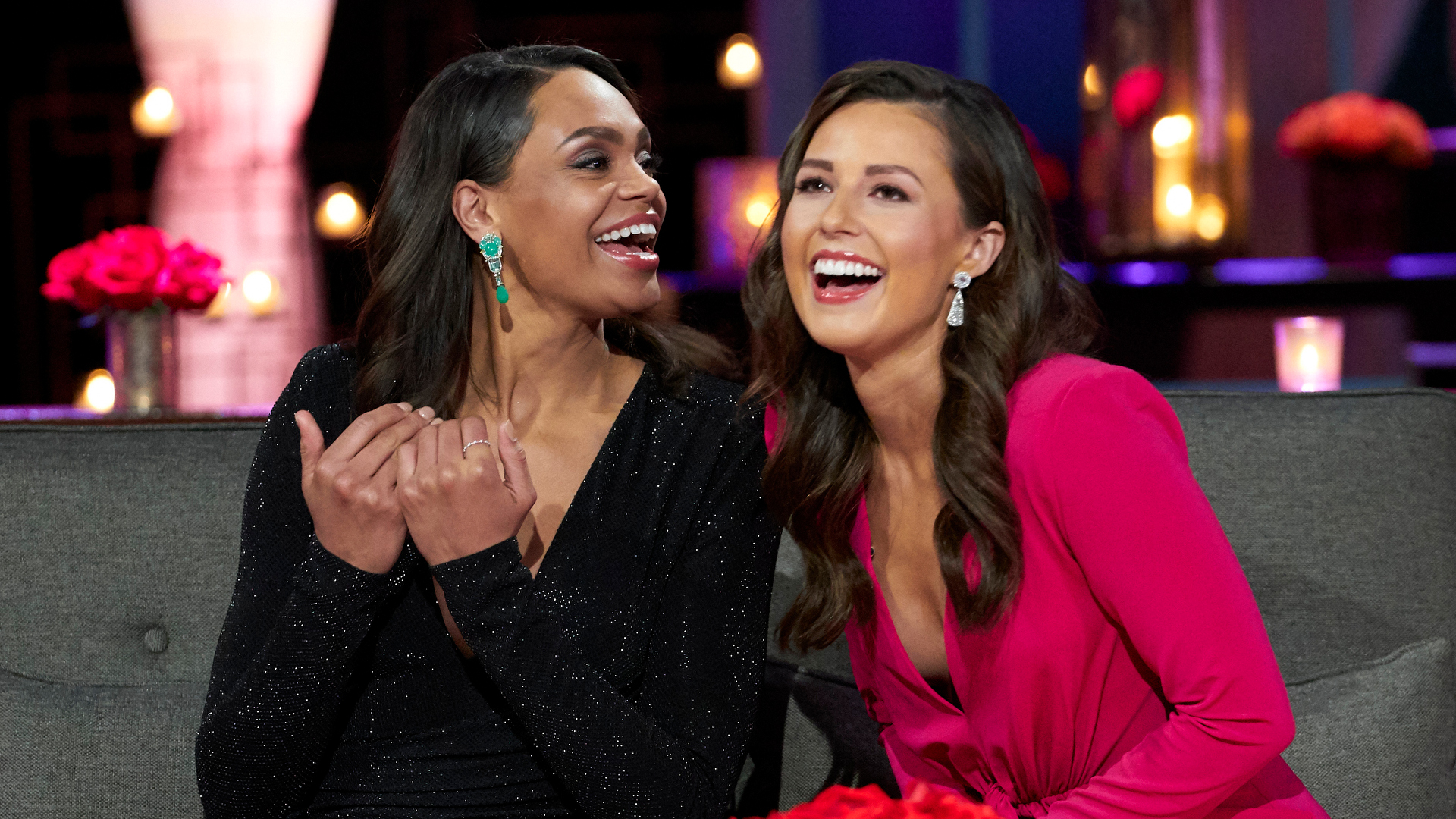 Now, Katie will pass the torch to Michelle, who will headline The Bachelorette Season 18. The former lead also revealed the advice she gave to the next bachelorette before she started filming. And ultimately, Katie told Michelle to trust the process and stay open to her cast.
"Trust the process," Katie told Variety. "Let go of control, and remember what the focus is, which is who your one and only is. It was hard for me because there was more than one guy that I saw something with."
Then when speaking Extra in August, Katie said, "I did tell Michelle to stay open. Don't pick someone so early. Really take the time to get to know each and every guy as an individual because I think she'd be surprised who she might actually connect with."
When is 'The Bachelorette' Season 18 premiere for next lead Michelle Young?
Now, Bachelor Nation fans will have to wait and see whether Michelle follows Katie's advice in The Bachelorette Season 18. But whatever happens next, it seems viewers will have to hold on a little longer before new episodes begin.
Michelle's season of The Bachelorette officially starts on Tuesday, Oct. 19, 2021. Please note the time slot change, as many fans are accustomed to Bachelor Mondays. However, it's likely Dancing with the Stars will claim the coveted Monday night slot.
Meanwhile, the new season of The Bachelorette will be released after ABC wraps Bachelor in Paradise Season 7. The summer spinoff premieres on Monday, Aug. 16. So get ready. There's plenty of drama and romance coming up this summer and fall.