'The Bachelorette': Katie Thurston Shades Contestant Cody Following His Early Exit
During the latest episode of The Bachelorette, Katie Thurston gave one of her contestants the boot earlier than expected, and looking back, she has no qualms about her decision whatsoever.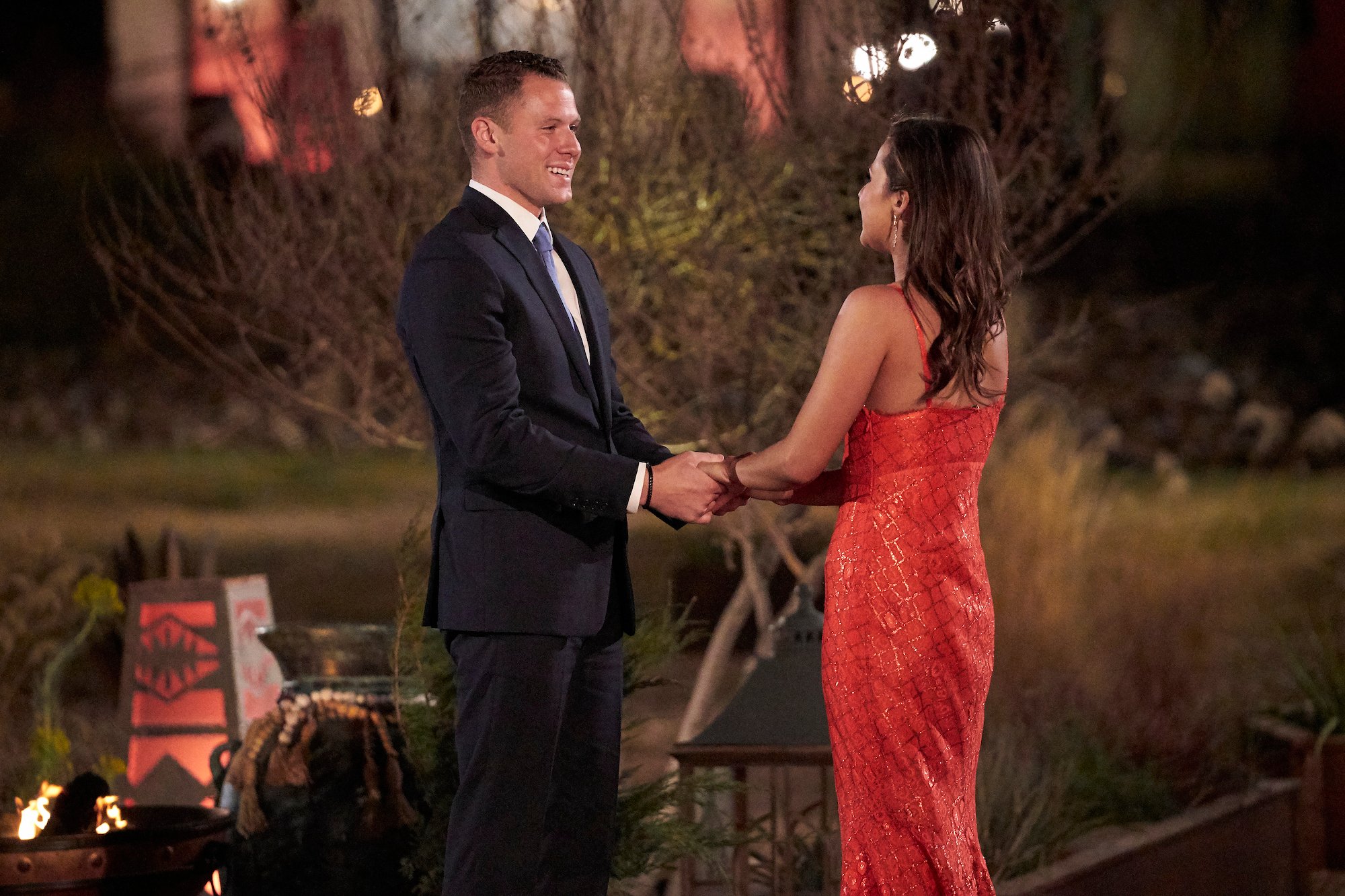 Katie Thurston eliminates Cody after hearing that he was chasing fame
To say the latest episode of The Bachelorette was dramatic would be an understatement.
During the hit dating competition series' June 14 episode, viewers watched as the tension between contestants Aaron Clancy and Cody Menk — who hinted at having a strained relationship in the season premiere — came to a head during a group date.
While participating in a mud-wrestling contest, the two men went up against each other in an intense one-on-one match. As Aaron and Cody wrestled, everyone could sense the tension between them, which didn't sit right with Thurston.
After Aaron was named the date's winner, Thurston took him aside to get to the bottom of his beef with Cody.
"We knew each other before, and so I was surprised to see him here, actually, but we're not really cool," Aaron explained to her. "I know he really wants to become famous or get on the show for those reasons."
The reveal came as a shock to Thurston, who later brings her concerns to Cody during the post-group date cocktail party. While speaking privately, the marketing manager asks the San Diego native if Aaron's claims are valid.
Cody immediately denies the accusations, saying it's "just not factual information." However, Katie didn't buy what the zipper sales manager was selling, explaining to the camera that he "almost just looked rehearsed." 
In the end, Thurston believed Aaron's word over Cody's and sent him packing early.
Katie Thurston mocked Cody on Twitter following his exit
Not long after Cody's shocking exit, Thurston took to Twitter to make it clear that she's content with her decision to give him the boot.
The Washington native posted a GIF of Jim from The Office holding an inflatable doll. Thurston captioned the tweet, "Please take Sandy with you," referencing the blow-up-doll Cody brought with him when they met for the first time.
After sharing the tweet, many fans agreed with Thurston's decision to send Cody home, suggesting that he was full of hot air from the very beginning.
The drama didn't end after Cody's elimination
Though Cody was caught seeking fame, it turns out that he's not the only contestant with ulterior motives.
Later on in the episode, contestant Karl stirs up some drama after Thurston requested that her suitors let her know if something was going on in the house.
Karl took this as an opportunity to cause the show's new lead to question her bonds with the other men by telling her that some contestants are being dishonest about their intentions. When she asked him to give names, the motivational speaker refused to offer any specifics.
Emotional over this reveal, Thurston confronts the rest of the men, telling them to leave if they are not there for her.
Later, Karl admits to his castmates that he was the one who told Katie to stay vigilant. However, he declined to name the person or people with ill-intentions because he wanted to give those individuals a chance to come forward.
The other men — who didn't know whom he was referring to — scolded Karl for manipulating the situation, and the episode ended without a rose ceremony.
From what we can tell, this drama is far from over.
The Bachelorette airs Mondays at 8 p.m. on ABC.