'The Bachelorette': Michelle and Nayte Open Up About Marriage, Wedding Plans, Kids, and Living Together Soon
'The Bachelorette' Season 18 stars Michelle Young and Nayte Olukoya reveal what's next after getting engaged, including when they're getting married, wedding plans, having kids, and plans to live together soon.
The Bachelorette Season 18 stars Michelle Young and Nayte Olukoya are ready to spend forever together, and they're already filling in Bachelor Nation fans on all the details. So what's next on the couple's relationship timeline? Recently, Nayte and Michelle discussed everything from marriage and wedding plans to kids and living together in Minnesota soon – here's everything they revealed.
[Spoiler alert: This article contains spoilers about Michelle Young and Nayte Olukoya in The Bachelorette Season 18.]
Michelle Young and Nayte Olukoya will live together in Minnesota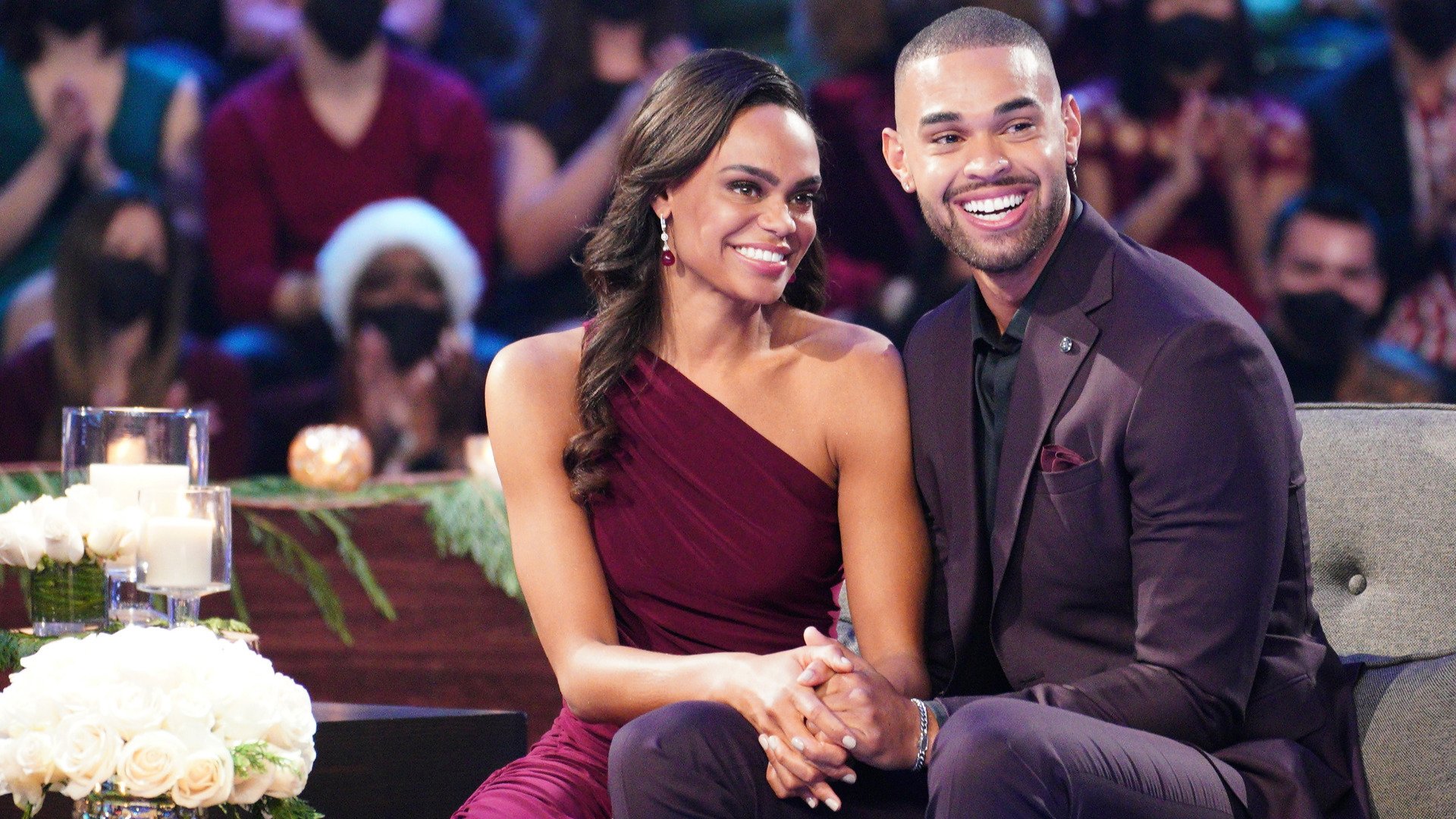 Michelle and Nayte already confirmed their next step together during The Bachelorette Season 18 finale. In the "After the Final Rose" special episode, Nayte revealed that he's moving in with Michelle, and they're currently house hunting. The Bachelor producers also gifted the fan-favorite couple with a check for $200,000 to use for their down payment. 
Meanwhile, Nayte and Michelle shared why they decided to live together in the Midwest during an interview with Access.
"Michelle has so much going on in Minnesota," Nayte said, noting his fiancée's schooling, job, and family. "And realistically, Minnesota's like a 7-hour drive from my hometown [in Winnipeg, Manitoba, Canada]. … It was kind of like a no-brainer."
When will 'Bachelorette' stars Nayte Olukoya and Michelle Young get married and have their wedding?
Michelle and Nayte are focused on buying a home together after The Bachelorette. And naturally, many Bachelor Nation fans have been wondering when the two will get married. But it seems like the reality stars don't want a long engagement. 
In an interview with People, Nayte and Michelle revealed they are hoping for a "summertime wedding" in the future. Then when asked about a timeline, the bachelorette hinted that they're hoping to get married within the next few years.
"No shade to anybody who wants a long engagement. I just feel like that's just not us," Michelle said. "Just like in the next year, year and a half. The planning is kind of starting to pick up some speed right now." 
Michelle Young and Nayte Olukoya on having kids together (and introducing their fur babies)
It seems like Nayte and Michelle are on the same page when it comes to having kids. Still speaking with People, The Bachelorette stars revealed that they both want children. But they want to be "selfish" for a bit so they can spend more time with each other alone.
"You gotta be selfish for a little bit. Then the kids can come," Nayte said. "You know, traveling around, doing things just Michelle and Nayte. But yeah, we both want kids, for sure." 
Then in the above interview with Access, Michelle and Nayte echoed their comments, and the 28-year-old teacher also noted that their dogs are "enough" right now. Recently, Michelle introduced her pup, Chief, to Nayte's fur baby, Percy. And ultimately, it seems like the couple's little family is doing well.
"[We're] getting Percy and Chief together," Michelle said. "They're already been hanging out. They are now officially step brothers."
Michelle and Nayte got their fairytale ending together in The Bachelorette Season 18. But even if the show is over, it's clear that the two are making things work in real-life beyond The Bachelor bubble. So cheers to the happy couple!