'The Bachelorette': Michelle Young Reveals Big Changes in Tonight's Episode
We're three weeks into The Bachelorette Season 18, and many Bachelor Nation fans are hoping to see more from Michelle Young. Now, it seems like those viewers are going to get their wish in week 3 on Nov. 2. Recently, Michelle teased what happens in tonight's episode of The Bachelorette, and it certainly looks like changes are coming.
What time is 'The Bachelorette' on tonight, Nov. 2, 2021?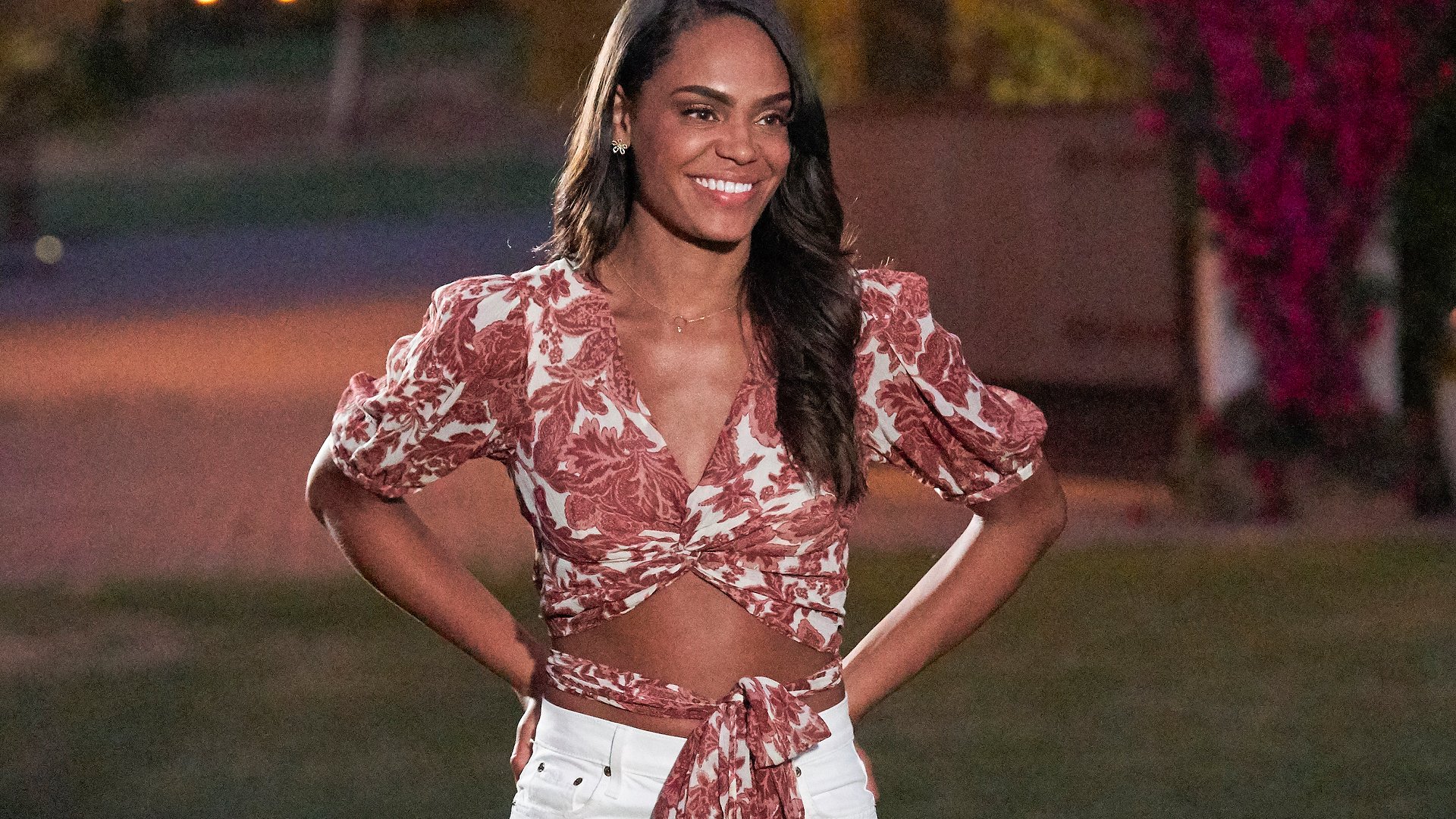 RELATED: 'The Bachelor' 2022: Release Date, Host, Lead, Spoilers, and Everything We Know About Season 26
While Bachelor Mondays are postponed until January 2022, ABC moved Michelle's season of The Bachelorette to Tuesday nights. That said, the network kept the franchise's usual time slot. So The Bachelorette is on tonight, Nov. 2, at 8 p.m. ET. The new week 3 episode will end at 10 p.m. ET and become available to watch on Hulu starting Wednesday, Nov. 3.
Michelle Young reveals what happens in 'The Bachelorette' Season 18 Episode 3
RELATED: 'The Bachelorette': Nayte Olukoya's Instagram About Michelle Young Will Make You Swoon After His Sweet First Impression
In the last episode of The Bachelorette Season 18, Michelle wasn't sure who to trust after a false rumor spread by Jamie Skaar. So where does the lead go from here? In the Oct. 27 episode of the Bachelor Happy Hour podcast, co-host Tayshia Adams asked Michelle what fans can look forward to in episode 3. Then the new bachelorette revealed that she will start asking for what she really needs, particularly because she's hoping for an engagement at the end.
"Michelle Young gets her bachelorette legs underneath her," she said. "I really start to become more honest with what I am needing from these guys. Group dates are definitely a heavy task. They're uncomfortable. But when you're trying to get engaged at the end of this, like, they have to be productive."
Michelle continued, "You're gonna see me battle back and forth with that and figure out what I need, what I'm getting, what I'm not getting, and drama."
What else can 'Bachelorette' fans at home expect from week 3 tonight?
RELATED: 'The Bachelorette': Michelle Young Says Rick Leach 'Won' Night 1
Now, Michelle's comments about The Bachelorette Season 18 tonight may not come as a surprise to a few Bachelor Nation fans. According to ABC, this week's dates will focus entirely on "rebuilding" bonds between Michelle and her cast. The press release says:
First up, stars of the new movie sequel Top Gun: Maverick, Glen Powell and Jay Ellis, push the guys out of their comfort zone and into the danger zone, but the G-forces won't be the only thing making their heads spin. Later, one unsuspecting fella makes the most of his one-on-one time, baring it all in his attempt to woo Michelle. And a group date led by spoken-word poet Rudy Francisco has the men waxing poetic. At the end of the day though, it's Michelle, who, moved by the vulnerability of her guys, steals the show with an emotional spoken-word poem of her own.
Meanwhile, it seems all the Jamie drama will resurface in The Bachelorette Season 18 Episode 3. The contestant didn't tell the other men that he was the one who brought up the rumors to Michelle. But ABC's press release reveals one "level-headed" cast member will tell Michelle that "the men in the house have always had her back." So the episode will end with "a series of confrontations and a shocking conclusion" at the elimination rose ceremony. Stay tuned.
The Bachelorette Season 18 airs Tuesday nights on ABC.