'The Bachelorette': Michelle Young Opens Up About the 'Confusing Moment' That Broke Her Down in Week 2
Michelle Young opens up about the rumor spread by Jamie Skaar and how she really feel about her cast's silence after watching 'The Bachelorette' Season 18 Week 2.
On Oct. 26, The Bachelorette Season 18 Episode 2 left Michelle Young — and many Bachelor Nation fans at home — confused. Cast member Jamie Skaar brought up a rumor about Michelle, and the bachelorette was open to starting a dialogue with the other suitors. But when she addressed the situation, the men responded with an uncomfortably awkward silence. Then everything sort of descended into chaos. So what actually happened? Luckily, Michelle recently explained what went down in week 2 of The Bachelorette 2021 — here's what she revealed.
[Spoiler alert: This article contains spoilers about The Bachelorette Season 18 Episode 2.]
The rumor about Michelle Young in 'The Bachelorette' Season 18 Week 2
In The Bachelorette Season 18 Episode 2 on Oct. 26, Michelle and Jamie went on their first one-on-one date together, and they really hit it off. But the contestant quickly went from fan-favorite to villain. 
During the cocktail party before the elimination rose ceremony, Jamie told Michelle there was a rumor going around the house that she knew Joe Coleman and she was allegedly dating someone before the show. Jamie also said all the other men were questioning Michelle's character. Then Michelle broke down in tears when speaking with producers.
Eventually, The Bachelorette star addressed the situation with the house, noting that she was open to dating all of them. She also opened the floor to questions, but no one spoke up. However, they started speaking after Michelle excused herself, and all the suitors were confused. Meanwhile, co-hosts Tayshia Adams and Kaitlyn Bristowe revealed Michelle was "emotional," and she canceled the cocktail party. So they went straight into the rose ceremony, and the bachelorette shared a few words.
"I'm going to continue to try to keep my walls down and stay vulnerable when right now, I want to put them back up," Michelle said before stopping herself from crying. "I also need you to understand that with accepting a rose tonight, you're accepting to trust me, as I will do with each of you."
Michelle Young on what happened in episode 2 of 'The Bachelorette' 2021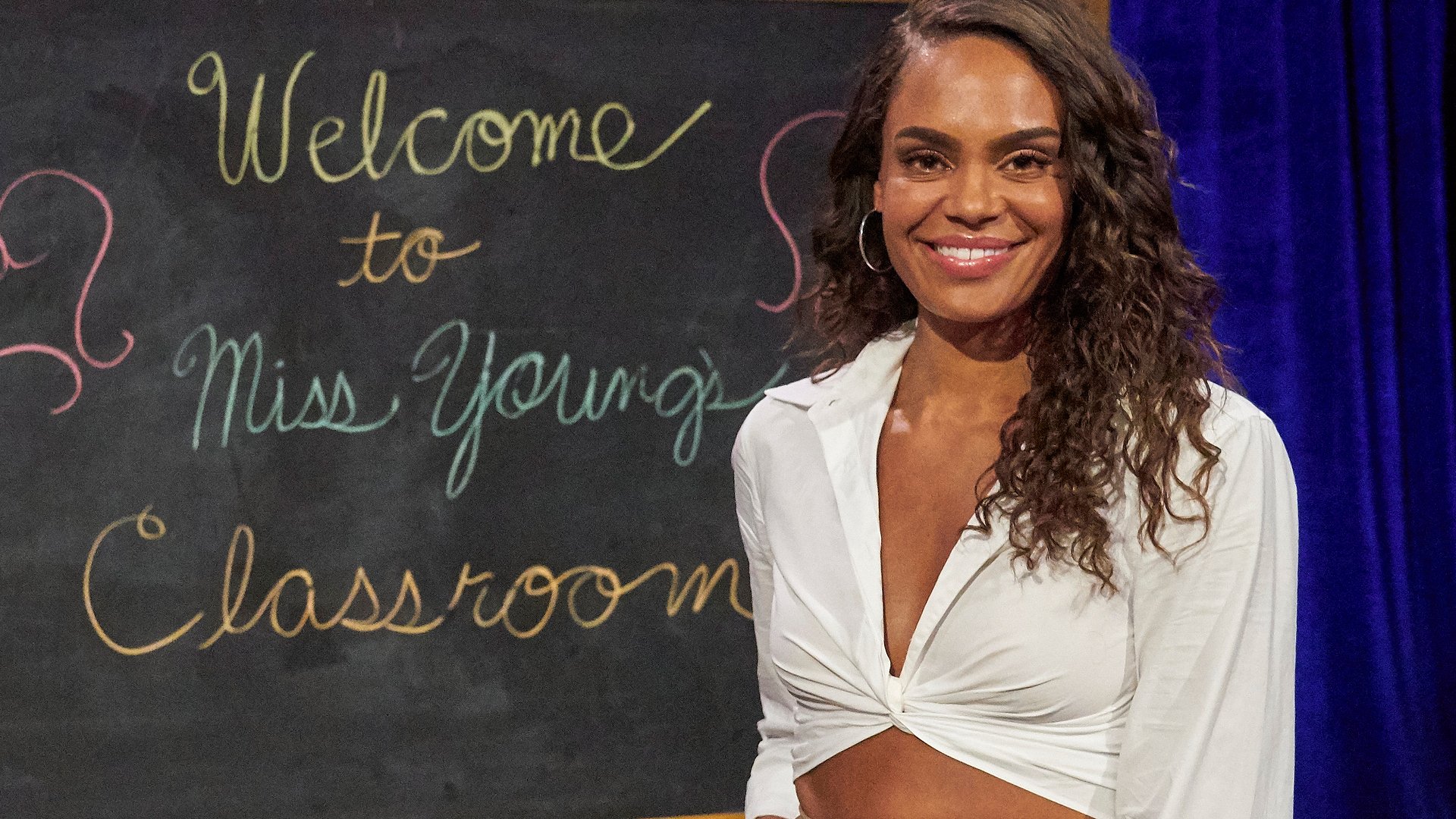 In the Oct. 27 episode of the Bachelor Happy Hour podcast, Michelle shared her thoughts on all the drama in The Bachelorette Season 18 Week 2. The Bachelor Nation star noted the "one thing" that upset her was the idea that her cast was questioning her character. Then Michelle shared how she felt in the moment when her suitors didn't respond to her in the episode. But ultimately, it seems like watching the scene helped clear up the confusion.
"It was a confusing moment," Michelle said. "Watching it back, I can see why I was confused. There were clearly two different storylines that were going on."
The Bachelorette star noted that she wanted to address the situation to deny the rumors and reassure her cast that she was genuinely interested in pursuing them. But while it seems Michelle understood their confusion at the time, she watched them open up after her exit. So she wished they would've been willing to ask questions while she was still in the room.
"That first time that I did open it up, there were crickets," Michelle said. "Nobody said much at all. There was a lack of response, and then, you know, moving forward, watching it back, it's like they were all talking to each other, like, 'I'm really confused? Who said this?' That is understandable, but they could've also said that right there and then."
Michelle Young explains why she didn't tell Jamie Skaar to speak up and why she kept her remaining contestants
Still speaking on the Bachelor Happy Hour podcast, Becca Kufrin asked whether Michelle wished she would've asked Jamie to speak up to start the conversation with the cast. But Michelle noted that she was still trying to figure out when to bring up a contestant in front of the whole group.
"When it was brought to my attention, it came off very tasteful," she said. "I guess I wanted to keep that confidentiality on my part. … I was trying to navigate that, and I think as this season goes on, I get better at doing that and being very honest. But I was definitely still trying to figure that part of the role out still. 
Meanwhile, Michelle revealed she felt "exhausted" after everything that happened, and she just went into the rose ceremony knowing who she wanted to stay based on what she felt in her heart.
"I went off where my heart was at," Michelle said. "[I chose] which people I feel believed in me from our conversations and which people I feel I had a connection with. … It just played into the level of connections and my comfort."
The Bachelorette Season 18 airs Tuesday nights on ABC.