'The Bachelorette': Michelle Young's Episode 2 Recap — What Happened and Who Went Home
The second episode of Michelle Young's season of The Bachelorette aired last night, and it was filled with fifth graders, basketball, and drama. Here's what you missed, including who didn't get roses.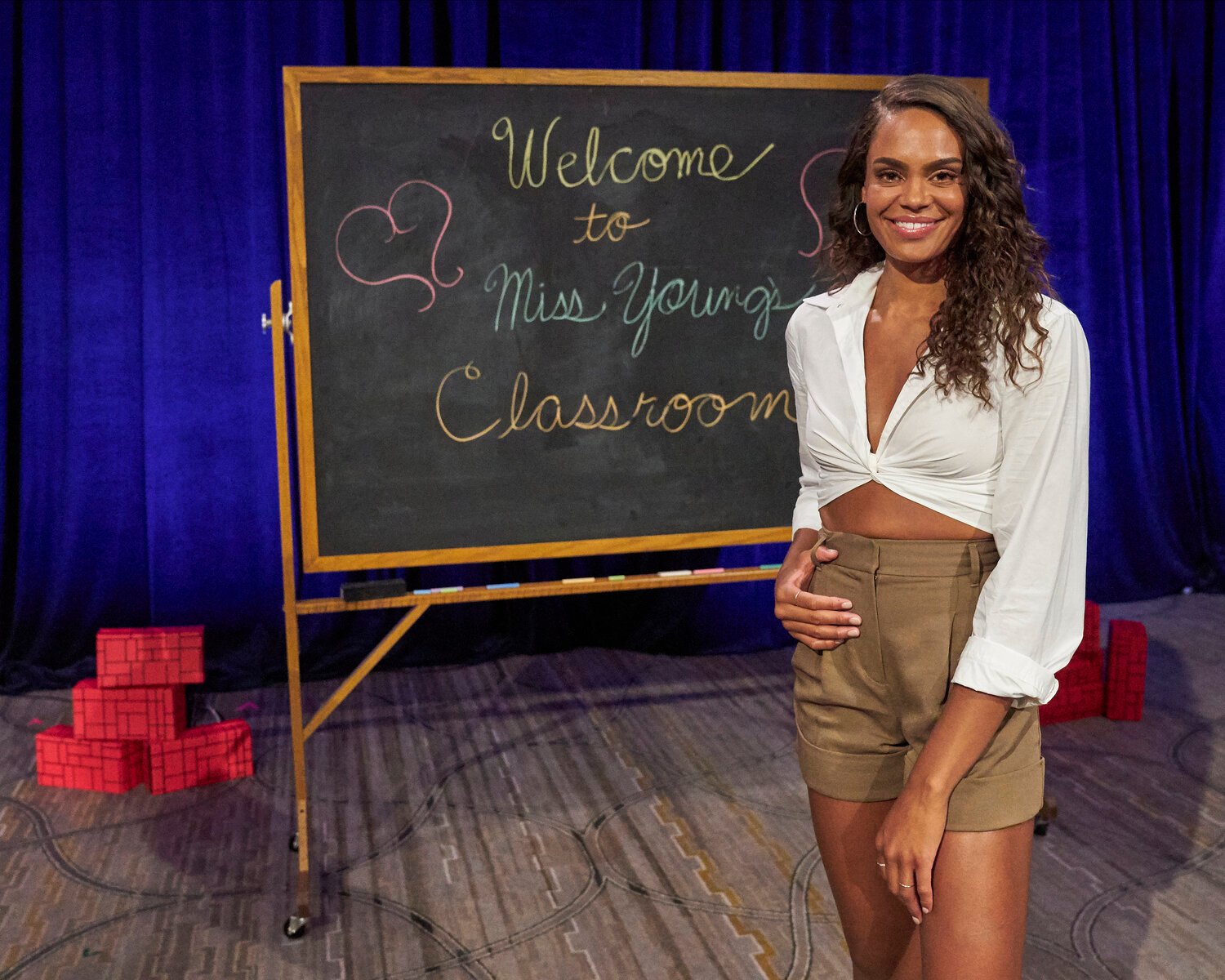 The first 'Bachelorette' group date: Are you smarter than a fifth grader?
The first group date of the season took place in a classroom. At the front of the class, along with Michelle, stood three of her fifth-graders, who quizzed the men on math, science, and spelling. Throughout the date, contestant Peter began to rub the men the wrong way. When it came to the spelling portion of the day, when the contestants were asked to spell "narcissist," Will put "Peter," which made Peter livid. In his frustrated one-on-one interview, he huffed that Will "has no idea who I am."
During the cocktail portion of the date, Michelle said sparks flew when she kissed Brandon, even though she called him out for being corny (he told her he was staring at her so he could go home and dream about her).
RELATED: 'The Bachelorette': Fans Were Begging the Men Not to Make This Mistake in Episode 2
Michelle also had major chemistry with Rick. He brought her some "homework" — a mad libs that was about the two of them going on a date. They shared a kiss after they filled out the paper, and the bachelorette, again, saw fireworks.
Meanwhile, Peter was confronting Will for calling him a narcissist. The confrontation turned into a yelling match that could be heard throughout the cocktail party. The other men looked on in disgust. After, Michelle pulled Peter aside to talk to him about the situation, which she felt "sounded very aggressive." She told him it worried her for their relationship because "it's all butterflies now but I could really piss you off and if you're standing there screaming…" She told him to settle down and focus on himself.
In the end, she gave the group date rose to Brandon.
Michelle's one-on-one with Jamie
Michelle gave the first one-on-one date to Jamie. Their date took place in Joshua Tree and involved climbing to the top of a high rock formation to have a picnic. Of climbing with Jamie, Michelle said it was refreshing to be with someone who coached her because, in the past, she's felt like she's always the one who's coaching.
During the dinner portion of their date, Michelle and Jamie continued to get to know each other on a deeper level. He told her that his mom had him when she was 18 and his dad was 21. When he was a teenager, his mom really struggled with mental health issues. After he walked in on her trying to take her life one day, he felt like "this person can't be left alone." From there, he started missing school a lot, and when he was in school, he couldn't focus. When he was 24, his mom died by suicide "and that just kind of imploded my entire life." From that moment on, Jamie said he had to "decided why I wanted to come back to life, actively deciding that life's worth it."
"I'm so proud of what you've come through," Michelle told him. "For you to be this beautiful person sitting here in front of me, I am unbelievably impressed."
Jamie told the camera that he "felt a lot of empathy" from Michelle — "That's the mark of a good partner, a strong partner." 
After Michelle gave Jamie a rose, their night ended with a personal concert from Caroline Jones.
The basketball group date
The next group date took place on the basketball court. Just before the date, Joe, who was named Minnesota Mr. Basketball in 2011, received a call from his mom telling him that a former basketball coach of his had died. He was gutted, but felt his coach would want him to celebrate him by playing basketball, so he was excited to do that on the group date.
After warming up, the men were separated into two teams for a game. The winning team would go on to enjoy a cocktail party with Michelle and the losing team would head back to the resort. Joe was on the losing team, but won "MVP of the Day," so he got to accompany the winning team and Michelle.
RELATED: 'The Bachelorette': Michelle Young Teases What Happened With Joe Coleman on the Show
At the evening portion of the group date, Joe shared with Michelle that he'd just learned his coach had died. After their conversation, Michelle told the camera that she felt Joe was her teammate on the date, and Joe said he could see himself falling in love with the lead.
During their conversation, some of the other men began to become curious if Joe and Michelle knew each other prior to filming.
After her chat with Joe, Michelle spent some time with Nayte, her first impression rose winner. They made out and Nayte told the camera he was "feeling like I'm on a cloud right now. The kissing was oh my God."
In the end, Michelle awarded the date rose to Joe.
The rose ceremony
During the cocktail party leading up to the rose ceremony, Jamie spoke to a few different contestants about his suspicion that Michelle and Joe knew each other. Then he went to Michelle and told her that the whole house was talking about the rumor. He also told her he had a friend who had seen Michelle out with a "tall, light-skinned baller." Jamie thought the conversation went well but Michelle was hurt. She felt like none of her contestants trusted her.
After taking some time to herself, she addressed the men and told them the truth: that she had never met Joe prior to filming. She had messaged him twice and then he ghosted her. That was it. They laugh about it now. She also expressed her frustration that it seems whenever she's with a man of color people assume she's dating them. She asked if anyone had any questions and the room was silent. After Michelle left the room, the men expressed confusion. Many of them said they hadn't even heard the Joe rumor. Collectively, they were mad at whoever spoke to Michelle, causing her to feel upset. Jamie stayed silent, not revealing that it was him.
After a while, Tayshia came out and told the men that Michelle felt her character was in question and that she was feeling "very emotional." So she decided to cancel the cocktail party and go straight to the rose ceremony.
At the ceremony, Michelle told the men that to accept a rose was to agree to trust her. They all concurred. The bachelorette ended up sending Pardeep, PJ, Daniel, and Alec home.
How to get help: In the U.S., call the National Suicide Prevention Lifeline at 1-800-273-8255. Or text HOME to 741-741 to speak with a trained crisis counselor at the free Crisis Text Line.