'The Bachelorette': Michelle Young's Episode 3 Recap — What Happened and Who Went Home
Here's what you missed from Michelle Young's third episode of 'The Bachelorette,' drama, roses, who kissed, and who was sent home included.
The third episode of Michelle Young's season of The Bachelorette has come and gone. Here's what you missed, from the cute group dates to the drama of the men finding out Jamie was the contestant who spoke to Michelle about the rumor that she knew Joe prior to filming.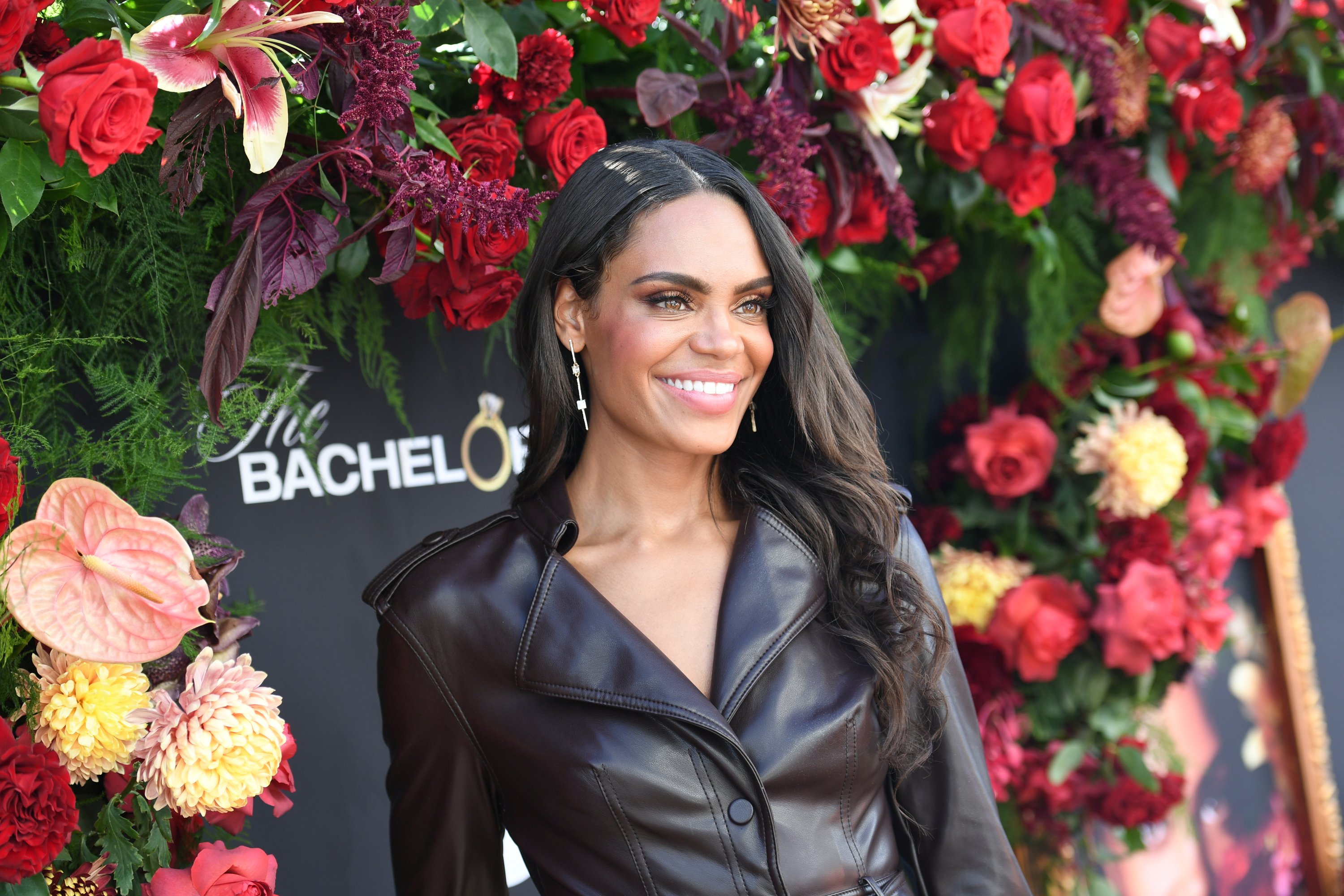 The first 'Bachelorette' group date: 'You can be my wingman any time'
The first group date was inspired by Top Gun: Maverick, which is slated to hit theaters on May 27, 2022, and led by two of the film's actors, Jay Ellis and Glen Powell. The men were given call signs like "Little Willy" and partook in strength training (a push-up contest) before having to spin in a G-force simulator while voicing their feelings for Michelle. Will won the challenge for proclaiming his feelings the best while being strapped to the spinning machine. He was awarded a Top Gun bomber jacket as a prize.
At the evening portion of the group date, the lead shared a kiss with Colton after he invited her to spin in circles with him while they held hands. Nayte and Michelle also shared some more special time together, after which he told cameras he was "catching feelings" for Michelle. The bachelorette also kissed Joe after telling him she liked his "quiet confidence." Martin and Michelle spent some time together during the evening portion of the group date as well. He asked if she was alright after a dramatic rose ceremony the previous night during the day portion of the group date and she told him she appreciated it. They, too, shared a kiss.
Meanwhile, Pete and Will began fighting again. In the end, Pete threw Will's prize jacket into the pool to "give him a taste of his own medicine" — he felt Will had been disrespecting him since they arrived at the resort. Will tearfully told cameras how upset he was that Pete threw his jacket into the pool because it had represented his relationship with Michelle. But he (and none of the other men) told Michelle about the incident because they didn't want to ruin her night.
At the end of the evening, Michelle awarded the date rose to Martin. After all the other men left, the lead told her date rose winner that she had something planned for them. They spent the rest of the evening dancing to a romantic four-string quartet.
Rodney's daring one-on-one date
Rodney was selected for the next one-on-one date, which was playing truth or dare around the resort. First, Michelle was blindfolded while Rodney fed her different foods. Then, Rodney was dared to run around the lobby naked while Michelle yelled into a megaphone, "This is our journey!!"
During the truth portion of the game, Rodney shared that his biggest fear is "passing away before I become a husband and father." Michelle said that her biggest fear is "being complacent." But it's a double-edged sword because the lead feels the drive she has sometimes prevents her from living in the current moment.
For their evening date, Rodney and Michelle took a paddleboat to a floating platform that held their dinner set-up. Rodney asked Michelle about her past relationships and she told him she'd been with someone who didn't validate her feelings the way they were supposed to. She shared the painful memory of a woman calling her the N-word in a grocery store. When she told her then-ex, he told her that she was only giving the woman more power by being upset. Now, Michelle knows she doesn't need to justify her feelings like that.
By the end of the date, Michelle told cameras that Rodney had successfully chipped away at the friend zone and had entered "the relationship zone." "I can confidently say I can trust him," she said.
"I would apple-lutely love if you'd accept this rose," she asked him, playing off the apple costume he wore the night they met. He happily accepted.
The spoken word poetry group date
The next group date was a spoken word poetry date that was led by poet Rudy Francisco. The men were challenged to write their own pieces and perform them in front of the bachelorette and each other. The lead said she appreciated how vulnerable everyone was. At the end of the challenge, Michelle performed her own spoken word poem about the pain of being the "token black girl" while growing up and her quest for love. The men were blown away and left the challenge even more enamored.
During the evening portion of the date, Brandon and Michelle spent some time together. After sharing a kiss he said she makes him "feel so good," and she told him she was attracted to his mind. "I'm absolutely crazy about this woman. I'm smitten, fellas!" he told cameras.
At the end of the evening, Michelle awarded the group date rose to Brandon.
After the end of the date, cameras followed Jamie as he spoke to a producer about losing out to Brandon. "It's a little bit of a turn-off," he said of Michelle choosing Brandon over him.
The cocktail party and rose ceremony
At the beginning of the cocktail party, Nayte wasted no time pulling Michelle aside. They joked about running away together into the night and then Michelle slipped her shoes off and the two actually did run into the darkness, laughing. When cameras caught up with them, they were kissing and Nayte asked Michelle if she trusted him. "I do," she said.
Next, Rick pulled Michelle and told her that he wanted to clear up what had happened at the previous cocktail party. He wanted her to know that the house hadn't been buzzing with rumors about her and Joe and that no one was questioning her character. She told him that it was Jamie who'd told her about the rumor.
"It is absolutely sick," Rick told cameras of Jamie's behavior. "How did he think he could get away with this?"
Rick told Nayte and Casey what he'd learned and the men confronted Jamie. "I feel like nobody in the house was talking about it," Nayte said to Jamie. When asked for who was talking about the Joe/Michelle dating rumor, Jamie said: "I don't have specific names because I wasn't part of conversations."
When the larger group found out that it was Jamie who spoke to Michelle, everyone was shocked. When Michelle joined her contestants she sensed the vibe was off and asked what had happened. The contestants voiced their frustration toward Jamie and the situation. So Michelle pulled Jamie aside and she told him: "I'm very hurt by you right now. I don't trust you at this moment and I have to be done with it. And so I do think it's best that I walk you out tonight." And with that, he was gone.
At the rose ceremony, the bachelorette gave roses to Joe, Rick, Leory, Nayte, Casey, Chris G., Chris S., Clayton, Olu, Romeo, and Will. Spencer, Peter, Mollique, and LT were sent home.