'The Bachelorette': Michelle Young's Episode 4 Recap — What Happened and Who Went Home
The Nov. 9 episode of Michelle Young's season of The Bachelorette featured two one-on-ones and one big group date. Amidst the chaos, new connections formed, and a new villain revealed himself. Here's what you missed from The Bachelorette episode 4, including who went home this week.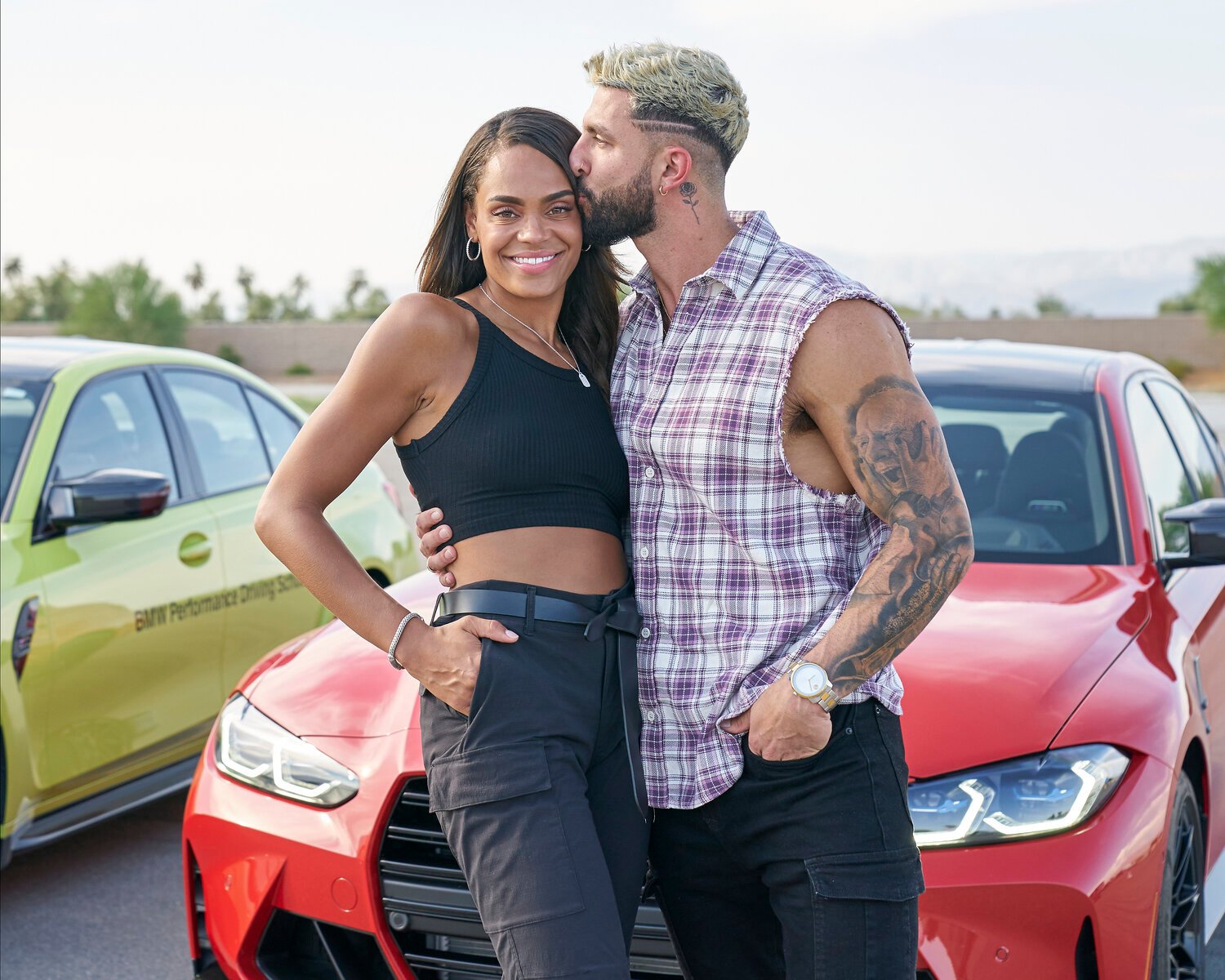 Martin's one-on-one
The first one-on-one went to Frosted Tips Martin and took place at the BMW Performance Center. Michelle and Martin spent the day learning how to drift and racing each other (Michelle outshined Martin on both accounts). After the driving portion of the date, the two took a soak in a hot tub next to the race track and sipped champagne. Martin had been close to Jamie, so Michelle wanted to learn if she could trust her date.
"I don't think he's a bad person," Martin said of Jamie. "I still think he's a hell of a man."
Michelle was unsure of what to make of Martin's take on the Jamie situation.
"I'm not sure if he was defending Jamie… I felt like my decision was potentially being questioned and that's not a good feeling," she told cameras.
During the dinner portion of the date, Martin shared that he'd never been good at communication and that it's something that he's working on, specifically referencing their previous conversation about Jamie. Martin feels he could have seen Michelle's side better. He's also always had trouble showing emotion. Michelle said that she had to learn how to talk about her emotions, too. The bachelorette gave Martin a rose, and the two spent the rest of the date kissing under the stars in an observatory.
The pajama group date from 'The Bachelorette' episode 4
Before the group date, the men all received goodie bags with different pajamas inside them. Some had fuzzy robes, some had sweatsuits, some had just tighty whities (Chris S.). The men changed into their new loungewear and headed over to the daytime sleepover. In the sleepover room, there was a popcorn machine, cotton candy, and a Teddy Bear building station.
But as the date got going, Michelle felt the men weren't really paying attention to her. They appeared wrapped up in having fun with each other.
"I didn't prepare myself to not feel seen," Michelle told producers.
Then, the men split into two teams to wrestle each other using their Teddy Bears. The winning team would move on to the cocktail party with Michelle while the losing team would return to the resort.
During the cocktail party with the winning team, Michelle spoke to her contestants about how she was feeling. She told them she didn't need "massive romantic gestures," but even "a hello" would have been nice.
Michelle asked to speak to Nayte and told him that she felt especially hurt he didn't try to pull her aside during the day portion of the group date "because of the level of the feelings I have for you." He apologized and told her, "You're definitely seen. My actions aren't showing it, but you're definitely seen." He promised to do better.
Olu got emotional after Michelle told the men how she felt. He cried, thinking of his sisters, who'd felt similar to the lead throughout their lives. "This is her time," he said of Michelle, later telling her "I feel you, I hear you." Michelle told him she appreciated him showing emotion "especially as a Black male" because it "helps me show emotion." At the end of the group date, Olu got the group date rose.
Rick's one-on-one
For Rick's one-on-one, he and Michelle spent the day hiking among the trees. Toward the end of their hike, they stumbled upon a "wish box," where hikers leave a wish they'd like to come true, but only after reading all the other wishes that'd come before. One of them read "I wish my dad could see the man I became." This wish hit a nerve with Rick because he lost his father three years prior to filming. Michelle and Rick left a wish about finding true love.
During the dinner date portion of the evening, Rick opened up further about his dad. When he was young, he saw a woman had texted his dad. He told his mom about it, and then a few days later, his mom told him that he and his siblings were moving out. He feels his dad blamed him for "blowing the whistle" until the end of his life.
"Those wounds are why you are the amazing person you are," Michelle told him.
After their heart-to-heart, Rick told the bachelorette: "I can't rule out the fact that I could be falling in love with you… I actually am looking forward to the moment where I can say that I am falling in love with you."
Michelle awarded him a rose, and the two spent the rest of the evening dancing to Andy Grammer.
'The Bachelorette' episode 4 rose ceremony
Prior to the rose ceremony, Chris S. addressed the group (and Michelle) and said that some men think they "have it in the bag" already, but that mindset causes them to be complacent. They need to make Michelle feel seen or go home. After his speech, Chris S. pulled Michelle right away and told her that Nayte said he didn't care if he got a one-on-one that week or not because he knew he'd get one eventually.
After their conversation, Michelle spoke to Nayte and told him what Chris S. had said. For the first time, Nayte felt he was in a shaky place with the lead. He went to confront Chris S., but the two argued in circles. The other men decided that the "S" in "Chris S." stood for "snake."
"They all hate me," he chuckled to the camera.
In the end, Michelle eliminated Romeo, Will, and Chris G.
Before the close of The Bachelorette episode 4, Michelle announced that she and the men would head to Minnesota to see where she grew up, marking the end of The Bachelor's two-year traveling hiatus.