'The Bachelorette': Michelle Young's Episode 6 Recap — What Happened and Who Went Home
Michelle Young's Episode 6 of The Bachelorette aired on Nov. 24, 2021. This was supposed to be the episode that made Bachelor Nation excited for Clayton's Bachelor reign. He was certainly featured more last night than previous episodes, but it's up to fans to decide if he's Bachelor material. Here's what you missed.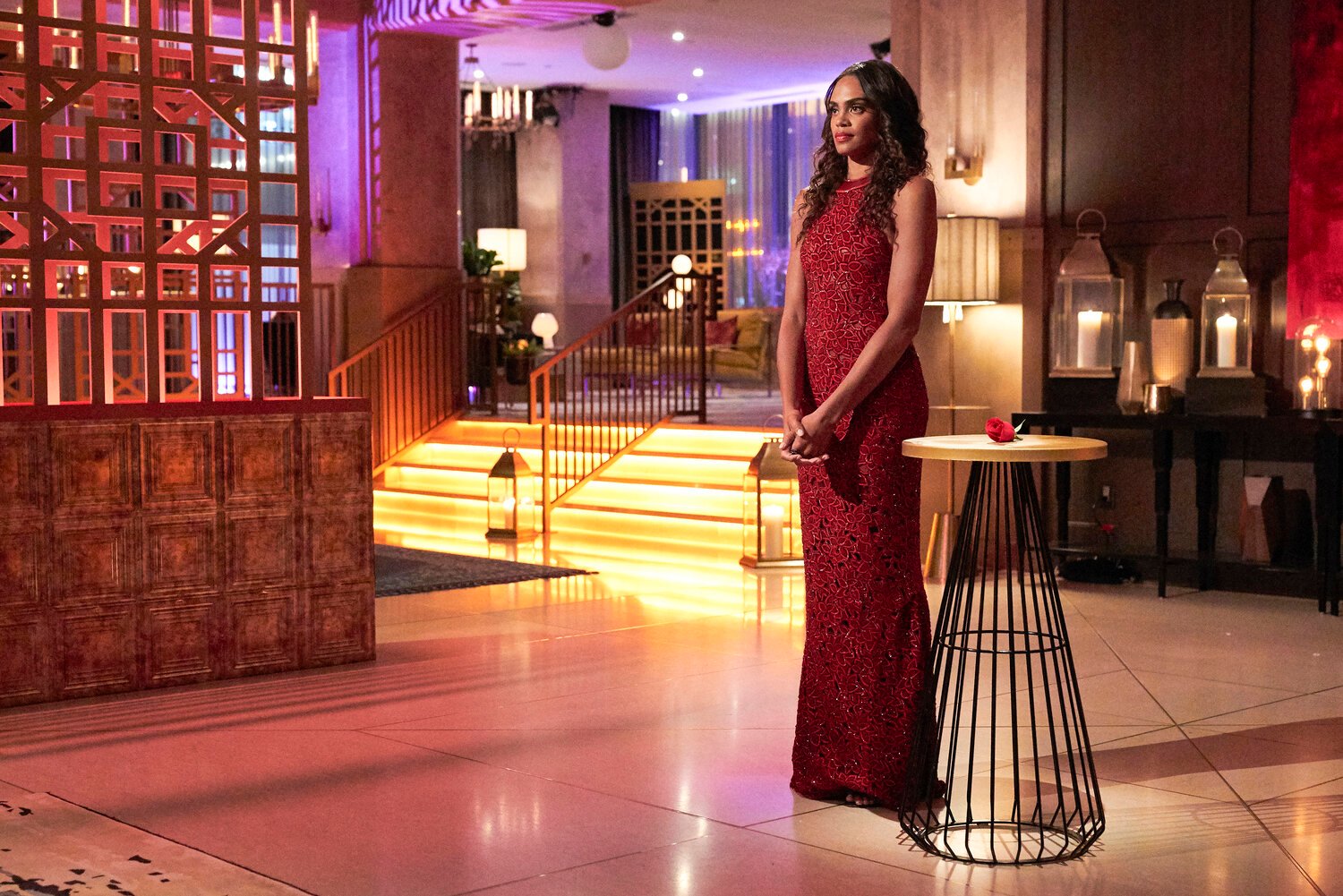 Clayton's one-on-one with Michelle and his elimination from 'The Bachelorette'
The episode began with the announcement that some of Michelle's students would be designing the dates for the week. And, first, they were to spend some time with the remaining men to choose who the first one-on-one would go to. After winning them over by building them a fort, the date went to Clayton.
The date began with a limo ride full of candy and pizza and ended at a museum where Michelle and Clayton played tag, created their own mating calls, and answered questions about themselves that were attached to a string of hanging butterflies.
At dinner, Clayton shared that he used to worry a lot about how people viewed him but realized that he's going to miss out on a lot if he continues down that path. Meanwhile, Michelle told the camera that she had deeper connections with other contestants.
"I am also starting to get the feeling that something's missing for me," she said. And with that she sent him home.
In his tearful exit video, the future bachelor said: "This is what happens when I become completely vulnerable."
Before he left, two of Michelle's students gave Clayton letters they wrote about how disappointed they were that Miss. Young didn't choose him but they know he'll make a great husband someday.  
"I haven't cried in years," he said reading the letters. "I just want to find love so badly and start a family. I want it more than anything else."
The farm group date
The episode's only group date took place on a farm. Michelle witnessed her men milk cows, churn butter, feed calves, and shovel manure. Joe excelled in each activity — "Joe knows how to handle teats," the lead laughed after watching him milk a cow.
During the evening portion of the date, Nayte told Michelle he was falling for her and she told him she felt the same way.
Michelle also had a special conversation with Joe, who revealed his grandparents ran a dairy farm. She said that explained why he was so tender with the cows.
Meanwhile, Martin told some of the men that he felt Michele "hasn't been paying attention" and that the poem she shared earlier in the season showed she still has lots to work through, which he feels is immature. Olu told Michelle he had concerns about Martin and relayed what he said about her poem. "I just want that right man for you," he told her.
So Michelle asks to speak to Martin. He gets defensive and tells her what she heard isn't true. She told him: "You haven't been honest… You have not listened to why I'm hurting." Ultimately, she decided to send him home.
"I have to follow the fact that I don't trust you right now," she said. "So I have to walk you out."
In his exit interview, Martin said: "I'm not upset I'm going home. I'm upset she handled it like that… At this point, I wouldn't even care to give her a shot… A woman like that does not deserve my time."
In the end, Michelle gave Nayte the group date rose.
Brandon's one-on-one
Another date planned by Michelle's students, this date's first stop was an ice cream parlor, where Brandon and Michelle ate ice cream, flirted, and kissed. "He's someone I can see being my best friend," Michelle told the camera.
Then, Brandon and Michelle went to her parents' house. After looking at old pictures of Michelle, they decided to take a dip in the lead's parents' jacuzzi. As they were kissing in the hot tub, Michell's parents came home. They spoke to Brandon about his intentions with Michelle. When Michelle got up to leave, Brandon asked for her parents' blessing, if she chose him in the end. They said if their daughter chose him then they trust her and give him their blessing.
The one-on-one ended with dinner in a beautiful castle. Brandon opened up about how hard it was when he lost his grandfather. He wishes Michelle could have met him because he's the person who knew him best and taught him how to love. Brandon also gave Michelle a bracelet his mom gave him. She told her son to give the bracelet to Michelle if he thinks she's the one and then they'll give her the same love they give him. At the end of the date, Brandon told Michelle he's falling in love with her and she gave him the rose.
The rose ceremony
Back at the hotel, co-hosts Tayshia Adams and Kaitlyn Bristowe told the contestants that Michelle decided to cancel the cocktail party and go straight into the rose ceremony because she knew what she wanted to do.
Michelle gave roses to Joe and Rodney, sending Olu and Rick home.