'The Bachelorette': Michelle Young Teases What Happened With Joe Coleman on the Show
It looks like Joe Coleman and Michelle Young might be changing the game together in The Bachelorette Season 18. During the premiere episode on Oct. 19, the two were surprisingly open about knowing each other before the show. But it seems like the storyline isn't over yet. Recently, Michelle teased what happened with Joe while filming The Bachelorette in 2021 — here's everything she revealed about the situation moving forward.
[Spoiler alert: This article contains potential spoilers about Joe Coleman and Michelle Young in The Bachelorette 2021.]
Joe Coleman and Michelle Young acknowledge their past in 'The Bachelorette' 2021
In The Bachelorette Season 18 premiere, Michelle and Joe met in person for the first time. Then the lead noticed that she recognized her new contestant. As it turned out, Michelle slid into Joe's DMs, and they talked a few times. But Joe eventually ghosted her.
Before the elimination rose ceremony, Joe explained why he stopped replying, and he apologized to Michelle. He also noted that he was working on his communication, and he was interested in pursuing her. 
Given the circumstances, Michelle told Joe she needed to protect her heart. She didn't know whether the contestant would "shut down again," and she wasn't sure whether he was truly there for her. Nevertheless, Michelle gave Joe another shot, and she gave him a rose ahead of week 2.
Michelle Young says she called herself out because of the Joe Coleman situation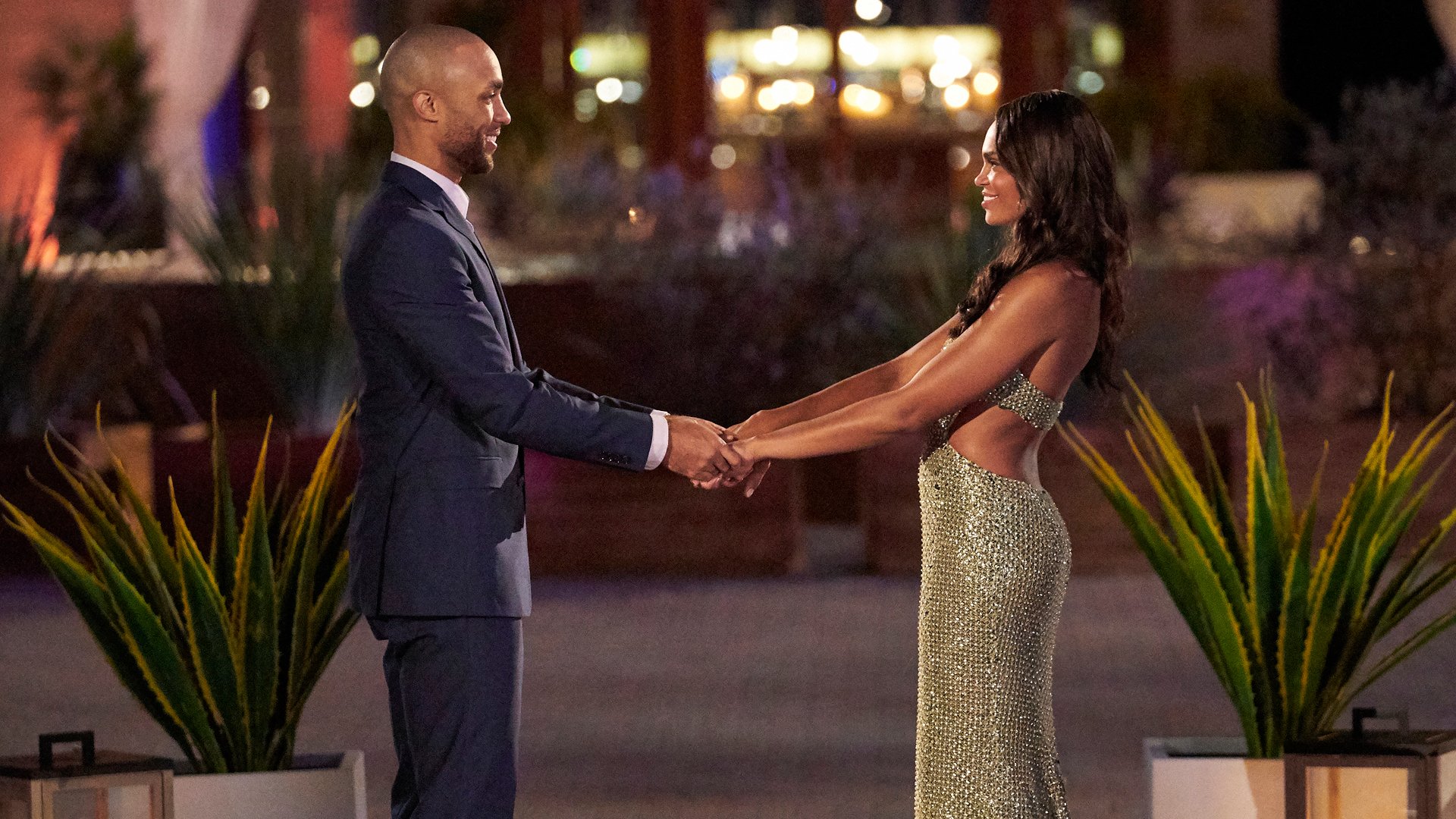 The Bachelorette Season 18 premiere put Michelle and Joe's relationship out in the open right off the bat. It is also clear that their brief connection before the show might've actually put Joe at the back of the pack. Both of which are not typical of a Bachelor Nation "here for the right reasons" storyline. Now, it looks like Michelle is going to get even more vulnerable — she's going to call herself out o the show.
When speaking on Ben Higgins and Ashley Iaconetti's Almost Famous podcast, Michelle explained how she knew Joe. She noted that Minnesota has a small athletics community, seemingly referencing their time playing basketball. Then Michelle confirmed there's more story to tell on The Bachelorette, and she will address the situation with Joe head-on, even if that means throwing herself "under the bus."
"Pre-everything, we chatted back and forth. You will see how the rest of that story unfolds. It's quite the story," Michelle said. "And I did call myself out with sliding into somebody's DMs."
She continued, "I told you I was going to be genuine, and I told you guys I was going to be authentic, whether that's throwing myself under the bus by admitting that on national television. But hey, at least you know you're getting an honest person."
Will Joe Coleman and Michelle Young end up together, according to 'The Bachelorette' Season 18 spoilers
As always, Bachelor Nation fans will have to wait and see how Michelle and Joe's relationship plays out in The Bachelorette Season 18. But it seems like the two will go through a lot together on the show. However, that doesn't necessarily mean Joe and Michelle will end up together.
According to Bachelor Nation spoiler king Reality Steve, Joe doesn't win Michelle's final rose in The Bachelorette finale. The spoilers also suggest that the contestant doesn't make it through to the final two. So will there be heartbreak ahead of Joe and Michelle? It's possible. Stay tuned.
The Bachelorette Season 18 airs Tuesdays on ABC.