'The Bachelorette': Michelle Young Says Rick Leach 'Won' Night 1
Rick Leach might not be Michelle Young's first impression rose winner in 'The Bachelorette' Season 18 premiere, but she still thinks he 'won' with his entrance during limo night. Here's why.
Many Bachelorette fans were intrigued by Rick Leach and Michelle Young's connection the moment they met. But how did the new lead really feel about her contestant's limo entrance? Recently, the Minnesota teacher shared her thoughts on her cast member. And while Rick might not have been Michelle's first impression rose winner, he definitely won her over on night one of The Bachelorette.
[Spoiler alert: This article contains spoilers about Michelle Young and Joe Coleman in 'The Bachelorette' Season 18 Episodes 1 and 2.]
Rick Leach and Michelle Young meet in 'The Bachelorette' Season 18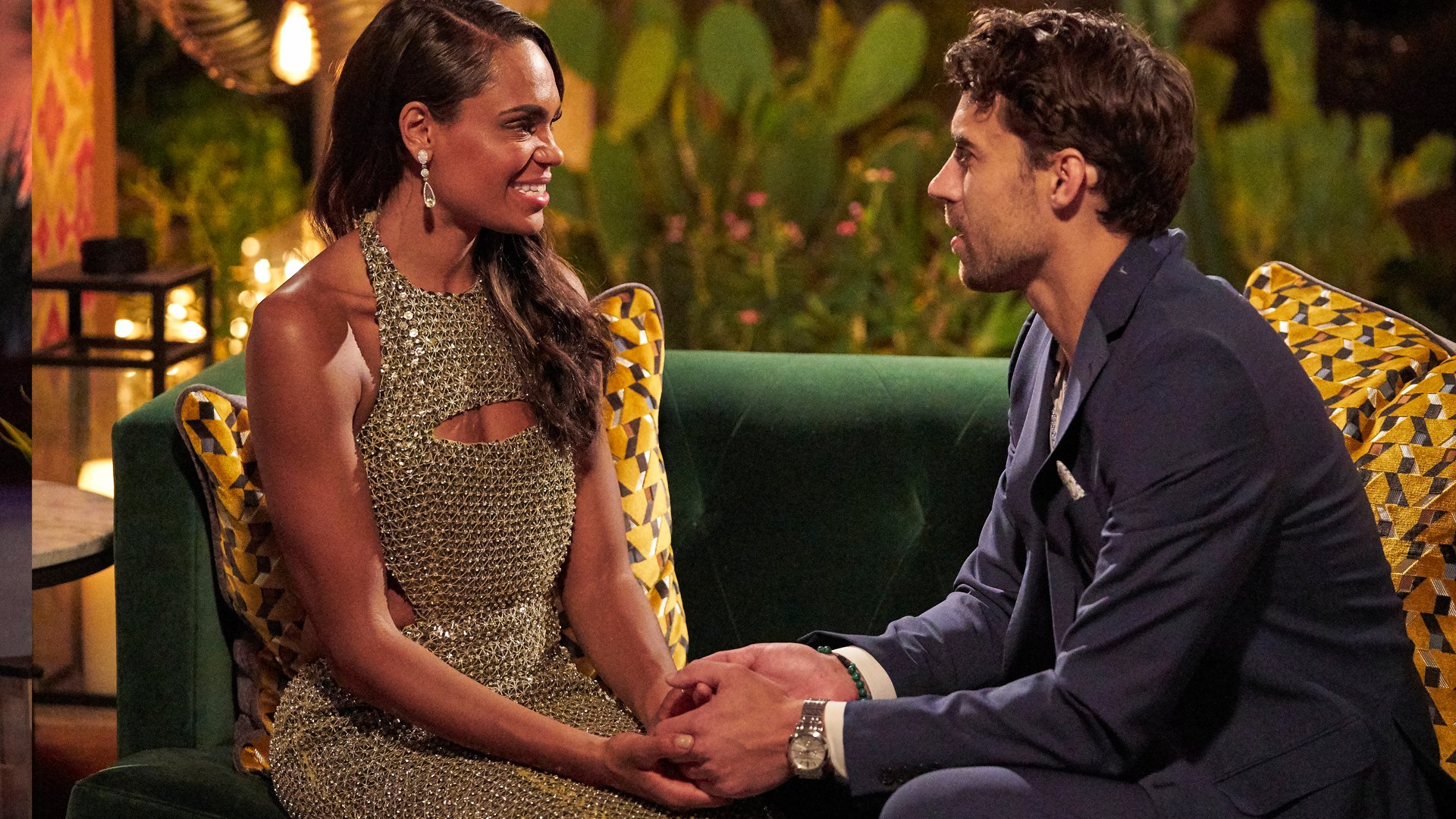 The Bachelorette Season 18 premiere was filled with a number of gimmick entrances, but Rick's was probably the most memorable. A serving cart with a mysteriously covered "main course" was wheeled over toward Michelle. Then when the lead lifted the cover, Rick's head was on a bed of lettuce with the rest of his body inside the cart. 
Meanwhile, Rick continued his introduction by revealing the "special" comes from Los Angeles, California, and it's "perfectly aged" at 32 years. Then later in the evening, Michelle got to speak to her main course alone. Rick also got out of his costume, and the two really connected.
Rick told Michelle he understood the seriousness of The Bachelorette, and he wanted to make the experience fun for her. The contestant also revealed that he was ready for the next step in his life, and he hoped he'd be able to get there with Michelle. The bachelorette also told producers that she felt chemistry with Rick.
Michelle Young explains why Rick Leach won 'The Bachelorette' premiere
Toward the end of The Bachelorette Season 18 premiere, Michelle picked Nayte Olukoya as her first impression rose winner. But even so, it seems Rick still made quite the impression on the lead. 
When speaking on the Almost Famous podcast, Michelle was asked about Rick's limo entrance in the premiere. The bachelorette revealed that her contestant was under the table "well into the night," which proved to her how committed he was. Michelle also suggested that Rick "won" night one because he made such a memorable introduction.
"He was in there for a minute," Michelle said. "But that also shows commitment, and he was dead set on making an impression. He showed me his goofy side. He made me laugh. I mean, he really kinda won, if you think about it. It was memorable. It really was."
Does Rick Leach win Michelle Young's heart in 'The Bachelorette' 2021, according to spoilers?
For now, Bachelorette fans will have to watch how Michelle and Rick's romance unfolds in season 18. But if you don't want to wait to find out, Bachelor Nation blogger Reality Steve already shared major spoilers about Michelle's ending. However, you won't be pleased if you're rooting for Rick and Michelle to make it to the end.
On Oct. 19, Reality Steve dropped the names of Michelle's final two men. However, Rick allegedly didn't make the cut. So it seems the contestant will be sent home before the finale. 
That said, Reality Steve didn't reveal when Rick will be eliminated or how his relationship with Michelle will end. So we'll just have to wait and see. Stay tuned.
The Bachelorette Season 18 airs Tuesday nights on ABC.