'The Bachelorette': Michelle Young's Oldest Contestant Forgot His Pants for the Premiere
The long-anticipated premiere of Michelle Young's season of The Bachelorette is almost here. Michelle's contestants will undoubtedly pull out all the stops to try to get her attention and capture the first impression rose. Some contestants go for a sweet approach, while others prefer to be funny. The oldest man in Michelle's season certainly made an impression by walking out of the limo wearing nothing but underwear.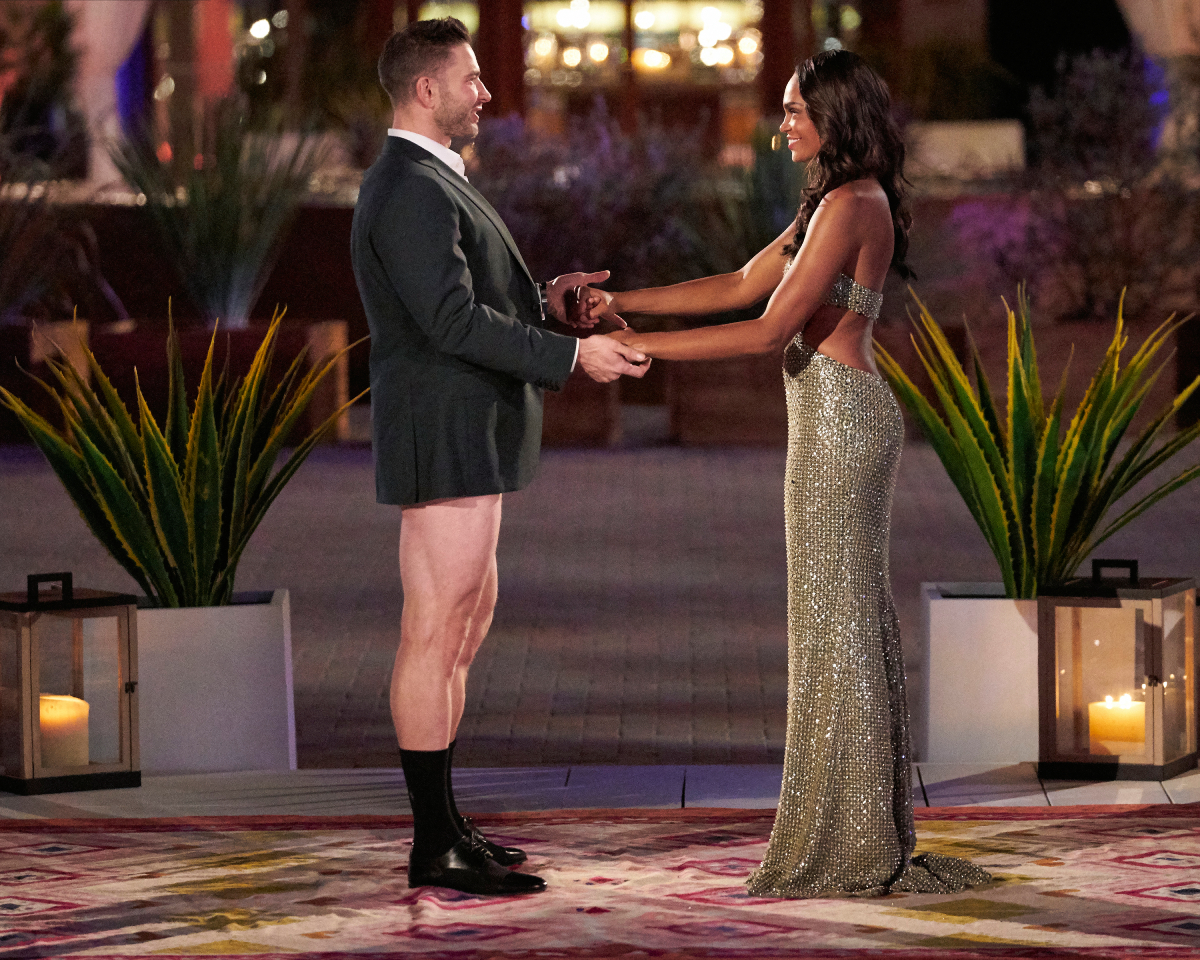 [Spoiler alert: This article contains potential spoilers about Michelle Young's Bachelorette premiere.]
Who is the oldest contestant on Michelle's season of 'The Bachelorette'?
Lowell "LT" Murray IV is the oldest contestant on Michelle's season at 38 years old. Although LT is 10 years older than Michelle, the age difference isn't too outlandish. LT is a "yoga guru" from Bellevue, WA. He is a personal trainer who loves a good spin class and his two pet Savannah cats. He is also the grandson of famous actor Clint Eastwood.
According to ABC, LT "wants to find someone who will appreciate his quirky sense of humor, join him on long walks and truly bring out the best in him. LT is a romantic at heart who, at his core, just wants to find someone with whom to watch old movies and exchange love letters."
He is also "very much fulfilled professionally and in his family life." What he is looking for now is someone to share it with.
LT makes an impression in 'The Bachelorette' premiere
Every contestant is trying their best to get the bachelorette's attention on night 1. LT certainly has an interesting strategy that Michelle won't soon forget. It appears that LT has forgotten his pants when he steps out of the limo. Instead, he wears underwear that looks like a tuxedo. "Best tux I've seen all night!" shouts Michelle.
LT's pantsless entrance certainly made an impression. "I'm trying to maintain eye contact," Michelle says as he approaches. The other contestants were surprised by LT's "bold" entrance. While some seem to have found it funny, his forwardness may make him a target in the upcoming season.
LT recently captioned a video of his night one entrance on Instagram saying, "Salute the booooyz. My bad, I know the entrance made some of you uncomfortable. I miss you. So much."
Michelle Young teases her contestants' entrances
Night 1 of The Bachelorette is always interesting to watch. Michelle teased a wild premiere for fans to look forward to in an interview with Extra. "You are gonna see so many unique entrances. You are going to see a man named Rick show up in a serving cart tray underneath a silver platter. You're going to see a man show up without pants. You're gonna see a man show up in firetrucks."
"There are so many different avenues that these guys brought to the table," she continued.
Michelle's season of The Bachelorette premieres Tuesday, Oct. 19 at 8 p.m. ET on ABC.