'The Bachelorette': Nayte Olukoya's Instagram About Michelle Young Will Make You Swoon After His Sweet First Impression
Many Bachelorette fans noticed a spark between Nayte Olukoya and Michelle Young when they met in the premiere. So naturally, some viewers have been looking for clues about the couple's relationship on social media. Luckily, Nayte shared two Instagram posts about Michelle surrounding night one of The Bachelorette. And while the contestant didn't exactly give anything away, the photos will seriously make you swoon.
[Spoiler alert: This article contains potential spoilers about Nayte Olukoya and Michelle Young in The Bachelorette Season 18.]
Nayte Olukoya wins Michelle Young's first impression rose in 'The Bachelorette' Season 18 premiere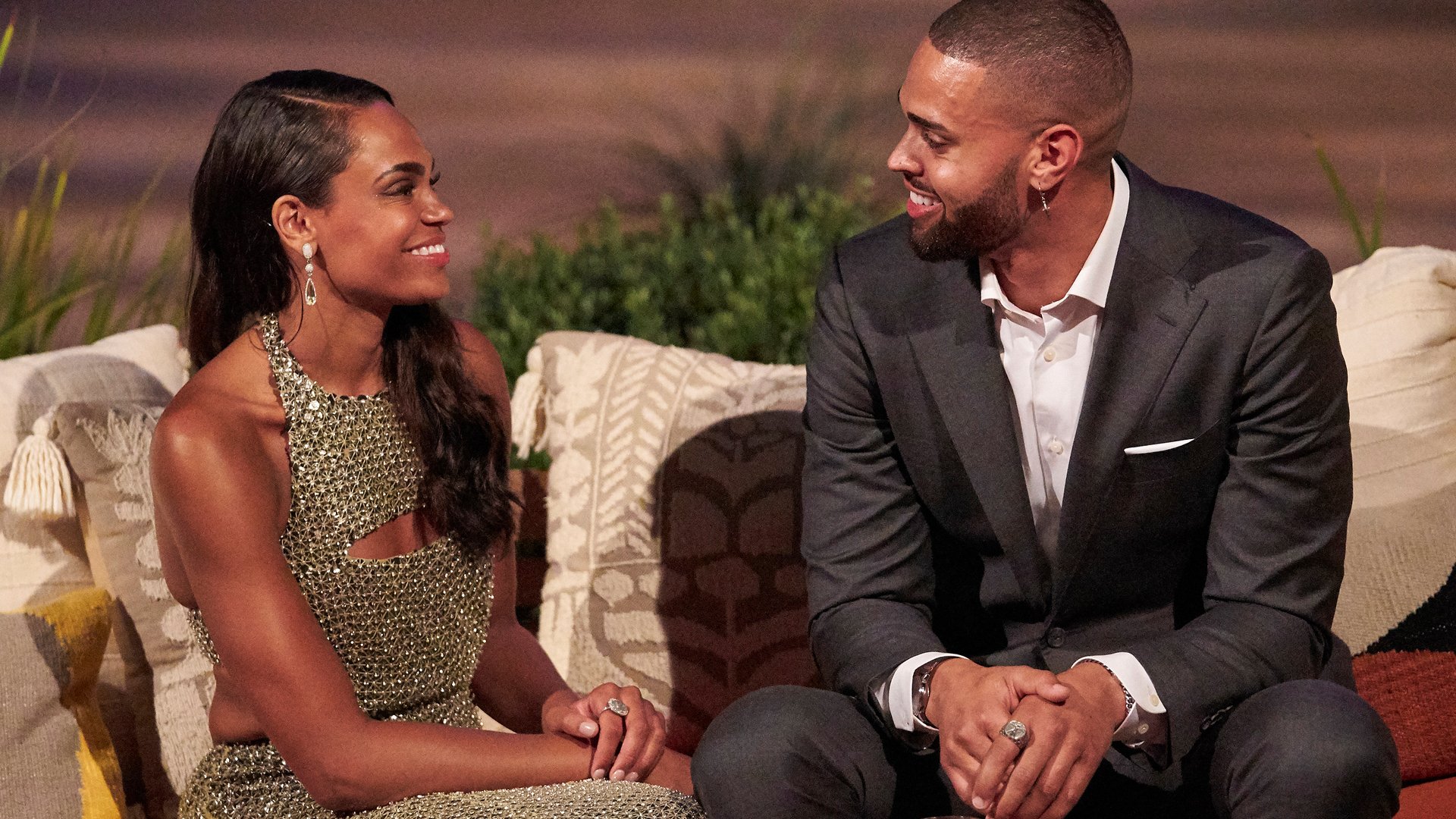 RELATED: 'The Bachelorette' 2021 Promo Trailer Drops More Clues From Michelle Young's Season Week 2 and Beyond
Michelle and Nayte seemed to have a genuine connection in The Bachelorette Season 18 premiere episode on Oct. 19. The contestant was the first one out of the limo, and he shared his full name — Babatunde Obafemi Robert Nathaniel Olukoya — before making Michelle laugh with a pun.
Meanwhile, Nayte pulled Michelle aside after all the drama with Ryan Fox, and he really started opening up. At first, the cast member noted that he was hesitant of being vulnerable because their family lives differed so much. He couldn't relate to Michelle's family dynamic because her parents were married for more than 30 years, and his parents were divorced. Nayte also revealed he never saw his parents kiss, and he hoped his kids won't see the same thing because he wants someone he can really be "together with."
In the end, Nayte told Michelle that she helped him open up, and she gave him the first impression rose. The bachelorette appreciated her contestant for opening up, and she saw that he was truly pushing himself to be vulnerable.
Nayte Olukoya's Instagram post about Michelle Young
RELATED: 'The Bachelorette': Michelle Young Says Her Finale Is 'Intense and Emotional'
Ahead of The Bachelorette Season 18 premiere, Nayte posted a photo of himself meeting Michelle for the first time. The contestant also hinted that his thoughts were all about the lead.
"Well, I mean, just look at her," Nayte wrote on Instagram.
Then a few days after The Bachelorette premiere, Nayte shared a picture of himself winning Michelle's first impression rose. The contestant made a reference to the bachelorette's job as a fifth-grade teacher. Nayte also called back to his first kiss with Michelle.
RELATED: 'The Bachelorette': Michelle Young Teases What Happened With Joe Coleman on the Show
"So I got an A+ for my first impression with Michelle and 'I WAS NOT EXPECTING THAT BUT BOOOOY AM I HAPPY,'" Nayte wrote on Instagram.
During the Bachelor Happy Hour podcast, Nayte confirmed that he was Michelle's first kiss of night one. The scene was shown in a clip before the show, but it didn't air during the premiere. In the clip, Michelle and Nayte kiss. Then the contestant says, "I was not expecting that, but boy am I happy!"
Are Michelle Young and Nayte Olykoya still together dating or engaged at the end of 'The Bachelorette'?
RELATED: Why Did Blake Moynes and Katie Thurston Break Up? 'The Bachelorette' Stars Confirm the End of Their Engagement on Instagram
Nayte's Instagram posts about Michelle didn't give away his ending on The Bachelorette Season 18. But, at the very least, the contestant's social media activity suggests that he still views the lead positively.
Now, if you don't want to wait to watch Michelle and Nayte's love story unfold on the ABC reality series, Bachelor Nation blogger Reality Steve already shared major spoilers about the current Bachelorette season. According to the franchise's spoiler king, Nayte and Michelle are not only still together, but they also get engaged in the finale. So whatever happens next, we're hoping for the love story of a lifetime. Get ready.
The Bachelorette Season 18 with Michelle Young airs Tuesday nights on ABC.