'The Bachelorette': Are Nayte Olukoya and Michelle Young Still Together or Engaged Now?
The Bachelorette Season 18 is coming to an end, and many fans are hoping to watch Michelle Young pick Nayte Olukoya. The frontrunner won the first impression rose and has been charming the lead ever since. But even so, the ABC reality series has been questioning whether Nayte is ready for an engagement, and there are still other men in the mix. So are Nayte and Michelle still together or engaged now after The Bachelorette finale? Here's what spoilers reveal about the relationship moving forward.
[Spoiler alert: This article contains potential spoilers about Nayte Olukoya and Michelle Young's future together in The Bachelorette Season 18.]
What happened to Michelle Young and Nayte Olukoya in 'The Bachelorette' 2021?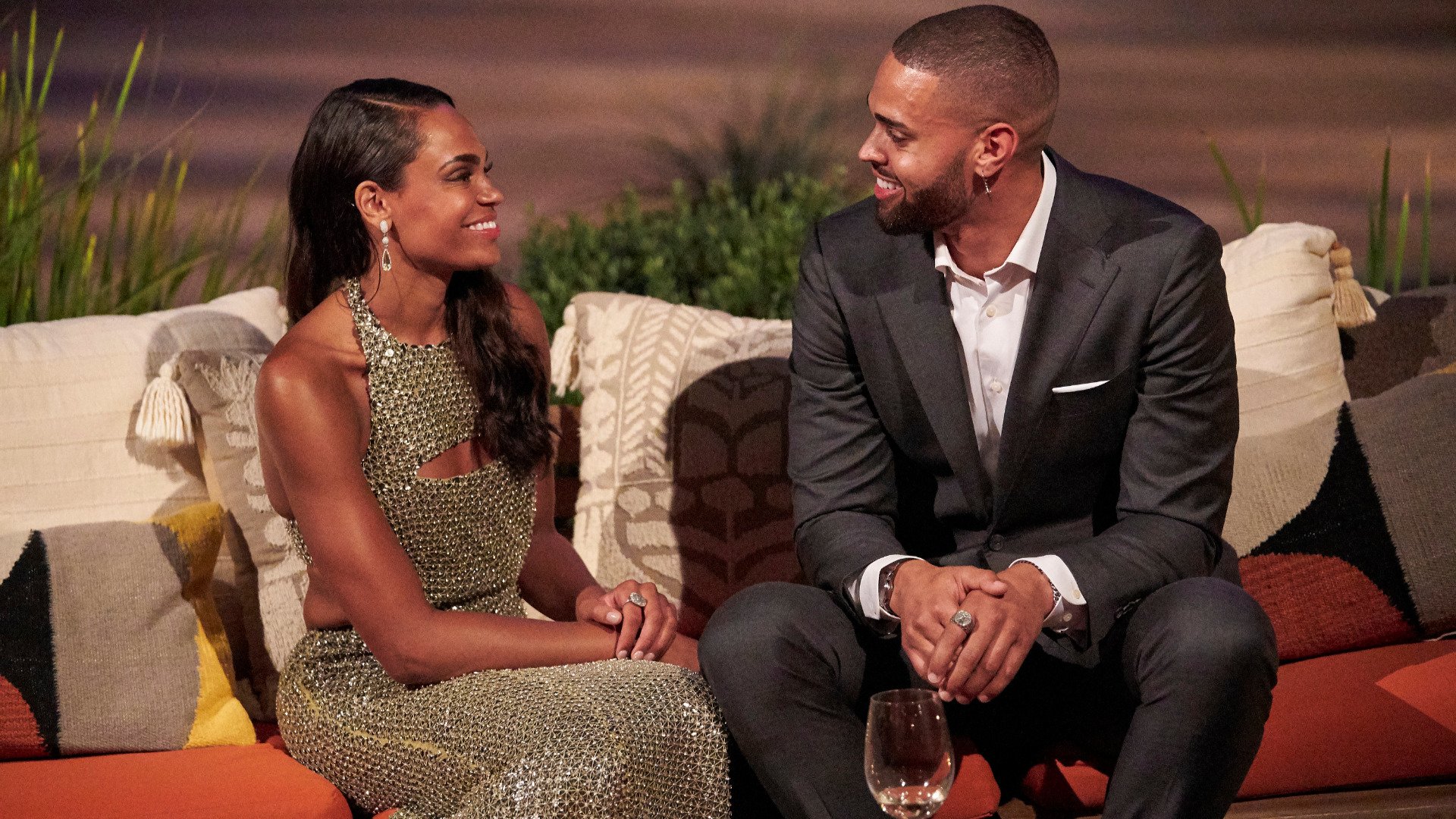 RELATED: 'The Bachelorette' Fans Think Nayte Olukoya and Michelle Young Are Engaged After the Contestant's Instagram Post
As mentioned, Nayte won Michelle's first impression rose in The Bachelorette Season 18 premiere. The frontrunner admitted he wasn't the best at opening up, but he was able to be vulnerable with the lead. Then as time went on, Bachelor Nation viewers watched Michelle and Nayte's connection grow.
However, Nayte's family questioned whether he will be ready to get engaged to Michelle in The Bachelorette finale. So the 28-year-old teacher will have to figure out how her cast member really feels while navigating two other relationships with Joe Coleman and Brandon Jones. (Update: Joe was eliminated after Fantasy Suites.)
Now, will Michelle and Nayte's relationship continue to blossom beyond The Bachelor bubble? Fans will have to wait and see what happens next.
Are Nayte Olukoya and Michelle Young still together or engaged now, according to 'Bachelorette' spoilers
RELATED: 'The Bachelor' 2022 Promo Trailer Previews Major Spoilers About Who Clayton Echard Will Pick as His Final 2
If fans don't want to watch the rest of Michelle and Nayte's journey unfold in The Bachelorette Season 18, Bachelor Nation blogger Reality Steve already shared major spoilers about the ending.
Ahead of the season premiere, the spoiler king said Michelle picks Nayte and they get engaged in the finale. And even with all the "is he ready for an engagement" narrative, Reality Steve claimed Nayte and Michelle are still together now.
"Seems like Nayte was the only one [during Hometowns] that they made not seem 'ready' to be engaged. Which is to be expected because that's what this show does," Reality Steve wrote on Dec. 1. "People dissect anything they can on the show and post-show, but just wanted to let you know, nothing has changed. Michelle and Nayte are engaged."
Michelle Young reveals how she's doing after filming the finale
RELATED: 'The Bachelorette': Tayshia Adams Says Zac Clark Breakup Announcement Was 'Very Heavy'
As always, Bachelorette fans will have to watch how Nayte and Michelle's story ends in the season 18 finale. But whether Reality Steve's winner spoilers are correct, it seems like Michelle is doing well now that filming has wrapped.
When speaking with E! News in late November, Michelle shared an update on how she's feeling now, and it seems like she's happy with her ending.
"I'm in love with where I'm at," Michelle said. "Coming into this process is such an abnormal thing, and walking into it, I wasn't sure how it was going to end. … But I knew that I was going to be learning so much along the way, and that's all I wanted."
She continued, "I wanted to go through it. I wanted to stay true to who I was. And I knew that if I did that, I would get something out of this entire process."
Update: In The Bachelorette finale, Michelle picked Nayte, and they got engaged. They also appeared on the live taping of "After the Final Rose" on Dec. 21, and the two confirmed they are still together now.
RELATED: 'The Bachelor' 2022: Release Date, Host, Lead, Spoilers, and Everything We Know About Season 26