'The Bachelorette': What Happened to Peter Izzo and Will Urena From Michelle Young's Season?
The Bachelorette Season 18 touched on the drama between Peter Izzo and Will Urena. But it looks like the fight will continue into episode 3 of Michelle Young's journey. So what happened to Peter and Will in The Bachelorette 2021? Here's everything we know about the situation.
[Spoiler alert: This article contains potential spoilers about Will Urena and Peter Izzo on The Bachelorette Season 18 in 2021.]
What happened to Peter Izzo and Will Urena in 'The Bachelorette' Season 18?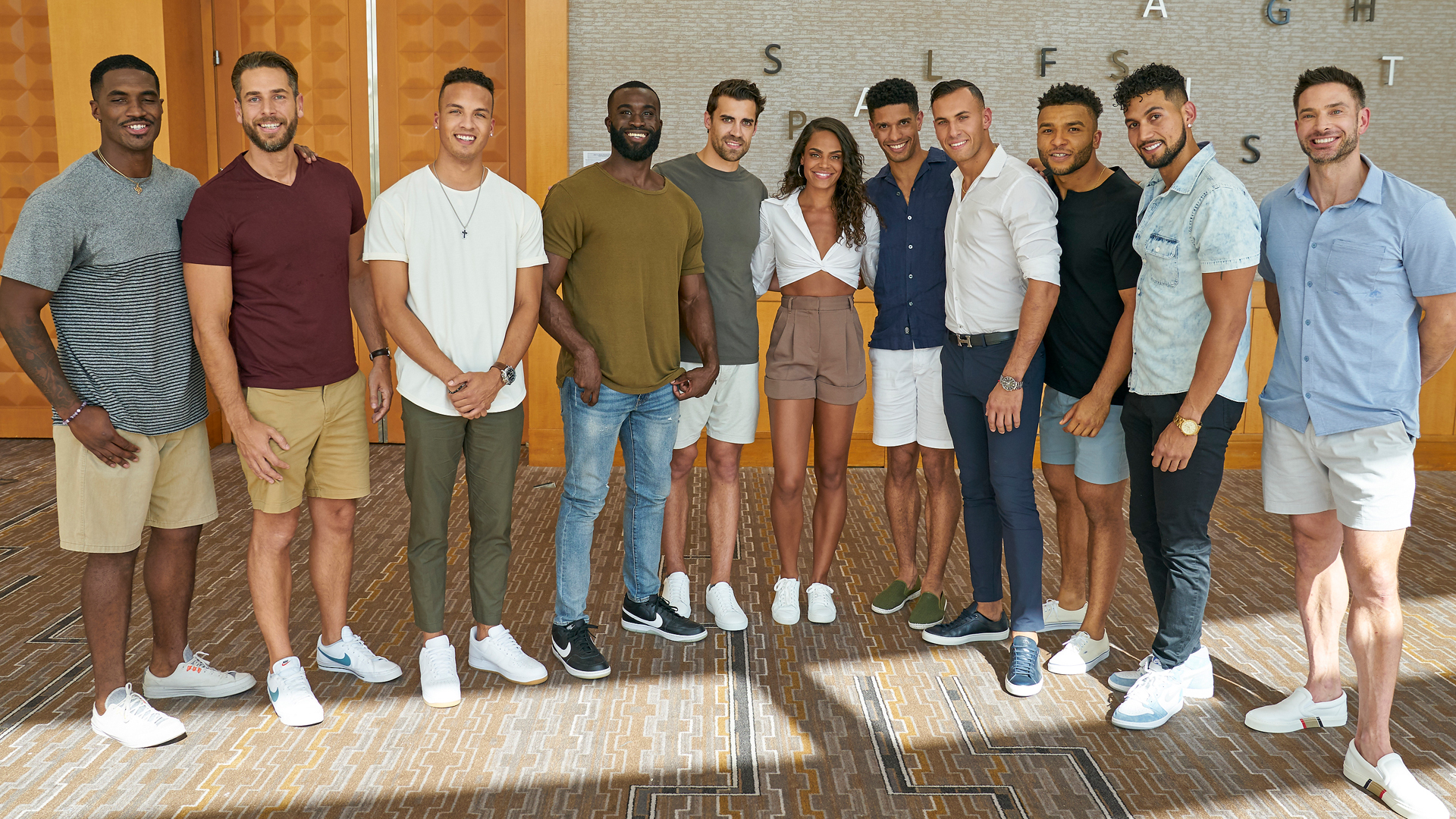 Many Bachelorette fans have been wondering why Peter and Will are fighting in season 18. It all started during Michelle's first group date, and it seemed like some contestants were getting annoyed by Peter's actions. For example, Casey Woods noted that Peter was "a little too much." Then when The Bachelorette cast was asked to do a spelling test, Will showed how he really felt about Peter.
During the activity, the contestants were asked to spell "narcissist." Then Will wrote down Peter's name because he thought that the cast member was only there for the spotlight. Later that evening, Peter confronted Will, and the two had a loud argument. Fans could even hear the fight in the background when Michelle was spending some quality alone time with Olumide "Olu" Inajide. 
Eventually, Michelle spoke with Peter, and she was worried about how his actions would translate in the real world. Peter said that arguing with Will was "out of character," and he apologized. Meanwhile, both Will and Peter got a rose during the elimination ceremony.
Michelle Young on Will Urena and Peter Izzo's fight on 'The Bachelorette' 2021
During the Oct. 27 episode of Bachelor Happy Hour, Michelle shared some perspective on the drama between Peter and Will. The Bachelorette Season 18 star suggested that she didn't pick up on the tension until their fight during the group date. She also briefly explained why Peter had such a strong reaction. Michelle said:
"What's so hard is I didn't really know their relationship up until that point. Also, we're just getting started, and I felt like everyone was fairly playful with each other. I mean, they're guys. They call each other out, and they laugh. That one hit home with Peter, and that's why there was that reaction. And then it continued to snowball into that evening. But at that time, I didn't really see too much of it."
Michelle also revealed that actually heard Will and Peter's loud argument when she was speaking with Olu on the group date. Then she hinted that the other contestants knew exactly what was going on.
"Olu coming into the conversation already knew that there was beef between Will and Peter," Michelle said.
Will Peter Izzo or Will Urena go home in 'The Bachelorette' Season 18 Episode 3?
While Peter and Will's argument seemed to fizzle in episode 2 of The Bachelorette Season 18, it looks like they will get into some more trouble in episode 3. In the teaser for the Nov. 2 episode, Peter tells someone he's going to "keep exposing" them. Then it seems the contestant was talking to Will, who walks away from cameras. 
"This man is really pushing my [bleep] buttons," he says.
Meanwhile, Peter throws someone's jacket into the pool in the extended Bachelorette Season 18 preview, and he's wearing the same outfit as the episode 3 trailer. So, given everything that happened, it seems likely Peter takes Will's jacket. 
Naturally, we're inclined to think that the drama between Will and Peter will cause them both to be sent home in The Bachelorette Season 18. As Michelle mentioned on Bachelor Happy Hour, it's still early in the season. So with so much drama surrounding both parties, we're not sure it'll end well. But we'll just have to wait and see what happens next.
The Bachelorette Season 18 with Michelle Young airs Tuesday nights on ABC.