'The Bachelorette': Rachel Lindsay Attacked on Social Media Following Her Comments About Garrett Yrigoyen
It's no secret that The Bachelorette couple Becca Kufrin and Garrett Yrigoyen are on the rocks. Rachel Lindsay spoke to her fellow Bachelor Happy Hour co-host about her fiance's comments. However, now that Lindsay is talking about Yrigoyen's beliefs to other people, fans attack her on social media.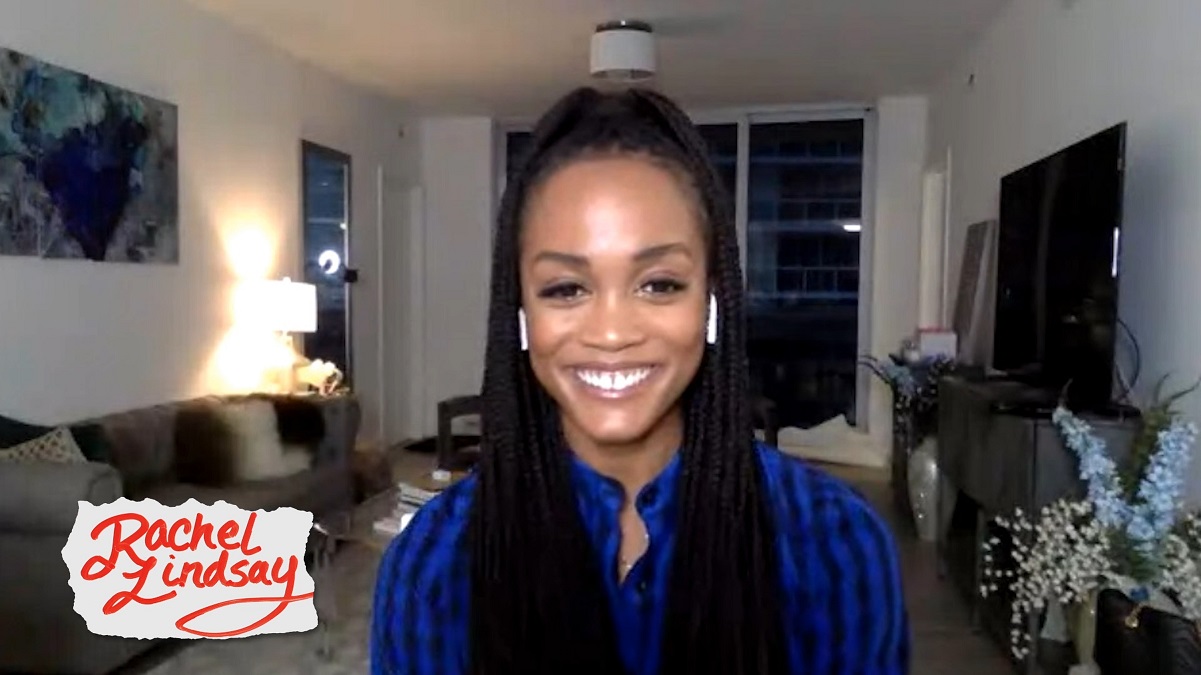 The former Bachelorette, Rachel Lindsay, called Becca's fiance, Garrett a 'Piece of Sh*t'
Lindsay joined host Danny Pellegrino on the Everything Iconic podcast on July 29, 2020. The two met up to discuss Bravo, but they also reviewed some of the headlines the Bachelor Happy Hour host is a part of. When the conversation turned to Kufrin and Yrigoyen's relationship, Lindsay was not afraid to speak her mind. 
"He has doubled down on his beliefs," Lindsay said about Yrigoyen. "This is not the first time he has had problematic behavior. When he was on the season—he had a history of liking things that were racist, sexist, homophobic, calling the Parkland students' child actors.' It was a lot. This is who this man is."
Lindsay explained the situation to Pellegrino. Yrigoyen posted a heartfelt message along with a thin Blue line, so Lindsay and Kufrin discussed it on their podcast. He adamantly supported law enforcement instead of Black lives after the tragic death of George Floyd.
"We both got emotional," Lindsay said about the podcast with Kufrin. "It was great for us and our friendship, but I think he's a piece of sh*t." 
Lindsay is under fire for her remarks about Kufrin's fiance, Yrigoyen
After the podcast, several news outlets used her quote as the headline to their stories. Bachelor fans are attacking Lindsay on social media for her comments about Yrigoyen.
"Rachel shouldn't have said that about Garrett," one fan wrote on Lindsay's recent Instagram post. "That is not respecting her friend at all, not her relationship, not her business."
The comments continued. Numerous users spoke negatively about Lindsay in the comments of a photo of the former Bachelorette. 
"I wouldn't want a friend like you," another fan added. "If you have a problem with Garrett but truly love Becca, you should have addressed your issue with her and not in the press." 
Other fans jumped in, stating that Lindsay is "part of the problem," because she is calling Yrigoyen names. However, she did speak with her friend about her fiance on the Happy Hour podcast.
"Just because someone doesn't have the same views as you doesn't mean they are shit," another user wrote. "It's disappointing you can't see that it's OK to differ in opinion with someone. What's not OK is hate, which is what you're showing."
Several fans came to the former Bachelorette's defense
"Becca's partner showed blatant favor for a group who willfully oppresses Rachel's community," one fan defended Lindsay. "Rachel's pain is valid. She does not have to silence herself to please Becca. Please understand this is more nuanced than you've implied." 
Others wrote about how much they enjoyed listening to the podcast. They want Lindsay to keep speaking her mind.
"Rachel, please keep speaking your heart and mind," another fan wrote. "Never mind these haters. Thank you for being who you are!"
From what Lindsay said on the podcast, it's evident that she does not let the criticism get to her. She also shared several direct messages to her Instagram Story, where fans called her names.
"It's like the low-hanging fruit to criticize me," Lindsay said to Pellegrino.