'The Bachelorette': Rachel Lindsay Reveals Why She Still Can't Follow Peter Kraus on Social Media
Fans were heartbroken when Rachel Lindsay and Peter Kraus broke up on Lindsay's season of The Bachelorette. With how emotional their breakup was, some might assume that the two probably haven't spoken since appearing on After the Final Rose in 2017. However, Lindsay recently revealed that she and Kraus have talked, but that they still won't follow each other on social media.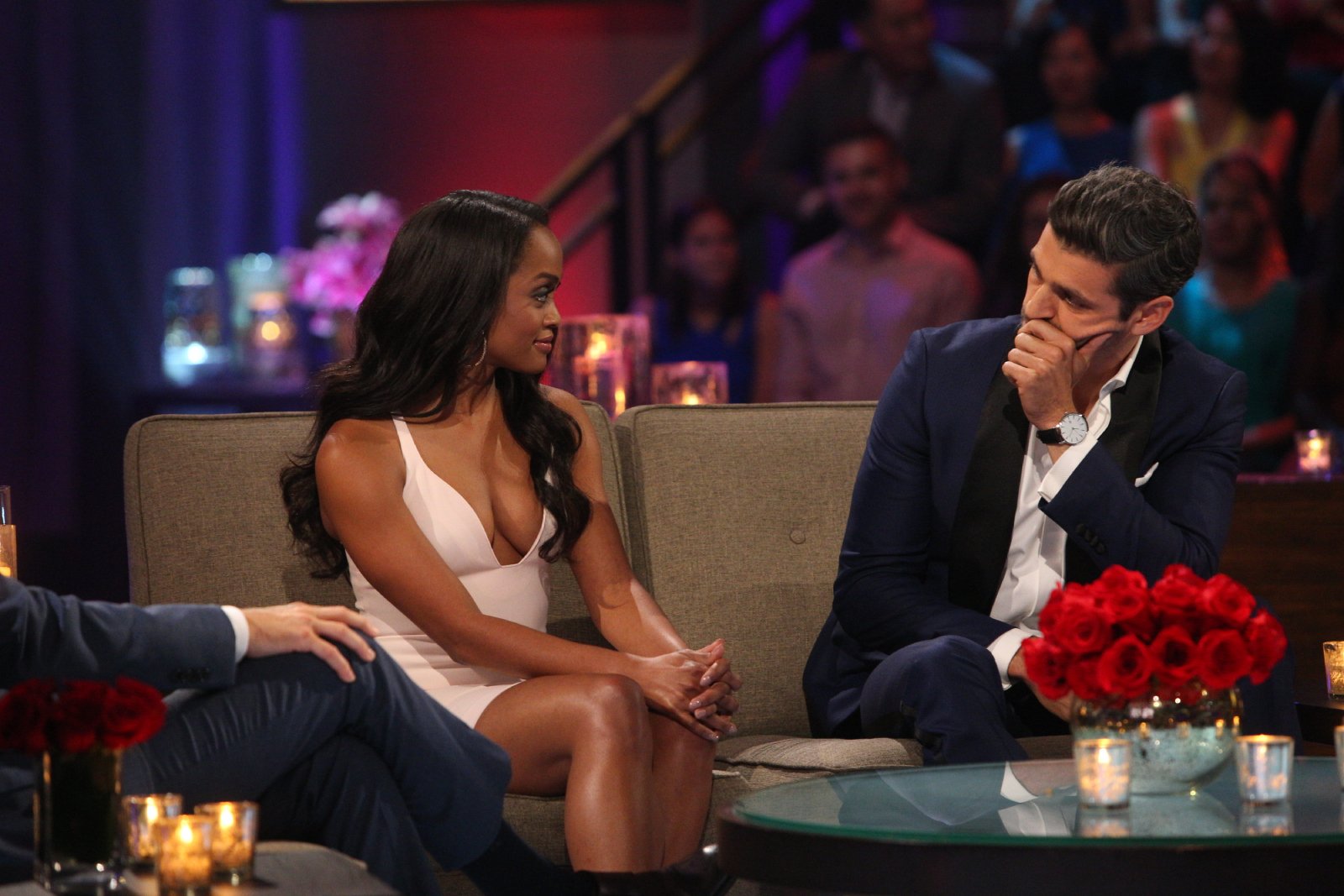 Peter Kraus was on Rachel Lindsay's season of 'The Bachelorette'
Lindsay and Kraus seemed to have a good connection on The Bachelorette. However, he wanted some more time before proposing, and she wasn't willing to give him that. The two ultimately broke up, and Lindsay then got engaged to Bryan Abasolo.
RELATED: 'The Bachelorette': Why Rachel Lindsay Thinks Tayshia Adams and Clare Crawley Will Get Their Love Story
Kraus has not been on any of the shows within the Bachelor universe since then. However, he has reportedly been asked to be the Bachelor multiple times. When he first received an offer for the spot, though, Kraus was seeing someone casually, he said on The Ben and Ashley I Almost Famous Podcast. Kraus also wasn't sure about proposing to someone at the end of the show.
"It was really hard for me and I couldn't say I would for sure get in an engagement at the end of the show," Kraus said. "It wasn't that I knew for a fact that I didn't want to. It was more that I couldn't promise them that I would and I didn't want to be forced to do it if I said yes to the show."
When Kraus received an offer for the role another time, he didn't think that the compensation was worth it.
Rachel Lindsay is married to Bryan Abasolo
Lindsay and Abasolo got engaged on her season of The Bachelorette. The couple later said "I do" in August 2019, and spent their honeymoon in Greece.
RELATED: Do Rachel Lindsay and Bryan Abasolo Want Kids? The Former Bachelorette Opens Up About Expanding Her Family
They have since celebrated their first anniversary.
"I can't believe it's already been a year since we both said 'I Do,'" Abasolo wrote in part of an Instagram post. "I consider myself beyond lucky to be able to call you my wife and truly blessed to be your husband. I wake up every single day a better man because you are always there to support, encourage, and love me no matter what."
She revealed that she has spoken to Peter Kraus
On a recent episode of Lindsay's Bachelor Happy Hour podcast, she revealed that she has talked to Kraus since their time on the show.
"That's probably going to be a shocker to so many people," Lindsay said. "People are thinking of the last time we saw each other, which was on stage, but that was also three years ago. We're adults here, and we can all move on."
Lindsay said that they discussed the Black Lives Matter movement.
RELATED: Rachel Lindsay Initially Declined 'The Bachelorette' and the Reason Why She Changed Her Mind Will Melt Your Heart
"He was asking me questions about it and stuff, like, for some advice about responses he had gotten," she said.
Despite Lindsay and Kraus definitely being on good terms now, though, they still won't follow each other on social media.
"It's funny because we were like, 'Man, we almost hit that follow button, but it would just turn into something that it shouldn't.' I still get messages that tell me, 'You were really into Peter.' It's like, guys, I'm married now. I just celebrated a year anniversary."
She also added, "It's sad because we were like, 'Yeah, probably not a good idea to hit that follow button.'"
Check out Showbiz Cheat Sheet on Facebook!