'The Bachelorette' Season 16 Dives Into Unprecedented Conversation on Race, Police Brutality, and George Floyd
The Bachelor and The Bachelorette have long been criticized for their casts' lack of diversity. However, in 2020, the show's producers seem to be trending towards modernity, announcing their long-awaited first-ever Black Bachelor, Matt James, and ushering in their second-ever Black Bachelorette, Tayshia Adams, midway through Clare Crawley's season.
Still, it was shocking to see a recent episode of The Bachelorette Season 16 in which the cast members had an open, in-depth conversation about the George Floyd protests, police brutality and their personal experiences with racism.
'The Bachelorette' cast member Ivan Hall and Tayshia Adams break new ground in the 2020 season
In a TV franchise that so often treads the middle of the road — or avoids discussing anything too touchy all together — week 7 of The Bachelorette Season 16 broke some barriers.
At first, when contestant Ivan Hall joined Adams for the elusive one-on-one date, the night seemed to be pretty chill; the pair was ordering food, playing Twister, and hanging out on the couch. However, Hall eventually turned the conversation to his personal and family struggles — and related them to the world-altering events we've seen happen in 2020.
The Bachelorette contestant revealed that his younger brother got into "drugs and drinking," and after a while, he "literally was not in control of himself." Eventually, the young man was sentenced to 4 years in prison. What made it so much harder: Hall's brother had a daughter right before he went to prison.
"It was chilling," Hall explained of the experience of watching his niece not being able to touch her dad for the first few years of her life.
While tears streamed down his face, Hall acknowledged his own growth from the traumatic experience. As he told Adams, he doesn't "pass judgment on anybody" who's going through addiction or issues with substances.
"As tough as it is, it's taught me so much," Hall continued.
How George Floyd and police brutality protests related to Ivan Hall's personal experiences
However, the Bachelorette contestant also referenced his brother's "really dark times in prison." That's when Hall brought up the issues of George Floyd and police brutality.
"That's something that really hit home for me. You can only imagine how much wilder it could be in prison, right?" he shared. Hall's brother told him how the correctional officers used to "beat him up" in prison. Adams shook her head in disbelief hearing his story.
Hall's first instinct was to ask what his brother "did" before those beatings. But, those conversations — and the events of 2020 — made him realize that the violence was never justified.
"No matter what George Floyd did or what my brother did. They can't just be hurting people for no reason," he said. "It made me check myself."
RELATED: Who Is Ivan Hall From 'The Bachelorette'? Chris Harrison Says Tayshia Adams' Contestant Is 'Extremely Likable'
'The Bachelorette' Season 16 lead Tayshia Adams gets emotional about her own struggles
Talking about her own experiences, Adams was crying so much she could barely get the words out. She explained that she had spent so much of her life in a very white world, attempting to "blend in." But hearing the chants for "Black Lives Matter" in her community made her incredibly emotional.
"It hit me more than I realized just because those are people in my backyard that I've been trying to prove for so long that I'm the same as the them," the Bachelorette star explained.
Hall related to Adams in that moment, remembering being called the "n-word" in college.
However, both of them were incredibly inspired by the widespread protests that happened this summer.
"I never thought in my lifetime — our lifetime — that so many people would come together for one common cause," Hall shared. "…Like the, way that things happened. It was so beautiful."
It took The Bachelorette 13 seasons to make a Black woman its lead — and 25 for The Bachelor. Not to mention, when Lindsay's contestants got into it about race, it was played up as drama. Her contestants' feuds didn't approach anything close to a personal, nuanced conversation. So, even hearing Hall say the name "George Floyd" several times on the show was pretty darn groundbreaking. While the show still has its issues, we applaud The Bachelor franchise for finally stepping up to the plate and digging into this tough conversation.
The 'Bachelorette' alum Rachel Lindsay says Ivan was the right contestant for this episode's tough convo
Former Bachelorette lead Lindsay joined the Bachelor Party podcast to discuss Hall's date.
"It's really big of him to open up and share what his family has gone through, what his brother has gone through," she shared. "But I loved that he related it to the times. … he went into detail about it, he specifically talked about how it affected him."
Lindsay was especially moved by how Hall admitted he changed as a result of his experience.
"And how it's changed his outlook. That might have been one of the most powerful things he said," Lindsay explained. The Bachelorette alum said:
He admitted how he was wrong how he used to view things. …He has totally changed his perception on how he views police or prison guards in this instance. I loved it.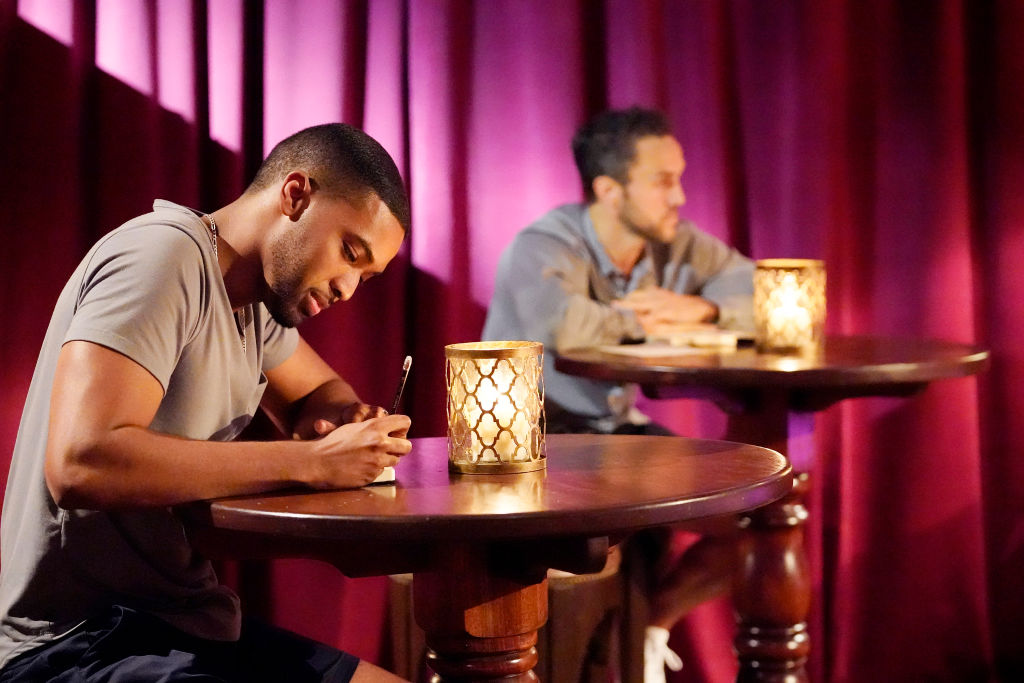 However, Lindsay also believes the franchise was doing the bare minimum for the year we're living in.
"They had to," she said on the podcast. "… Race has to be a part of the conversation. It should always be, especially a lead of color or contestants of color on the show." Particuarly, she emphasized, "for Tayshia's season."
"1. she's a woman of color," Lindsay confirmed. "But 2. because of the times we're living in. It's a failure of the show if they don't recognize that."
Lindsay also believes that Hall was the exact right Bachelorette contestant to bring up these serious issues. She explained:
They had Ivan leading this conversation because he could. You need the right person to be able to basically speak to Bachelor Nation about George Floyd and do it in a way that is personal. And he has real life experiences with what's happening and what needs to change in our society.