'The Bachelorette': Will Tayshia Adams and Kaitlyn Bristowe Host Michelle Young's Season?
Former Bachelorettes Tayshia Adams and Kaitlyn Bristowe have been assisting Katie Thurston through her season of 'The Bachelorette.' Will they do the same with Michelle Young?
Normally, leads on The Bachelorette are guided by host Chris Harrison throughout their seasons. Since Harrison left the franchise, his role on the show has been filled by former Bachelorettes Tayshia Adams and Kaitlyn Bristowe. When the two began hosting Katie Thurston's season, it seemed like a trial run, but now, sources have said that the two may reprise their roles for Michelle Young's upcoming season.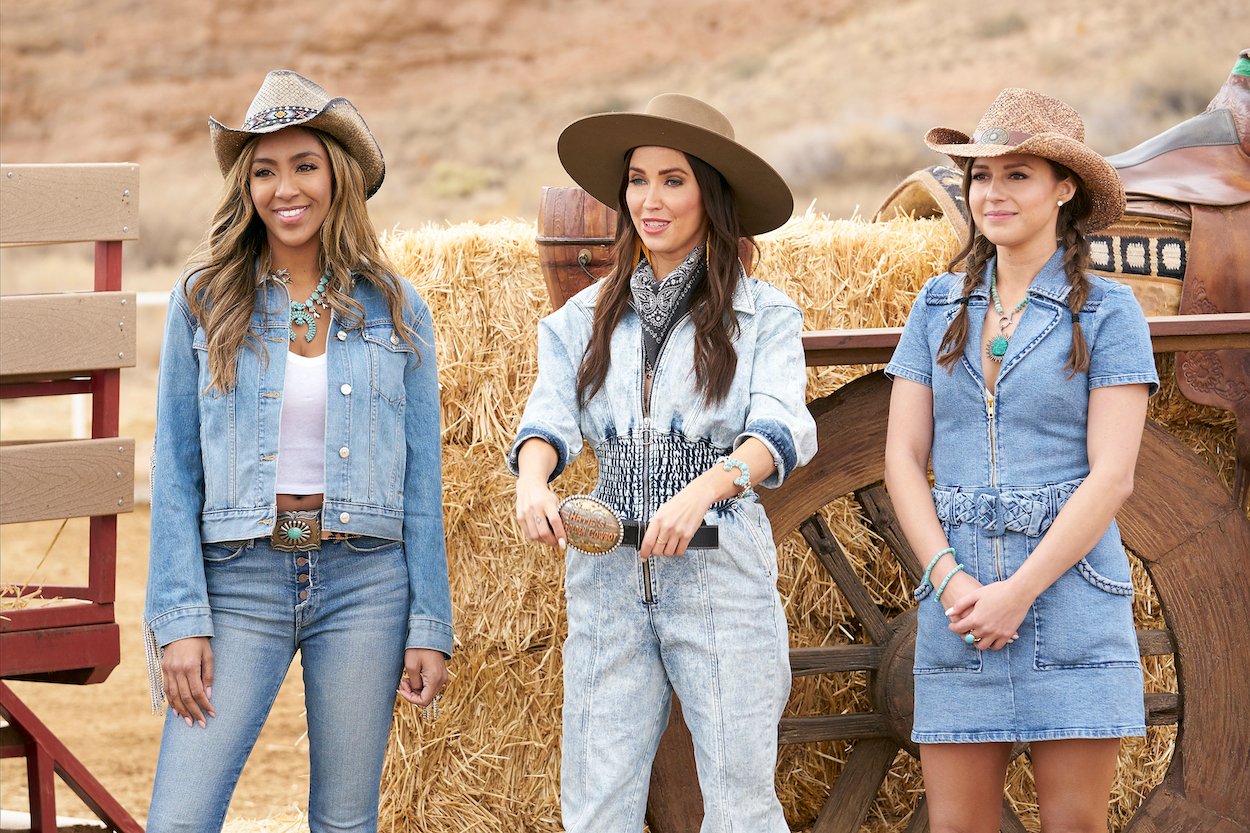 Will Tayshia and Kaitlyn be back on 'The Bachelorette'?
When this season of The Bachelorette first premiered, neither Adams nor Bristowe knew if hosting/mentoring was going to become a more permanent gig for them. But now, according to Bachelor guru Reality Steve, both women will be returning to help Young.
"Kaitlyn and Tayshia will be returning to co-host Michelle's season of the 'Bachelorette' when it begins filming later this month," he wrote in a tweet. "I'll have some filming updates, locations, and timelines in my column on Tuesday."
However, Variety reporter Elizabeth Wagmeister denied Steve's claims.
"I've reported in many of my #Bachelorette stories over the past month that Tayshia & Kaitlyn would more-than-likely be back for Michelle's season," she tweeted. "But as of this moment, no contracts have been signed. My sources say negotiations with Tayshia & Kaitlyn are ongoing. No done deal."
Kaitlyn and Tayshia have been great mentors on 'The Bachelorette'
Throughout the season, Adams and Bristowe have been there for Thurston as mentors and girlfriends. The two listen to her thoughts and help her make sound decisions.
"Tayshia and Kaitlyn can relate to Katie's journey in a lot of different ways, which you'll see play out, so it was nice to have them there to help out with whatever situation came up," a source told Us Weekly during filming. "Tayshia had fun and loved doing it. She and Katilyn made a great team."
The women also offer different perspectives.
"Kaitlyn said, 'Don't fall in love with one person on the first night, be open,'" Thurston told Us Weekly of the hosts' advice. "And then Tayshia was the one who said, you know, 'Surrender to the process. Trust the journey.'"
Adams even helped guide her ex-boyfriend, Blake Moynes, into Thurston's competition.
"I was like, 'First of all, what are you doing here? But also, I know your heart, you're a kind person, and if this is where you feel like you should be, then I'm going to support you in that,'" Adams told People of when Moynes first expressed interest in joining the show. "But I didn't know how she's going to feel. So it's going to be really interesting to watch that play out."
Michelle Young as the Bachelorette
During the finale of Matt James' season of The Bachelorette, both Thurston and Young were announced as the upcoming Bachelorettes. Normally, one Bachelorette is chosen at a time. However, this time, fans already know who the next Bachelorette is and the men applying for the show will already know who they are competing for.
Young made it to the top two in James' season, causing fans to fall in love with her sweet nature and be absolutely devastated when James broke up with her. ABC has yet to release an official air date for Young's season.
RELATED: 'The Bachelorette': The 1 Piece of Advice Several Alums Have Given Katie Thurston That She Hasn't Listened To
Related post url: