'The Bachelorette': Why Tayshia Adams and Kaitlyn Bristowe Were Reportedly Paid Less to Host
The following season of The Bachelorette will have several changes. It'll have two stars the whole season, and Jesse Palmer will host. This means Tayshia Adams and Kaitlyn Bristowe won't be back and a source reportedly revealed why they were paid less to cohost. 
Jesse Palmer will host 'The Bachelorette' Season 19
RELATED: 'The Bachelorette': Tayshia Adams Says Zac Clark Breakup Announcement During 'Men Tell All' Was 'Very Heavy'
Palmer finished his first season hosting Clayton Echard's season of The Bachelor. He ended it by announcing on After the Final Rose that Rachel Recchia and Gabby Windey will be the stars of The Bachelorette Season 19. He also said he'd be along for their journey.
This means Adams and Bristowe won't be back after being cohosts on Katie Thurston and Michelle Young's season of The Bachelorette. Adams also is no longer hosting the podcast Click Bait, which is part of Bachelor Nation's podcast network. Bristowe, on the other hand, is still hosting her Off the Vine podcast.
Why Tayshia Adams and Kaitlyn Bristowe were reportedly paid less to host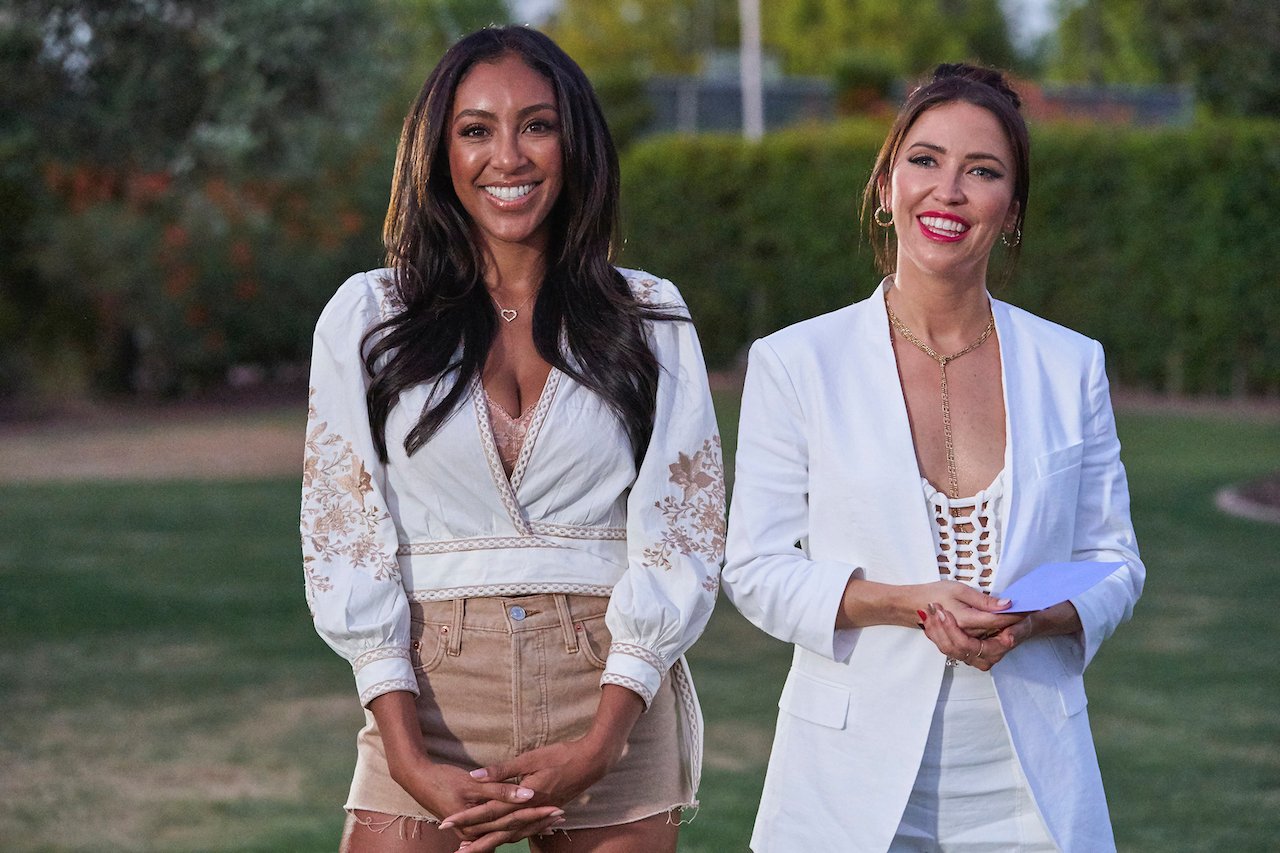 RELATED: 'Bachelor in Paradise' Season 8: Reality Steve Suggests Show Might Not Return After 'The Bachelorette' 2022
Adams and Bristowe filled in after Chris Harrison was fired. It's not very surprising they were paid less than Harrison since it was their first season. But there's another reason why their pay was reportedly lower than Palmer's.
A source claimed Adams and Bristowe were credited as a "special guest" instead of a host. Meanwhile, Palmer is getting the "host" credit, which pays more.
"The only resentment that seems to come out of it is their titles and contracts," a source said, according to Us Weekly. The person said, "it all comes down to pay," and they received "less pay." 
Kaitlyn Bristowe supports Jesse Palmer hosting the new season
RELATED: 'The Bachelorette' 2022: Reality Steve Reveals When Filming Begins
Bristowe addressed the cast change on her podcast. She had nothing but good things to say about Palmer.
"He'll be a great host and I hope he helped Gabby and Rachel in any way that he can," she said on Off the Vine. "It's been a wild year, and I'm coming off filming two Bachelorette seasons, my live podcast tour and now ending the Dancing With the Stars tour."
The former bachelorette admitted she wanted to be there for the new reality stars. "I want to support Gabby and Rachel and be there for them so bad," she said. "I think it makes sense to have a woman being there for them." Bristowe later added, "I will be sad, though. I want to be there to support them, but that's the update."
Adams hasn't made a statement about Palmer's announcement. She did address her exit from Click Bait back in January on an episode of the podcast. "I am just stopping by to say hi and to really express my love and gratitude to every single one of you before I say goodbye for a little while," she said. "I was really anticipating and looking forward to coming back to Click Bait, but it just seems to be that time for me to work on myself and the many things I have coming down the pipeline."