'The Bachelorette': Tayshia Adams Shares Wedding Update With Andy Cohen; 'I Have a Lot on My Plate'
The Bachelorette fans are eager to hear more about Tayshia Adams and Zac Clark's wedding plans. Adams recently shared an update on an episode of Watch What Happens Live with Andy Cohen. Here's what Adams had to say about her wedding plans with Clark. Plus, what Cohen said to The Bachelorette host that made her exclaim, "Hey!"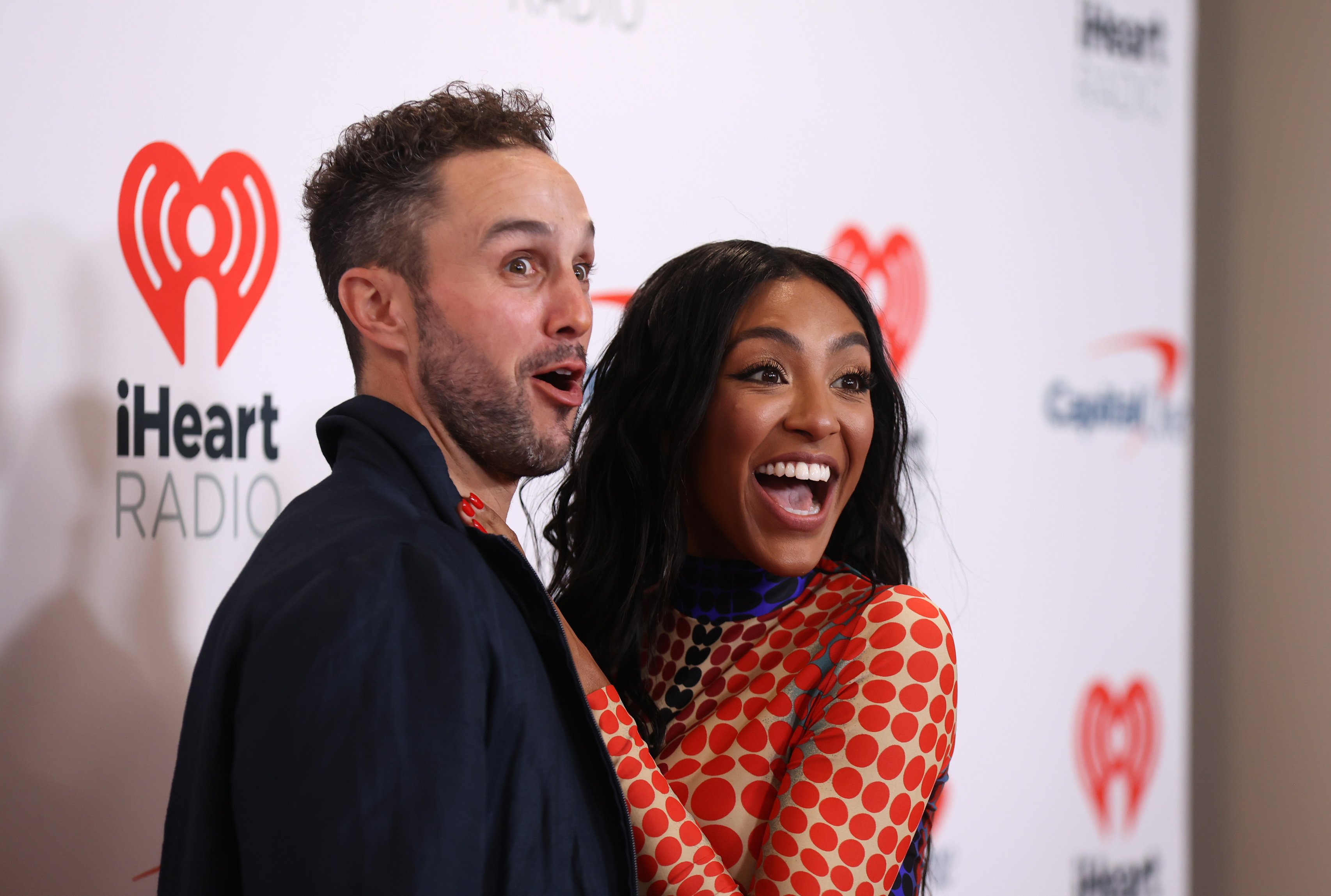 'The Bachelorette's Tayshia Adams and Zac Clark haven't set a wedding date 
Clark was Adams' final man after she replaced Clare Crawley as the Bachelorette. "I came here because I was supposed to be here, and I came here because I was supposed to fall in love with you," Clark said during his proposal.
"Nothing has felt so right my entire life. You've helped me experience the love I didn't know existed. I love you because you are a strong, independent woman, who makes everyone better. I love you because you believe in me."
Now, after more than a year of being engaged, the couple has yet to start wedding planning. Adams has been busy co-hosting The Bachelorette with Kaitlyn Bristowe, among other things. Meanwhile, Clark co-owns a recovery foundation and is often training for marathons. 
Andy Cohen says Tayshia Adams 'isn't immune' regarding her engagement
During her appearance on Watch What Happens Live, Cohen asked the former Bachelorette about Katie Thurston and Blake Moynes' breakup. Adams admits she was sad to see the couple's relationship end, adding how she thought they could last. 
"When do you think you'll get married?" Cohen asks Adams. "I'm not sure," she replied, adding: 
"Right now — I just got done filming not too long ago. I'm back in the city. I'm training for a marathon. I have a lot on my plate. We'll see."
"You're not immune, Tayshia," Cohen adds. The Real Housewives creator assured Adams he was kidding after she reacted, "Hey!" 
'The Bachelorette' star Tayshia Adams and Zac Clark's trip to Paris 
At the beginning of October 2021, Adams and Clark took a trip to Paris together. "T & Z take Paris," the reality TV star captioned a photo on her Instagram Stories (via People). 
"Guys, I woke up in Paris," she wrote over another photo featuring a view of the city. "I'm so happy." Adams continued to share posts throughout their trip, including pictures of "his and hers" beverages and their meals at Baguett's Cafe. Before Paris, Clark was in London running the London Marathon. 
Tayshia Adams thinks she and Zac Clark can last 
During her interview with People, Adams talked about the struggle to find time for each other because of her filming schedule, Clark's marathon training, and juggling his business. Still, the former Bachelorette thinks she and Clark can last. 
"I think it's because we both want it," she told the outlet in September 2021. "There's a true, special connection there that we knew we had instantly. I think that's really helped carry us through the really tough circumstances that we've had, like me being gone for a couple of months to go film, and us living on different coasts. Truthfully, I don't think if we didn't have that it might not have lasted."
Adams admits "it's been pretty tough," but it's nothing the couple can't handle. "We love each other and we want to make it work," she concludes. "So that's all you need, really."
See more from Adams on The Bachelorette. New episodes air Tuesday nights at 8 PM EST on ABC.