'The Bachelorette': Tayshia Adams Spoke to Chris Harrison Before Replacing Him as Host
Over the weekend, news broke that Chris Harrison would not be returning to host The Bachelorette. While the news shocked Bachelor Nation as Harrison has become a staple in the franchise, many fans have been eager to see some changes since Harrison defended contestant Rachael Kirkconnell for attending a plantation party. Former Bachelorettes Tayshia Adams and Kaitlyn Bristowe will be replacing Harrison for next season. Did Harrison approve of the change?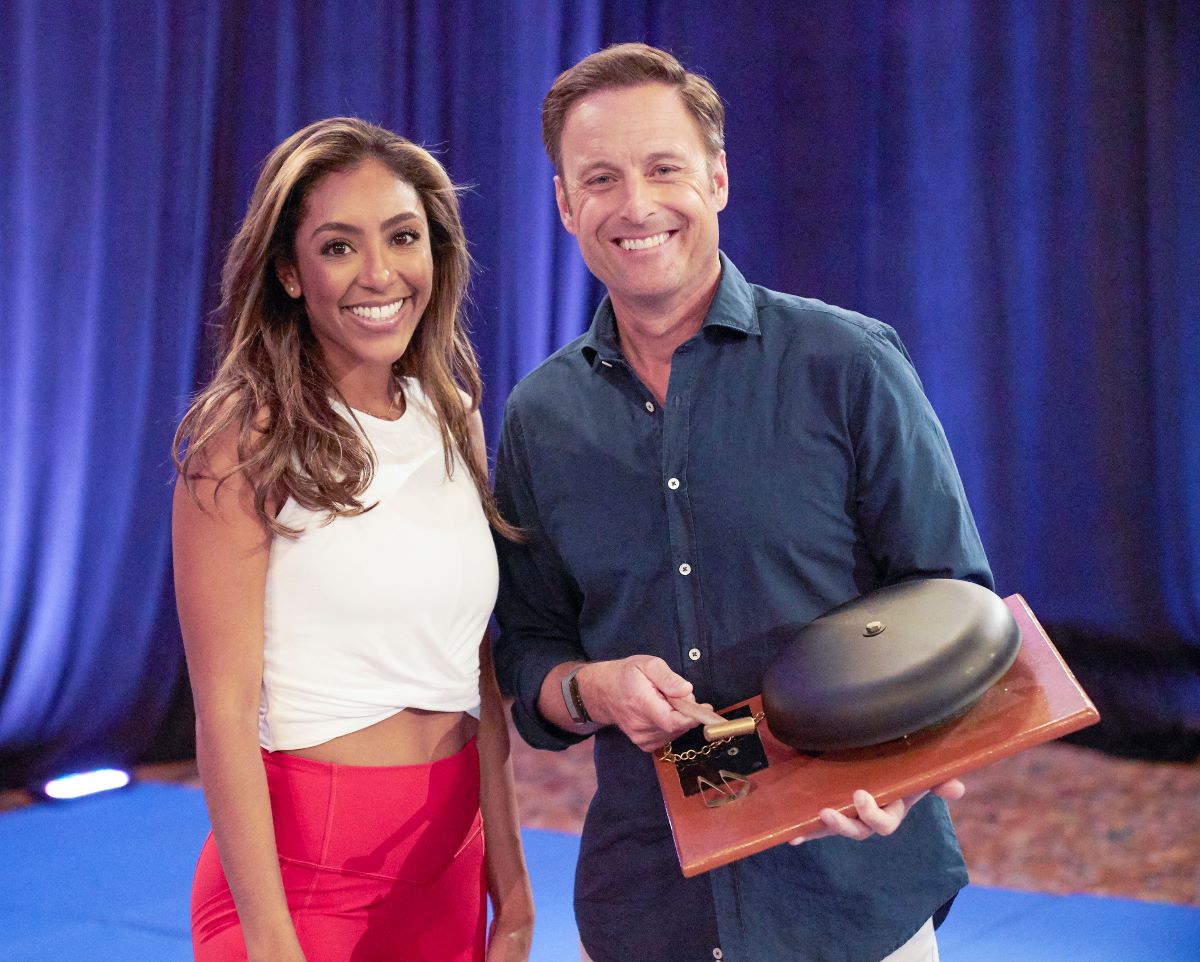 Chris Harrison's interview with Rachel Lindsay
While Matt James' season of The Bachelor has been airing, pictures of Kirkconnell at an old south party began surfacing. In an interview with former Bachelorette Rachel Lindsay, Harrison defended Kirkconnell's attendance at the event, saying that the parties weren't that bad in 2018. Shortly after that interview, Harrison announced that he would be taking a break from The Bachelor.
"This historic season of 'The Bachelor' should not be marred or overshadowed by my mistakes or diminished by my actions," he said in an  Instagram post. "To that end, I have consulted with Warner Bros. and ABC and will be stepping aside for a period of time and will not join for the After the Final Rose special."
Initially, fans were confused as to what exactly "a period of time" meant. Later, Harrison told fans that he was definitely coming back to the franchise.
RELATED: 'The Bachelor': Matt James Responds to Rumors of Katie Thurston Being the Bachelorette
"I plan to be back and I want to be back. And I think this franchise can be an important beacon of change," Harrison said on Good Morning America. "I know that change is felt, not just by me, but by many others. And we are excited and willing to do the work to show that progress."
Chris Harrison replaced with Tayshia Adams and Kaitlyn Bristowe as 'The Bachelorette' host
While Harrison announced that he was not going to attend the After the Final Rose ceremony, he did not say anything about The Bachelorette. But recently, ABC revealed that the star would not be hosting that show, either.
"Chris Harrison will not be hosting the next season of 'The Bachelorette,'" ABC's statement read. "We support Chris in the work that he is committed to doing."
"In his absence, former Bachelorettes Tayshia Adams and Kaitlyn Bristowe will support the new Bachelorette through next season," the statement continued. "As we continue the dialogue around achieving greater equity and inclusion within 'The Bachelor' franchise, we are dedicated to improving important steps in effecting fundamental change so that our franchise is a celebration of love that is reflective of our world."
RELATED: 'The Bachelor': Chris Harrison Reveals the 'Work' He's Doing to Be Anti-Racist
Tayshia's conversation with Chris
After the news broke, Adams took to her Instagram story to make sure fans knew that Harrison was OK with the change.
"The fact that I talked to Chris the other day and he was so kind and congratulated me for being a part of the next season meant the absolute world. With that being said, y'all, let's freakin' go," she wrote.
The next Bachelorette has yet to be announced.