'The Bachelorette': Tayshia Adams Says Zac Clark Breakup Announcement During 'Men Tell All' Was 'Very Heavy'
Here's how 'The Bachelorette' co-host Tayshia Adams really felt about announcing her breakup with Zac Clark during the season 18 'Men Tell All' special episode. The former lead also shared how she is doing now that a few weeks have gone by after ending the engagement.
Many Bachelorette fans were crushed when Tayshia Adams and Zac Clark split and broke off their engagement in November 2021. The two got together in the season 16 finale, and they remained a couple for over a year. Then Tayshia opened up about her breakup with Zac during The Bachelorette Season 18 "The Men Tell All" special on Dec. 6. And while sharing details about the separation with the public was "very heavy," Tayshia revealed she was "really happy" to be supported by Bachelor Nation. So here's everything the former lead said and how she's doing now.
Tayshia Adams on Zac Clark breakup in 'The Bachelorette' Season 18 'The Men Tell All'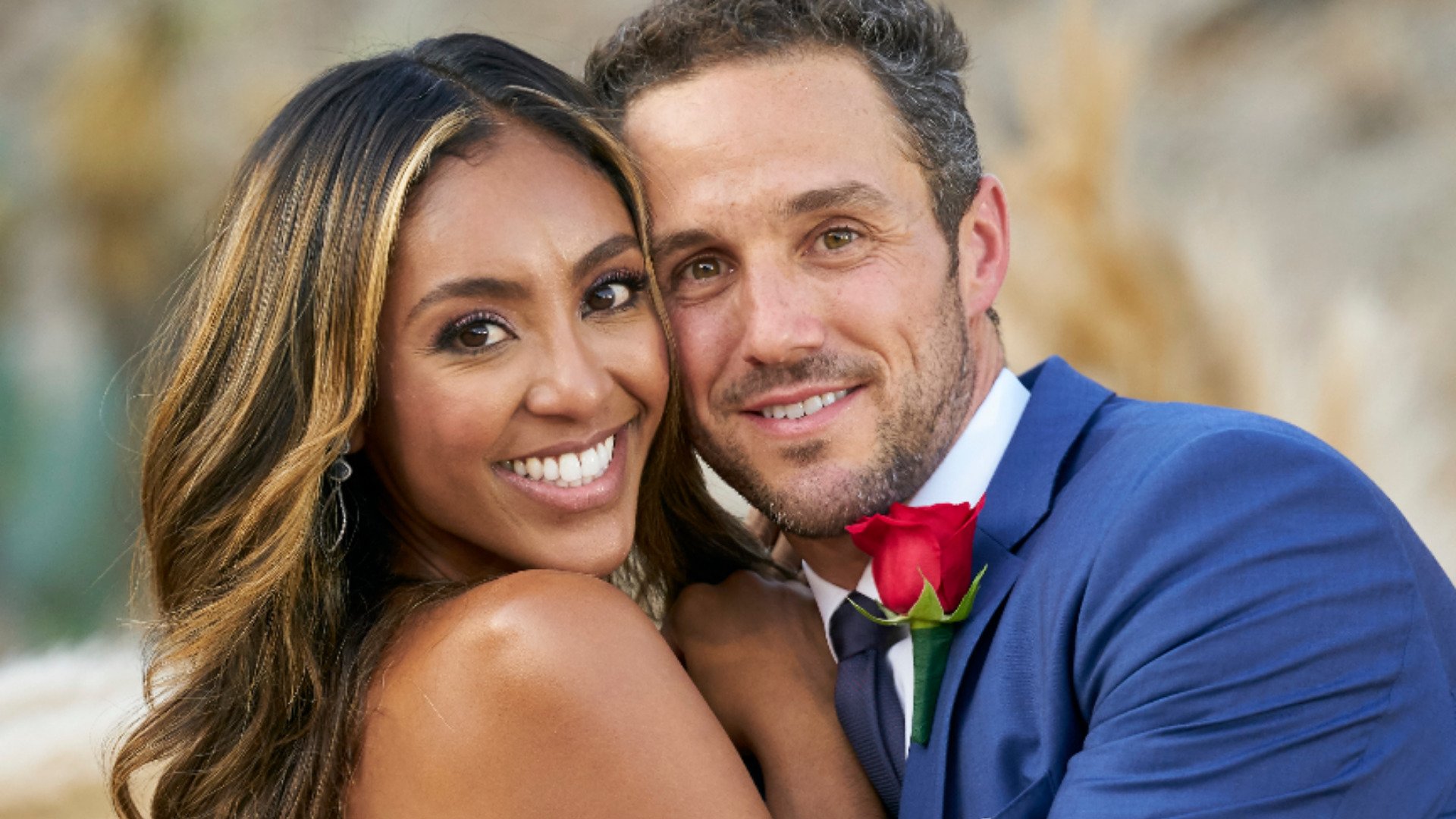 On Nov. 22, E! News confirmed Tayshia and Zac's breakup when a representative for the former bachelorette stated they were "no longer a couple." The announcement was made on the same day Michelle's "Men Tell All" was filmed. 
Meanwhile, The Bachelorette Season 18 reunion aired on Monday, Dec. 6. Midway through the episode, Kaitlyn Bristowe asked her co-host why she wasn't wearing her engagement ring. Then Tayshia publicly addressed her split with Zac for the first time. 
"All I have to say is that I'm heartbroken," Tayshia said. "We tried really hard, and I still love him very much. I'm not sure what the future holds. I mean, you know how it is. It's really tough."
"I sadly do know how it is," said Kaitlyn, who broke up with Shawn Booth three years after their engagement in The Bachelorette Season 11. "It's really hard. But we're here for you, and obviously, we want you to be happy."
Tayshia Adams reveals how she felt about addressing her split with Zac Clark in 'The Bachelorette' 2021
Now, it's been a few weeks since The Bachelorette Season 18 "Men Tell All" special was taped on Nov. 22. But Bachelor Nation fans just watched Tayshia's comments about her breakup with Zac on Dec. 6. Then in the Dec. 7 episode of the Bachelor Happy Hour podcast, Tayshia was able to reflect on the experience and updated fans on how she's doing now.
"I am definitely hanging in there," Tayshia said. "That day was really tough because that's actually the day that the news broke to everyone. So it was just very heavy. But I had a job to do at the same time. I'm really happy I was able to be surrounded by all of you guys and be supported by that. But it doesn't make any of that easier."
She continued, "I really said what I had to say on that stage. I don't really have anything else to add because I'm still going through it all. And yeah, I spoke my peace. One day, when I feel like I have more to say, I'm sure we can talk about it all."
Why did 'Bachelorette' stars Tayshia Adams and Zac Clark break up and end their engagement, according to reports
Although Tayshia didn't share more details ending her engagement with Zac, a few reports have come out providing possible explanations about The Bachelorette stars. According to E! News, a source close to the reality TV host claimed the two were "arguing a lot" and ultimately decided separation was for the best.
"Both of their busy schedules have been keeping them apart and their communication hasn't been great," the source said.
Then another insider close to Zac told the publication the two weren't on the same page on "several issues" and realized something long-term "wouldn't work out."