'The Bachelorette': Who Is Tayshia Adams's First Impression Rose Pick? — Is He the Villain of the Season?
The Bachelorette got a new lead this week — Tayshia Adams, formerly from Colton Underwood's season of The Bachelor. Contestant Dale Moss proposed to Clare Crawley last week, ending her run as the show's star early. Now, Tayshia has the 16 remaining guys and four brand new men, who arrive in a limo to meet her.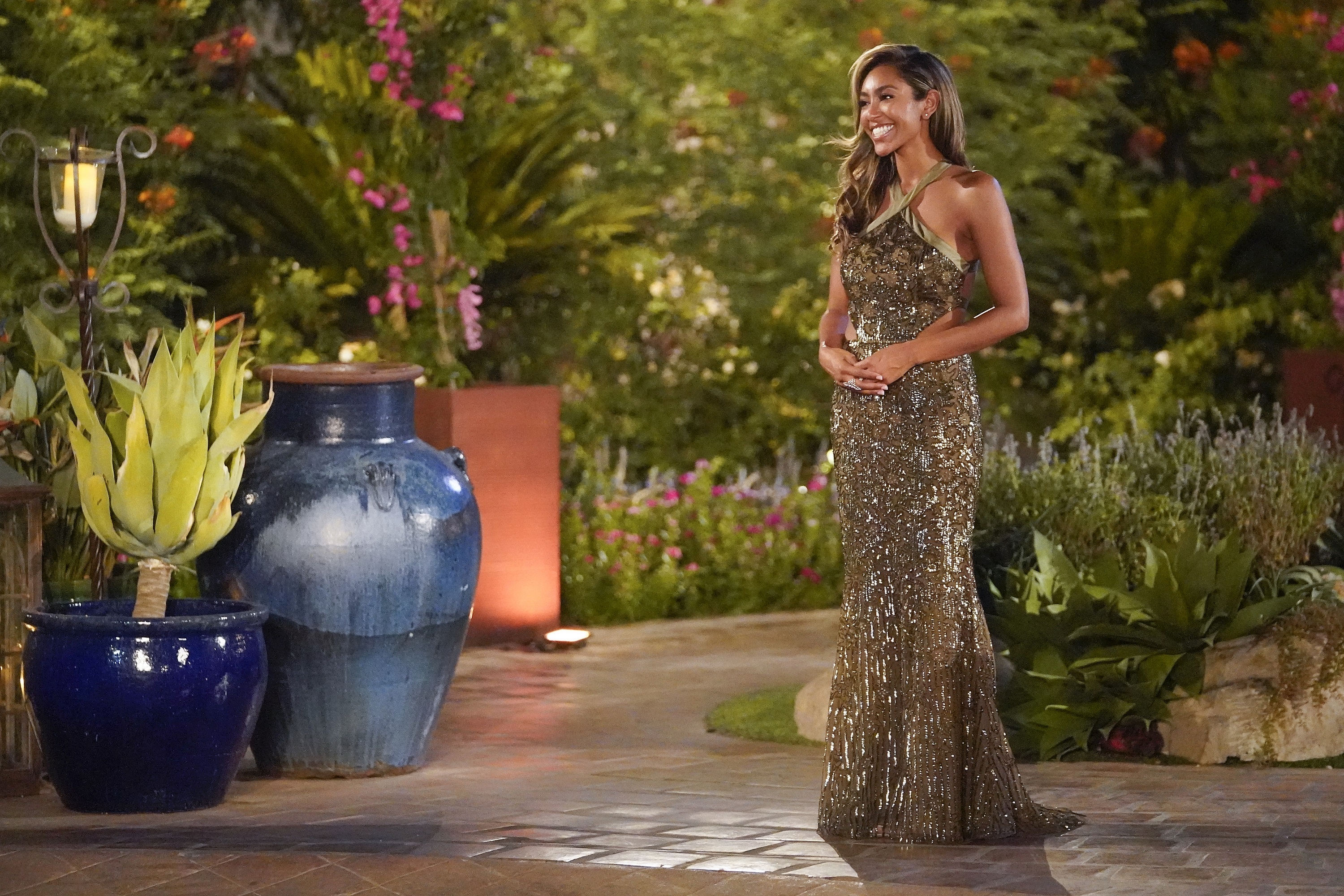 'The Bachelorette': Tayshia Adams gives Spencer her first impression rose
When Adams walks in to meet her 16 gentlemen on The Bachelorette, they are all very excited to meet her. She sits down with several of them and gets to know them. The guys all feel reenergized that they have a second chance after Clare Crawley burnt them. 
However, host Chris Harrison unexpectedly appears to take Adams away. He takes her outside, where a limo pulls up with four new men. The guys who step out of the limo are all new, not contestants that Crawley sent home. Spencer Robertson is one of those men, and he makes a big impression on the new lead. 
Spencer tells Adams that he is a "big beach guy when the two sit down to talk." He loves surfing and wants to show his date how to. 
"He's really nice," Adams says in private about Spencer. "He's super sweet, and he's cute. He's definitely a guy I would go after." 
Then she gives out one rose for her portion of the evening to Spencer. Chris Harrison switches over to revisit Crawley and Dale's love story for a bit. He returns to Adams later.
Here's everything we know about Spencer Robertson
Tayshia Adams' first impression rose pick — Spencer is a 30-year-old engineer from San Diego. He also got his Bachelor's degree in science, like the lead. However, while Adams studied biology and worked as a phlebotomist, Spencer got his degree in chemistry. 
Then he worked as a chemical engineer for an international water treatment company for four years and then started a company of his own in 2016. He is now the President of Robertson Water Treatment in San Diego, according to his LinkedIn account. 
While at the University of Oregon, Spencer was a midfielder on his college lacrosse team. He's also a lot taller than Adams, at six feet, two inches tall. 
The other men believe that Spencer is 'stirring the pot,' but Tayshia Adams kisses him anyway
During the first group date, Spencer gets elbowed in the face during the pool basketball game. To the other men's dismay, Adams was quick to check and see if he was feeling OK. Later that evening, the two delicately kiss so that they don't hurt his cracked lips. 
The other contestants call out Spencer for trying to make trouble. However, he tells them that he is only there for Adams. As the season plays out, it will be interesting to see whether he becomes the villain and if Adams continues to fall for him.