'The Bachelorette': Why Tayshia Adams Might Have a Dramatic Ending to Her Season
Tayshia Adams will be a star of 'The Bachelorette' Season 16. Find out why her ending might be dramatic.
This new season of The Bachelorette will stand out given it was filmed differently. But also Clare Crawley kicks things off as the star and Tayshia Adams finishes the season. There is a rumor her ending will be dramatic for an interesting reason.
Tayshia Adams will step in as the star of 'The Bachelorette' Season 16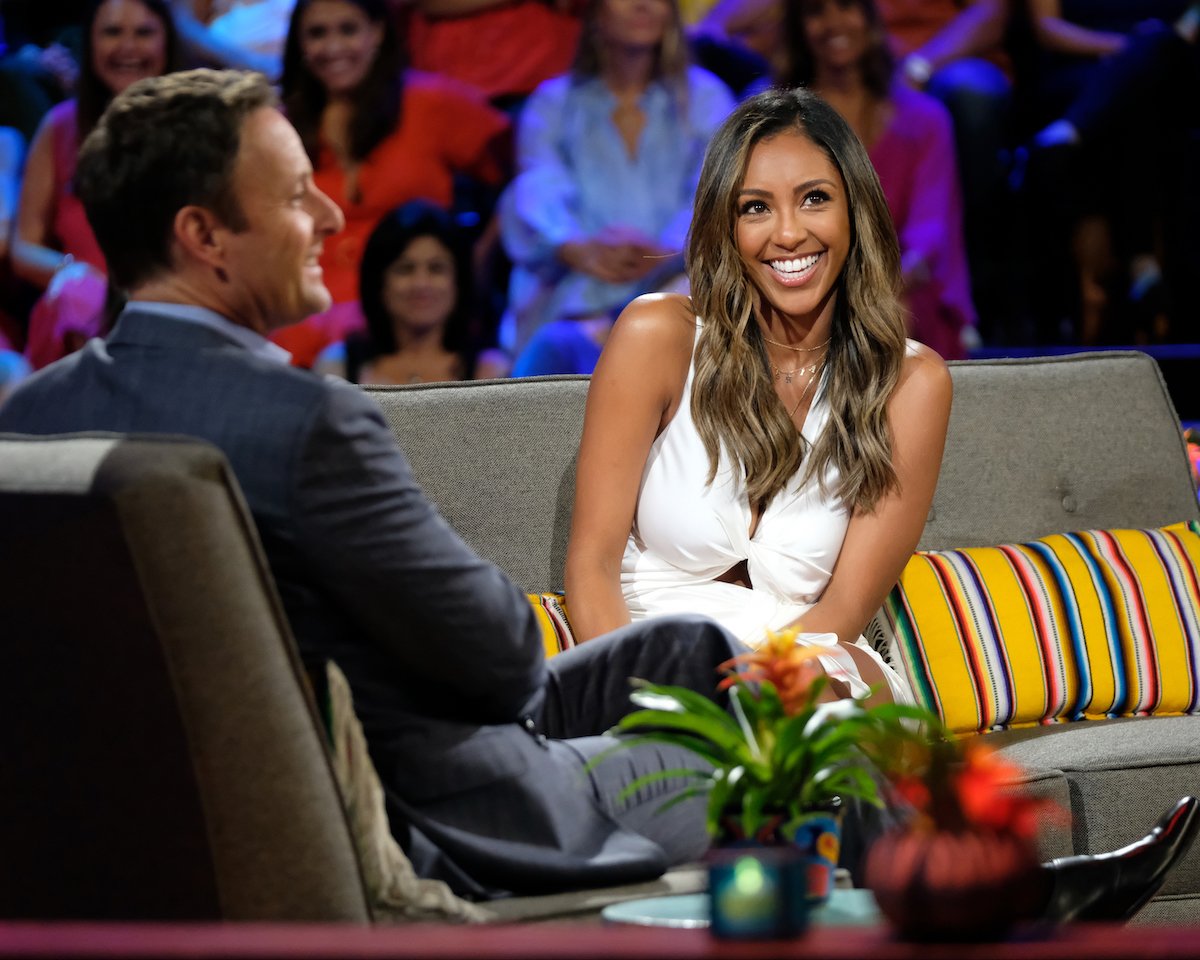 Crawley was announced to be the star of season 16. But the season was then pushed back due to the coronavirus (COVID-19) pandemic. Crawley eventually returned to film, but things took an unexpected turn.
She was reportedly replaced by Adams after two weeks. "The producers have told her that the season will still lead with Clare and her short-lived journey, and will show Clare falling in love with one of her suitors," a source told E! News. "Clare will then conclude her journey and announce that Tayshia is the lead."
Adams returned to social media after filming
Adams has returned to posting on social media after filming. Her recent posts don't refer to filming at all, but they have been positive.
She recently posted a picture celebrating her 30th birthday on Instagram. She captioned it with "I am 30, I am definitely flirty, And I'm fkn THRIVING!!! #alexaplaypopsmokedior #itsvirgoseasonbaby."
She also announced she has a new podcast. "What up you sexy podcasters! Officially adding somethin' spicy to the resume!! My new podcast Click Bait launches Oct 1st! What are the juiciest headlines you've seen this week?! Head Over to @clickbaitbn to be in the know!" she wrote in a caption of another post.
Her ending hasn't been spoiled
The ending of each season is usually spoiled. But Reality Steve revealed he still doesn't know how things end for Adams.
"I do not think we had a normal ending with Tayshia's season," he wrote in a post. "That doesn't necessarily mean she didn't pick someone, or that she did and changed her mind, etc. It just means that I don't think we're gonna get a traditional ending of, she was down to two men, chose one over the other, and they're a happy couple right now."
He went on to recognize there might be another reason it hasn't been spoiled. "It's possible it's still up in the air," he claimed. "Maybe that's why I haven't heard. Or maybe she did pick someone, they're happy, and I just don't know about it yet. I've just been told repeatedly the ending of her season was 'messy' and full of drama. So do with that what you will."
The last few seasons of the franchise have been harder to spoil. Peter Weber and Madison Prewett reunited on After the Final Rose and it was still unclear the status of their relationship. After the episode, they announced they won't be moving forward with their relationship.