'The Bachelorette' Winners: Where Are They Now?
ABC probably had no idea just how popular The Bachelor was going to be when the reality television dating show premiered in 2002. Just one year later, its equally in-demand counterpart, The Bachelorette, began airing. As time has passed, fans and viewers of Bachelor Nation have gotten to know and love countless women as they came on to the series to risk it all for love.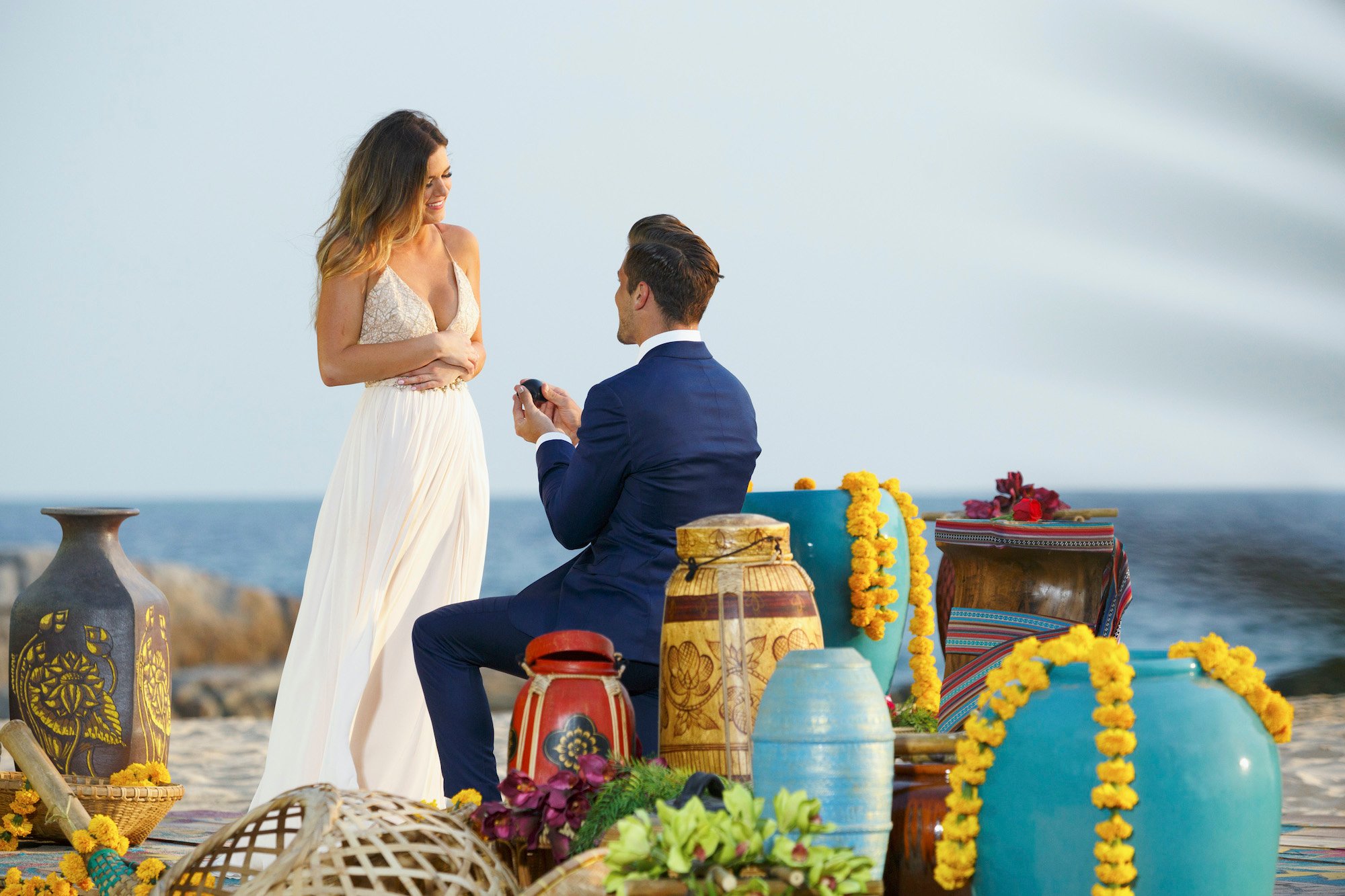 Katie Thurston is Bachelor Nation's woman of the moment, and Michelle Young is set to follow up as the star of The Bachelorette's season 18.  Followers and viewers have been big fans of the bachelorettes, but many more have come before Thurston and Young. Take a look back at the ladies from The Bachelorette's first six seasons and find out what the winners have been up to. 
Trista Sutter, Ryan Sutter, Season 1
Trista Sutter will forever be known as ABC's very first bachelorette. It didn't take very long for the Miami Heat dancer to fall for Ryan Sutter, the Colorado native firefighter. The season one finale of The Bachelorette ended in a romantic and emotion-packed proposal.
That same year ABC broadcasted Trista & Ryan's Wedding, the couple's three-part special ceremony and celebration. The pair have two children together, Max and Blakesley Sutter, and are still happily married. The former ABC star shared with People that much of the couple's success lies within focusing on each other and prioritizing their relationship. 
As many fans and followers may already know, the couple has more recently been in the headlines due to Ryan Sutter's unexpected health struggles. In August of 2020, Sutter shared that he began to feel ill but doctors and professionals had trouble giving the husband and dad a diagnosis. 
His medical issues have likely been caused by a combination of lyme disease and mold. Nevertheless, fans and followers have been wishing him and Trista Sutter the best as he continues to try to recover. 
Ian McKee, Meredith Phillips, Season 2
In 2003 fans and viewers first got to know Meredith Phillips on Bob Guiney's season of The Bachelor. However, fortunately for Phillips, Guiney's season didn't actually end with a proposal, and she was selected as ABC's next bachelorette.
In the end, it came between Ian McKee, the 29-year-old New Yorker, and Matthew Hicki, a pharmaceutical sales representative from Texas. Ultimately, Phillips gave her final rose to McKee and accepted his proposal, but it did not last very long. Just one year later the couple had called it quits.
Since her public breakup with McKee, Phillips has been very open and candid about her experiences with alcoholism. In addition, in 2018 she alleged that an employee had sexually assaulted her during her time on The Bachelorette. 
Though it is unclear if McKee ever found love, Phillips got married to Michael Brody, the former bachelorette's high school sweetheart, back in 2011. 
Jennifer Schefft, Jerry Ferris, Season 3
These days Jen Schefft enjoys her life as a stay-at-home mom, but back in 2005, the world knew her best as ABC's bachelorette. Schefft thought she had found her happily-ever-after with Andrew Firestone, the star of The Bachelor's season 3, but eventually split, and said the decision was both of theirs and an amicable one as well. 
With that being said, many followers and viewers of Bachelor Nation were pleased to see the fan-favorite return for her very own journey. Unfortunately, it was a bit of a letdown. In the end, Schefft turned down the proposal from Jerry Ferris but attempted to continue their relationship together.
However, by the time season 3 finished airing, the couple announced they would be going their separate ways. Luckily, in 2009, off of the air, Schefft finally found the real deal. She eventually got married to Joe Waterman, and the couple has two daughters, Mae and Charlotte.  
DeAnna Pappas, Jesse Csincsak, Season 4
It is hard to believe that The Bachelorette took a three-year break, but that was exactly the case. After Scheftt's trainwreck of a season in 2005, ABC waited before airing the series again until 2008. When the iconic series returned to the air, DeAnna Pappas was the one-and-only bachelorette. 
The year prior Pappas was featured on Brad Womack's season of The Bachelor, and though it didn't work out with Womack, Pappas was hopeful about her season 4 debut of The Bachelorette. When all was said and done, Pappas final rose went to Jesse Csincsak, a professional snowboarder, and the bachelorette accepted Csincsak's proposal as well. The two even began to make wedding plans, but the ceremony never actually took place.
Following the lead of many before them, Pappas and Csincsak decided to call off their engagement and end their wedding. Pappas later went on to marry Stephen Stagliano, who oddly enough had an indirect connection to Bachelor Nation. In 2005 Stagliano's brother was a contestant on season 5 of The Bachelorette. Talk about a small world. 
Jillian Harris, Ed Swiderski, Season 5
Jillian Harris, an interior designer and Canadian native, was the beloved bachelorette of the ABC series' fifth season. Fans and viewers were pleased to see Harris' journey on The Bachelorette to end in an engagement with Ed Swiderski. However, the pre-marital bliss didn't last very long.
After about a year of being together, Harris and Swiderski decided to break up. As for Harris, in 2016 she got engaged to Justin Pasutto, and the couple has two children together. 
Ali Fedotowsky, Roberto Martinez, Season 6
Season 6 of The Bachelorette premiered in 2010 and Ali Fedotowsky was at the center of it all. Earlier that year Fedotowsky appeared on Jake Pavelka's season of The Bachelor, and though she left the show about halfway through, many fans and viewers enjoyed watching her.
Fedotowsky's season of The Bachelorette ended with an engagement to Roberto Martinez, but, as the story goes all too often, after a few months, the pair broke up. Later down the line, in 2017, the former bachelorette got married to Kevin Manno, a radio personality. Though the two didn't meet through the show, Fedotowksy is grateful for her experiences on The Bachelorette and believes it is ultimately what led her to Manno.
Ashley Herbet, J.P. Rosenbaum, Season 7
What was deemed, at the time, as "Bachelorette's most dramatic season", viewers watched as Ashley Herbert began her journey for love. After many twists and turns and one of the most intense on-screen sister-fights, in the end, Herbert picked J.P. Rosenbaum. 
Herbert's season aired in 2011, and the couple got married the following year. The pair has two children together, and things seemed to be going well, especially considering Herbet and Rosenbaum's decision to renew their vows back in 2018. 
However, sadly, in October of 2020, Herbert and Rosenbaum announced their plans to divorce. Though neither of them seems to have any hard feelings toward one another, many Bachelor Nations fans were bummed to hear about the popular couple's split.
Emily Maynard, Jef Holm, Season 8
Audiences and viewers of Bachelor Nation first met Emily Maynard during Brad Womack's season. However, living up to his unsavory reputation, Womack's relationship with Maynard only lasted a few months. With that being said, fans were thrilled to see Maynard return to television screens for season 8 of The Bachelorette.
After losing her first fiancé in a tragic plane crash, the single mom was excited at the possibility of finding a potential partner. The season 8 finale concluded with Maynard enthusiastically accepting Holm's proposal, but, unfortunately, the good times did not last.
Rumors of Holm's unfaithfulness began to circulate, and after just a few months of being engaged, the couple called it quits. Fortunately, shortly down the line, Maynard was able to find love with Tyler Johnson, an automotive management consultant. Johnson and Maynard have added four children to their family since, and they appear to be very happy together. 
Desiree Hartsock, Chris Siegfried, Season 9
As the trend often goes, Desiree Hartsock was first introduced to Bachelor Nation on Sean Lowe's unforgettable season of The Bachelor in 2013. Though Lowe did not wind up picking Hartsock, the bridal stylist did not let the experience deter her from seeking out her happily-ever-after.
Season 9 of The Bachelorette starred Hartsock and brought with it many prospective front-runners. Fans and viewers everywhere may have thought Brooks Forester had it in the bag until he unexpectedly left, leaving the bachelorette to finish out the series alone with Chris Siegfried. 
In the 2013 finale viewers watched as Siegfried and Hartsock tearfully got engaged. The couple went on to have two sons together, and still appear to be very happy together.
Andi Dorfman, Josh Murray, Season 10
Season 10 of The Bachelorette was a bit of a doozy, and Andi Dorfman was at the center of it all. Nick Viall and Josh Murray were the two of the final contestants battling it out for the attorney's heart, but, in the end, Dorfman decided to send home Viall. 
When Murray proposed to Dorfman he used the biggest diamond ring in all of the franchise's history. Unfortunately, no matter the size of the luxurious rock, the relationship seemed to be doomed. After a tumultuous few months together, Dorfman and Murray broke up in 2015. 
Kaitlyn Bristowe, Shawn Booth, Season 11
Season 11 of The Bachelorette was truly an unforgettable one. Kaitlyn Bristowe was the star of the 2015 season, but, as many fans and viewers can probably recall, it was almost Britt Nilsson. In an unprecedented event, the men invited onto season 11 of The Bachelorette actually voted on which woman they wanted to keep. As many can imagine, ABC never went down this path again.
Nonetheless, many viewers and followers of The Bachelorette excitedly watched season 11 as Bristowe dated her way to the end. In the finale, Shawn Booth, a physical trainer, was the one to receive Bristowe's final rose. As the season came to an end the pair got engaged, and though they stayed together for three years, Bristowe and Booth never actually got married.
Fortunately, Bristowe has seemed to find a true match in Jason Tartrick, another well-known Bachelor Nation, alum. Just this past May Bristowe and Tartrick took their relationship to the next level with their exciting engagement.
JoJo Fletcher, Jordan Rodgers, Season 12
JoJo Fletcher swept many of the contestants and even more of the viewers off of their feet. When it came time for finale night, Fletchers stood in front of the crew's cameras proclaiming how ready she was to marry Jordan Rodgers, and fortunately for the ABC star, she did just that. The pair got engaged in the season 12 finale and their wedding was set to take place in June of 2020.
Unfortunately, like so many others, the global pandemic forced Fletcher and Rodgers to push back their wedding plans, but Bachelor Nation's fans are hopeful the wedding will be taking place sooner than later. Nonetheless, many viewers are glad to see the couple is still together and going strong. Even though the relationship is strained, throughout Fletcher's season, Rodgers received a lot of attention due to his famous NFL brother, Aaron Rodgers.
Rachel Lindsay, Bryan Abasolo, Season 13
Rachel Lindsay's season of The Bachelorette premiered in 2017, and, though it was well overdue, many people were thrilled to see ABC select a Black woman as the leading lady. Lindsay, an attorney from Texas, was well-loved for her sweet yet no-nonsense personality. When finale night came around, Lindsay's final rose went to Bryan Abasolo.
The two got engaged, but in an unprecedented series of events, Lindsay and Abasolo's wedding wasn't televised on ABC. The couple decided on a destination wedding to Mexico and made their love official in 2019. Since her season has wrapped, Lindsay has had a very active role in Bachelor Nation, but, in light of her infamous conversation with Chris Harrison that led to the host's demise, it seems like, moving ahead, the former bachelorette is eager to take a step back from ABC's popular franchise. 
Becca Kufrin, Garrett Yrigoyen, Season 14
Becca Kufrin's initial experience with Bachelor Nation wasn't a very good one. After getting engaged to Arie Luyendyk Jr. in The Bachelor's season 22 finale, Kufrin no sooner found out that Luyendyk Jr. wanted to end the engagement to try to work things out with the runner-up, Lauren Burnham.
After the very public and on-screen break-up, it goes without saying that ABC was eager to offer Kufrin the role of the bachelorette. Unfortunately, it didn't go too much better the second time around. 
Kufrin's season ended with her giving her final rose to Garrett Yrigoyen and she went on to accept his proposal. As time went on, some of Yrigoyen's unsavory social media likes and posts caused many to criticize the former ABC contestant.
Yrigoyen was once again in the line of fire when he showed his support for the police force amidst the nation's Black Lives Matter movement. It probably isn't too surprising to hear that Kufrin and Yrigoyen split ways shortly after. Though there have been rumors of the possibility that Kufrin and Blake Horstmann are dating, both claim they are single. 
Hannah Brown, Jed Wyatt, Season 15
Bachelor Nation was first introduced to Hannah Brown during season 23 of The Bachelor. Although things didn't work out for her and Colton Underwood, fans and viewers definitely wanted to see more of the Alabama native, and, as luck would have it, they absolutely did.
Season 15 of The Bachelorette began in 2019 and Brown met the 30 hopeful contestants who were trying to win over her attention and love. Peter Webber, better known as "Pilot Pete" was one of the last remaining suitors of Brown's season. And despite the highly-discussed windmill fantasy suite, in the end, Brown gave her final rose to Jed Wyatt. 
Unfortunately, as many viewers suspected, Wyatt probably wasn't the "right" choice. It didn't take very long for the singer/songwriter's shady past and secret relationship to come to light, leaving Brown no choice but to end the engagement. Fortunately, Brown seems very happy in her new relationship with Adam Woolard.
Clare Crawley, Dale Moss, Season 16: Part 1
Crawley's season on The Bachelorette was a short and sweet one. After just two weeks, Crawley was confident she found the one with Dale Moss. On that note, Crawley and Moss got engaged during the season's fourth episode.
The unheard-of circumstances called for creative thinking, and with that being said, ABC revealed that a new bachelorette would be taking over. 
Though Crawley and Moss shared they were breaking up this past January. However, since then, it seems like the pair are back together and doing better than ever. 
Tayshia Adams, Zac Clark, Season 16: Part 2
In the unprecedented event brought on by Crawley, ABC named a second bachelorette of season 16: Tayshia Adams. Adams had quite a few front-runners, but, in the end, it was Zac Clark who stole her heart. Clark, a New Jersey native known for his love of sneakers, seems to be the perfect fit for Adams, who has temporarily taken on the role of hosting. This past April the couple shared they have begun wedding plans, but nothing is yet to be set in stone.
Looking ahead, Bachelor Nation is excited to see how Katie Thurston and Michelle Young will fare on The Bachelorette compared to their predecessors.
RELATED: 'The Bachelorette': What Really Happened Between Aaron and Cody?