The Best 'Outlander' Episodes So Far…
Outlander is an epic time-traveling saga that tells the love story of Jamie and Claire Fraser. Stars Sam Heughan and Caitriona Balfe play their respective roles of an 18th century Scottish Highlander and a World War II nurse to perfection, with their romance at the center of the Outlander story. But the Starz series offers so much more.
As Balfe describes it, Outlander is "time traveling, love and romance, with a little bit of brutality, action, and politics."
While fans patiently wait for the end to the current Droughtlander, it's the perfect time to revisit some of our favorite episodes. Here's our list of the best Outlander episodes — so far.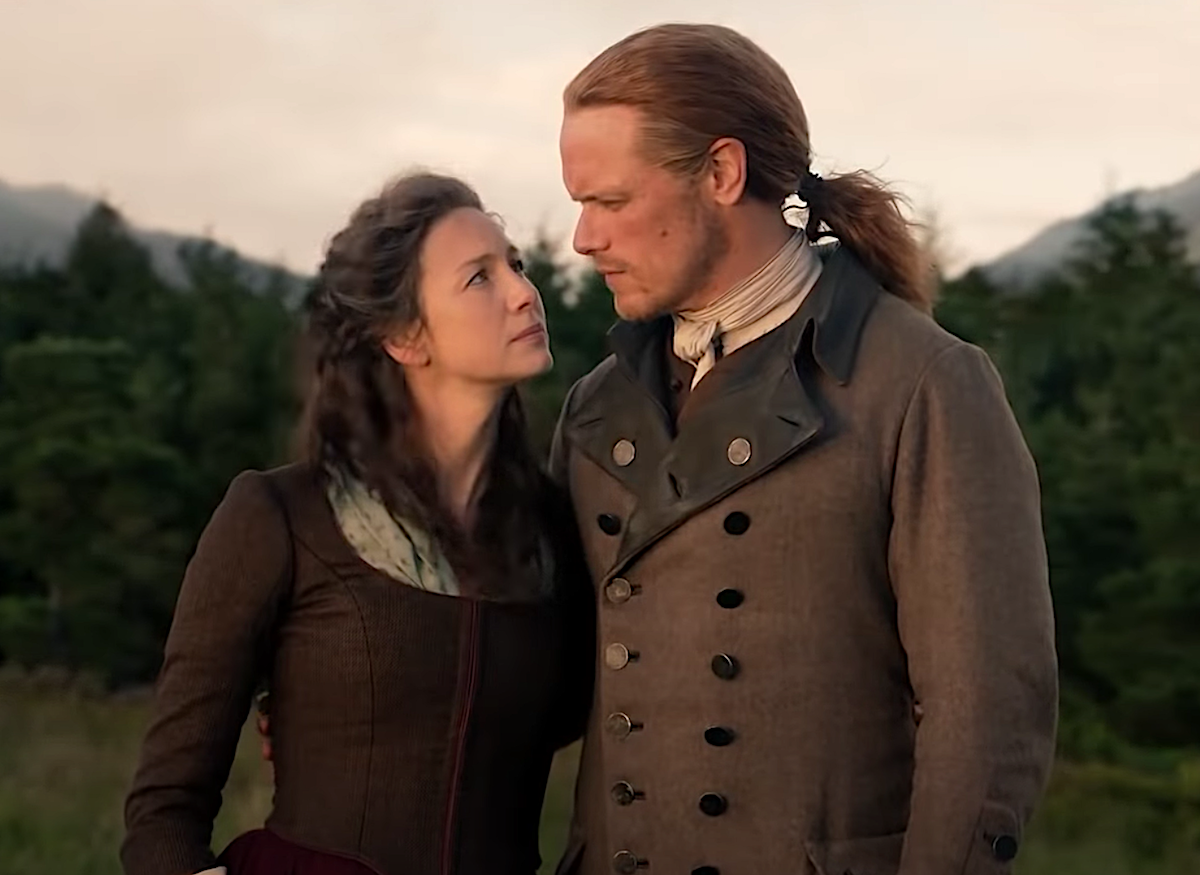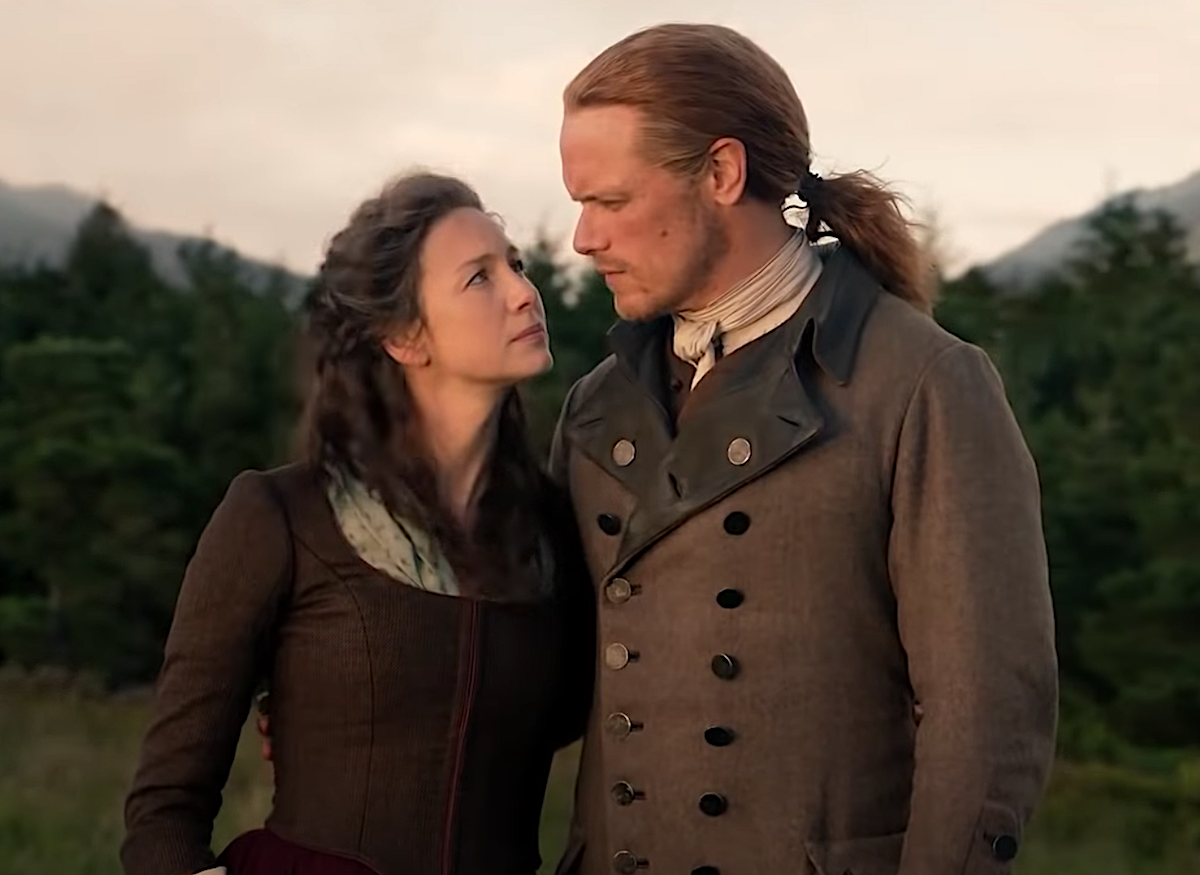 'Outlander' Season 1, Episode 1 — 'Sassenach'
From the beginning, it was clear that Outlander would be a must-see series. In the pilot, viewers meet the characters they would come to love, as Claire travels through the stones at Craigh na Dun.
There are a number of iconic moments in the first episode. Including Claire and Jamie's ride on horseback to Castle Leoch, the introduction of Tobias Menzies as both Frank and Black Jack Randall, and the appearance of Jamie's ghost in the 1940s.
Season 1, Episode 6 — 'The Garrison Commander'
Viewers of this episode hang on every word and expression during a tense conversation between Claire and Black Jack where they talk about what he did to Jamie. The performances from Balfe and Menzies are second-to-none, and the events of the episode make Claire's marriage to Jamie necessary. Which, in turn, fuels the relationship that is the heart and soul of Outlander.
'Outlander Season 1, Episode 7 — 'The Wedding'
"The Wedding" is one of Outlander author Diana Gabaldon's favorites, as it's the episode where Jamie and Claire exchange their famous wedding vows — "Blood of my blood, and bone of my bone."
They agreed to marry to keep Claire safe from Black Jack, but on their wedding night their mutual attraction for each other can no longer be ignored. Things start off awkwardly between the two. But after making love three times, the virgin groom learns a few things from his new wife. Things quickly heat up as they begin to enjoy each other and start forming their unbreakable bond.
Season 1, Episode 8 — 'Both Sides Now'
The midway point of season 1 brings viewers back to the 20th century to check in with Frank, the husband that Claire left behind. He's frantically searching for his wife, as from his perspective she has gone missing without a trace.
Meanwhile, Claire is 200 years in the past enjoying life as a newlywed with Jamie. Claire starts to realize she's falling in love, and becomes torn between her two different lives and loves.
Season 1, Episode 11 — 'The Devil's Mark'
This episode follows Claire and Geillis during their witchcraft trial, where Claire refuses to betray the friendship they've developed. After revealing she's also a time traveler, Geillis sacrifices herself to save Claire. When Jamie rescues her from the angry mob, Claire finally tells Jamie the truth.
Not only does Jamie believe Claire's time-traveling story, he also takes her back to the stones so she can go back to Frank in the 20th century. But, the love between Claire and Jamie is already so strong, she decides to stay.
'Outlander' Season 1, Episode 15 – 'Wentworth Prison'
The penultimate episode of season 1 is not easy to watch, but the performances from Heughan, Menzies, and Balfe are worth seeing this heartbreaking and shocking episode. Black Jack Randall saves Jamie from execution and throws him into the dungeon at Wentworth Prison.
When Claire tries to break Jamie out, Black Jack catches her. Jamie ends up making a deal with Black Jack in exchange for Claire. Before he lets her go, she whispers the exact date of Jack's death in his ear.
Season 1, Episode 16 — "To Ransom a Man's Soul"
The season 1 finale is another episode that's insanely difficult to watch, as Jamie succumbs to Black Jack's torture. But it easily makes our "best" list because the performances from Heughan and Menzies are absolutely unforgettable. This episode also features Murtagh breaking down the door of the prison using a herd of cattle.
When Jamie recovers from this heart-wrenching ordeal, Claire reveals she's pregnant. The couple then sails off into the sunset as they head for France.
Season 2, Episode 7 — 'Faith'
Another dark and heavy episode, season two's "Faith" sees Claire go into labor after watching Jamie duel Black Jack — which leads to his arrest. The child is stillborn, and after she loses the baby she must fight for her own life. Claire also does what she must to free her husband. Balfe absolutely shines in this heartbreaking episode about Jamie and Claire's first daughter, Faith.
'Outlander' Season 2, Episode 10 — 'Prestonpans'
Jamie and Claire are back in Scotland with a plan to change the outcome of the Battle of Culloden. Before Jamie leads the Highlanders into their first battle at Prestonpans, he gets a tip about how to cross the marsh and get to the British camp quietly.
As the battle unfolds, Claire tends to the wounded as a combat nurse. There are casualties in the rare Jacobite victory, including one of Jamie's clansmen.
Season 2, Episode 13 — 'Dragonfly in Amber'
The season 2 finale begins in the future where fans finally meet Jamie and Claire's daughter Brianna, played by Sophie Skelton. There's also the introduction of Roger MacKenzie (Richard Rankin) when Claire and Brianna attend the funeral of the man who brought Claire to Jamie years earlier.
Back at the Battle of Culloden, Jamie and Claire realize they can't change anything. As Jamie resigns himself to die on the battlefield, Claire goes back through the stones to save their unborn child. But back in the 20th century, Roger discovers that Jamie didn't die at Culloden.
Season 3, Episode 4 — 'Of Lost Things'
In this episode, Claire is in 20th century Boston raising Brianna with Frank while Jamie is working at Helwater as groomer Alexander Mackenzie for the Dunsany family. Their daughter Geneva is about to marry the old and unattractive Earl of Ellesmere. So, she blackmails Jamie into taking her virginity before her wedding.
The extremely hot and sexy tryst results in the birth of Jamie's son, William. But when Geneva dies during childbirth, Jamie does what he must to save his son's life. Jamie's friend Lord John Grey raises the boy, who doesn't know Jamie is his father. And at the end of the episode, Jamie rides away while forcing himself not to look back.
Season 3, Episode 6 — 'A. Malcolm'
This is the episode fans had been longing to see, and it was totally worth the wait. Twenty years have passed since Claire went back to the 20th century. With Brianna's permission, Claire finally returns to the past to find Jamie.
She tracks him down, living as Alexander Malcolm, a print shop owner in Edinburgh. And it takes Jamie a minute to recover from the shock. Just like their wedding night, Jamie and Claire spend a lot of time talking and catching up before they finally make love.
'Outlander' Season 4, Episode 6 — 'Blood of My Blood'
It's the return of fan-favorite Lord John Grey! And he brings an unexpected guest, Jamie's son Willie. He doesn't know Jamie is his real dad, and the Highlander chooses to keep the truth about their relationship a secret. Meanwhile, Jamie and John play chess and talk, just like old times.
Season 4, Episode 9 — 'The Birds & the Bees'
This standout episode of season 4 features Jamie finally meeting his daughter Brianna for the very first time. She has traveled back through time in an attempt to save her parents after she and Roger found a newspaper clipping featuring their obituaries.
Since Frank raised her, Brianna and Jamie do struggle a bit to connect at first. But Jamie makes it clear he's not trying to replace him, and he tells her to call him "Da." This episode also features Brianna's reunion with Roger in the 18th century. But, their fight leads her to meeting the awful Stephen Bonnet.
Season 5, Episode 7 — 'The Ballad of Roger Mac'
One of the absolute best episodes of season 5 is "The Ballad of Roger Mac," as the Frasers and MacKenzies try to alter history once again. When they try to prevent an incident that sparked the American Revolution, Jamie finds himself on the opposite side of his godfather, Murtaugh.
Thanks to her knowledge of American history, Brianna knows that the Regulators will lose. So, Jamie sends Roger to warn Murtaugh. While heading back to the militia, Roger is captured as a traitor. He's then beaten and turned over to the British. When the Battle of Alamance Creek is over, Jamie spots Roger hanging from a tree.
Season 5, Episode 11 — 'Journeycake'
Gabaldon wrote this emotional episode that is all about family. Roger and Brianna discover their son Jemmy can time travel, so they decide for their family's safety to return to the 20th century. This episode features Jamie telling Brianna she has a brother. And, Young Ian finds out that  Claire, Brianna, and Roger are time travelers. As they prepare for their trip to the stones, Claire gives them "journeycakes." Also known as peanut butter and jelly sandwiches.
'Outlander' Season 5, Episode 12 — 'Never My Love'
The season 5 finale focuses on Claire as she is the victim of a brutal sexual assault. To survive the horrific ordeal, she mentally escapes to the 1960s where her family is celebrating Thanksgiving. This includes Jamie, Fergus, Marsali, Ian, Aunt Jocasta, and the deceased Murtaugh in groovy 60s fashion.
After Jamie and his crew rescue Claire, Brianna and Roger's attempt to return to the 1960s fails. So, they go back home to Fraser's Ridge. The season ends with Claire safely in Jamie's arms.
Season 6 of Outlander is expected to premiere on Starz in February 2022.