The Biggest Hits from Freddie Mercury's Solo Album 'Mr. Bad Guy'
All you need to know about Freddie Mercury's solo album 'Mr. Bad Guy.'
Queen – still receiving media attention from the Oscar-winning film Bohemian Rhapsody – is rightfully hailed as one of the greatest rock bands ever to grace a car radio. Though the group never won a Grammy award, Queen – over the course of 40 albums – had 53 top 40 singles (six of which hit number one).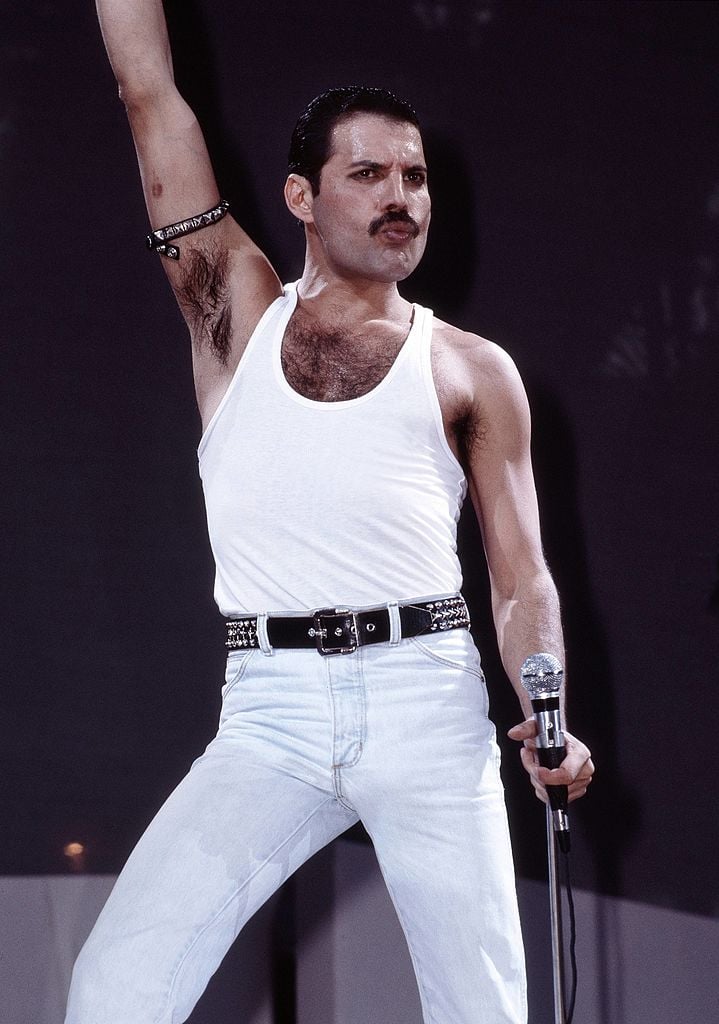 From "We Will Rock You" and "Bohemian Rhapsody" to "Don't Stop Me Now" and "Under Pressure," when it comes to Queen, there's no shortage of record-breaking hits. At the time of his death, Freddie Mercury had a net-worth of $50 million.
About 'Mr. Bad Guy'

While Freddie Mercury's greatest successes came while working alongside Brian May, John Deacon, and Roger Taylor, he did manage to produce a few chart-topping singles when he went out on his own.

In 1985, when Queen was on a temporary hiatus, Freddie Mercury released his one and only solo album, Mr. Bad Guy. While he intended to perform duets with Michael Jackson on the album, differences between Jackson and Mercury prevented a successful recording featuring both of them. Thus, the album features Freddie Mercury all by himself.

Mr. Bad Guy, unlike Freddie Mercury's hits of the time (consisting mostly of rock ballads), was a disco-oriented album. Drawing on dance music, Mercury employed synthesizers and orchestration during track development to achieve his desired effect. There were eleven songs on the record.
'Mr. Bad Guy' Soundtrack

Let's Turn It On
Made In Heaven
I Was Born to Love You
Foolin' Around
Your Kind of Lover
Mr. Bad Guy
Man Made Paradise
There Must Be More to Life Than This
Living on My Own
My Love is Dangerous
Love Me Like There's No Tomorrow
The most successful songs on Freddie Mercury's solo album
On April 15, 1985, "I Was Born to Love You" debuted at number 50, and, in May, peaked at number 11. The song also managed to reach number 4 in South Africa. "Made in Heaven," which Mercury was initially going to name the album, charted for a couple of weeks and made it into the top 50 in the UK. "Made in Heaven" was also later reworked by the entire Queen band.
"Living on My Own" charted at number 50 in the UK, while "I Was Born to Love You" also opened to moderate success in the UK and US. Freddie Mercury's vocals are always a treat, but without his band, he was unable to attain the same chart-topping success. However, several of the songs boast impressive musical arrangements and beautiful lyrics. The first verse and chorus to the "Made in Heaven" (likely Freddie's favorite number on the album are below):
I'm taking my ride with destiny
Willing to play my part
Living with painful memories
Loving with all my heart
Made in heaven, made in heaven
It was all meant to be, yeah
Made in heaven, made in heaven
That's what they say
Can't you see
That's what everybody says to me
Can't you see
Oh I know, I know, I know that it's true
Yes it's really meant to be
Deep in my heart

To see the rest of the lyrics to "Made in Heaven," visit GeniusLyrics, or enjoy the video above.