The Bizarre New Health Trend Julianne Hough Swears By — and Why Fans Aren't On Board
Julianne Hough is a multi-talented singer, actress, and dancer who rose to fame due to her longtime association with the popular TV show Dancing with the Stars. Over the years, Hough has worked on a number of different films and TV shows, earning recognition from both critics and fans. Hough is also well-known for her …
Julianne Hough is a multi-talented singer, actress, and dancer who rose to fame due to her longtime association with the popular TV show Dancing with the Stars. Over the years, Hough has worked on a number of different films and TV shows, earning recognition from both critics and fans.
Hough is also well-known for her devotion to health and fitness and regularly talks about the benefits of living a healthy lifestyle. Still, a recent revelation from Hough regarding one specific health trend has her fans questioning whether or not she really knows what she is talking about.
How did Julianne Hough become famous?
Hough was born in Utah in 1988. The youngest of five children, Hough got involved with dancing as a young child. All of Hough's grandparents were dancers and she, along with her brother Derek Hough, began formal dance training well before they became teenagers.
When she was nine years old, she began dancing competitively and began training in London. After years of intense study, Hough returned to the United States as a teenager.
After winning season four of Dancing with the Stars, Hough continued her association with the show, returning for several successive seasons as a competitor before eventually becoming a judge on the show. In addition to her dancing career, Hough has made a name for herself as a singer and has toured with performers such as Brad Paisley, Jewel, LeAnn Rimes, and Kellie Pickler.
She has worked as an actress, appearing in films like Safe Haven, Footloose, and Rock of Ages. Hough has proven that she has the tenacity and talent to succeed in several different industries, all while staying true to herself and her unique brand. 
Julianne Hough's diet and exercise routine
As a trained dancer, Hough has to stay in tip-top shape at all times. The star recently opened up about her diet and exercise routine, revealing that she doesn't really place restrictions on herself when it comes to food.
She does generally try to avoid food and drink that cause inflammation, which includes sugar, vegetable oils, refined carbohydrates, processed meat (like beef jerky and sausage), and excessive alcohol. Hough likes to keep her daily meal plan simple, eating a lot of grilled chicken and lean protein, grilled veggies, and protein smoothies.
Hough exercises at least five days a week and prefers to get her workout done in the early morning so that it is out of the way. She loves SoulCycle and yoga and makes time to strength train with her husband, Brooks Laich. 
What new health trend does Julianne Hough promote?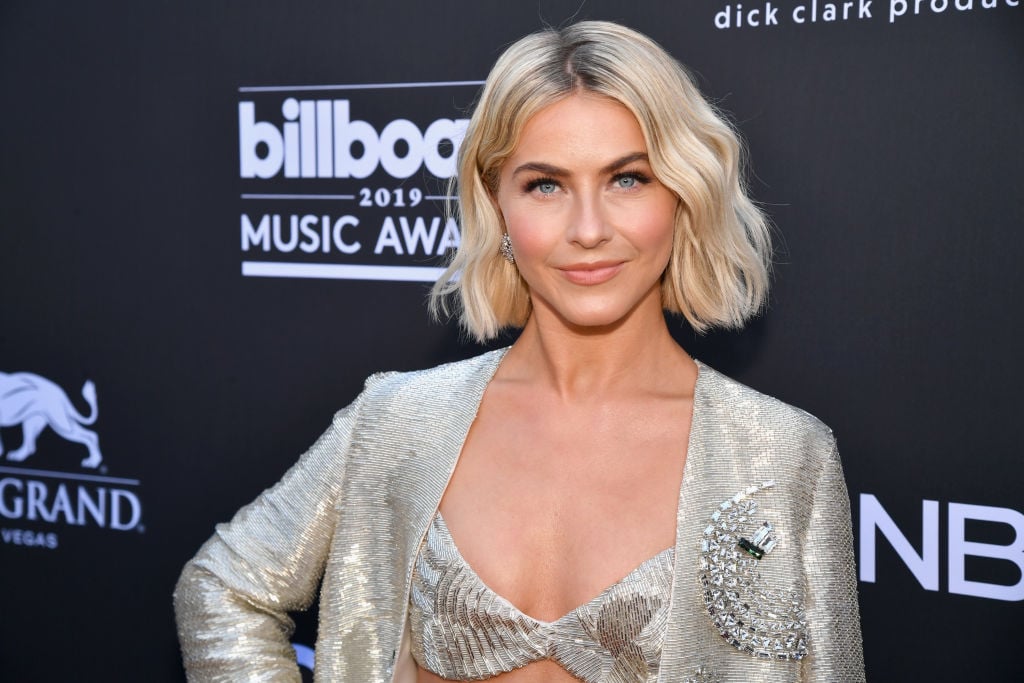 In spite of her dedication to healthy eating and exercise, Hough does get on board with occasional health trends. Recently, she was videotaped receiving a bizarre energy treatment that, to fans, looks an awful lot like an exorcism.
As Dr. John Amaral moved his hands above where Hough was lying facedown on a table, her body began to contort and she let loose with several demonic-sounding screams. According to Amoral, Hough's response to the treatment was perfectly normal — for her.
He stated that when others receive the treatment, they could experience pain as "energy is liberated" but that they might not scream. Still, fans were shocked by the bizarre video and remarked that it looked like a demon was escaping her body.
Others have commented that the treatment seems "disturbing" and "upsetting" to say the least. It does seem as though this particular health treatment is still fairly controversial within the wellness community, so Hough might be jumping on this particular bandwagon a bit early.