'The Blacklist': 1 Star Has Real-Life CIA and Military Experience
Being a criminal evading capture takes skill, wit, and a team of lawless mercenaries watching your back. At least that's according to NBC's The Blacklist. Raymond "Red" Reddington (James Spader) gets by week after week with a little help from his friends. One of which has real-life experience working for the CIA.
Technical advisors ensure 'The Blacklist' is as realistic as possible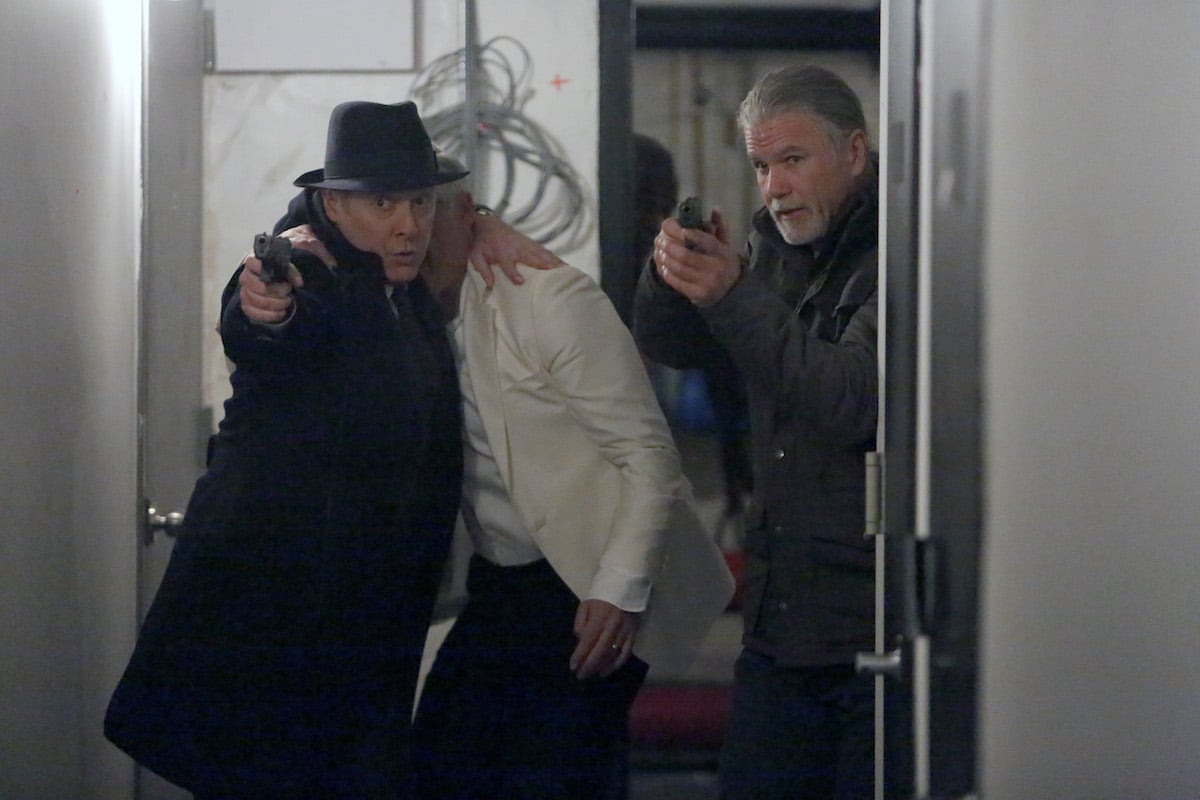 A lot goes into the making of an hour-long crime drama like The Blacklist. Star, Megan Boone (who plays FBI Agent Elizabeth Keen), said in past interviews that workdays take 9-12 hours to film. In that time, they do 4-5 scenes from one episode. If you calculate 20-22 episodes per season and seven complete seasons, that's a lot of "pretend" butt-kicking.
Some things Harold Cooper's (Harry Lennix) secret task force team do appear effortless. But, every move has a few extra pairs of hands standing by.
According to co-star, Diego Klattenhoff (who plays Agent Donald Ressler), plenty of people contribute to the final product. This includes choreographers to make fight scenes look realistic.
"We have some advisors, we have some stunt guys who are ex-military bada** Rangers and Special Forces. [Director] Joe Carnahan was there, and we had a lot of guys that knew how to use the weapons, so I just cozy up to them and they tell me," he told Assignment X.
"Any time you get to fire off all those weapons and throw down that giant M-4 and start shooting another guy, it's fun for me, it's like being a ten-year-old boy again, so yeah, it's a terrific job to have to go to work," he added.
One star of The Blacklist gave a little extra oomph having worked in the CIA and military.
One star has real-life experience to back-up his character
In 2017, Mr. Kaplan (Susan Blommaert) made her final escape from Red and his team. To do so, she shot one of Red's go-to bodyguards, Baz. The character, played by Bazzel Baz, was never confirmed dead or alive after that. However, he hasn't appeared in another episode since.
According to his website, Baz is "a former CIA Intelligence Special Operations Group Officer, a Citadel graduate, recipient of the Intelligence Commendation Medal, and a former counter-terrorism officer in the U.S. Marine Corps."
As the author of Terrorism Survival Handbook, Baz often advises on terrorism, war, and Homeland Security. Aside from that, he's a writer, producer, and life coach who advocates for Recovery of Children. The organization is "a non-profit organization of former and active intelligence and military special operators who rescue missing and abducted American children."
Baz told Absolute Music Chat that all of his uncles served in the military, making his path a clear one. As for becoming a CIA operative, it was a journey that connected different facets of his life.
"It was a part of my life that sharpened me and trained me and basically fine-tuned all the things that I had grown up with and learned — whether it was in my family or The Citadel or the Marine Corps — and at the same time it tested me to the limits close to death," he said.
"Many times you've got one shot at something and if you didn't do it right you didn't live. It was being a special operations paramilitary case officer, quote 'spy'. It was probably the most exciting time of my career."
Baz had an elite job with the CIA
Baz then became one of approximately 24 individuals in the world who had the same job.
"Oftentimes we went out in pairs or we went alone; you were required to do a lot of different things. If you were in the bush running an operation you had to know how to hook up your own power, how to dig a well — you had to learn a lot of things," he said.
Sometime later, Baz was asked to join an elite group of 12 men known as "life guarantors."
He explained: "A life guarantor is someone who you trust your life to; a person that you take into the field with you because they know if everything goes upside down, they can get you out no matter if it is acquiring and flying them out, that is after you hotwire a plane and do that, or fix a truck and drive them out, or swim them out, or if they get shot you can fix them up with a little bit of surgery or whatever it may be, you are kind of a Jack of all trades."
Much as Baz served Red, a life guarantor ensured whomever they protected that they were in capable hands.
How Baz got the role in 'The Blacklist'
It might seem like an obvious choice to cast a former CIA agent to protect Spader's Red. That's because it was. Producers recruited Baz to teach stuntmen "how to act like special-ops mercenary guys taking down a warehouse.'
After helping set things up and edit the final product, NBC asked if he'd come back and join Red's mercenary team.
"That's how it started and I ended up co-starring on the show for 4 seasons across from James Spader and that entire cast and crew. They were just the most wonderful people," Baz said.
"I can't think of one person on the show that I didn't thoroughly enjoy working with, and learning from: the cameramen, stunts, transportation. Just, everybody."
Likewise, Baz's costar and fellow mercenary, Hisham Tawfiq (who plays Dembe Zuma), also "drew inspiration from his former life as a platoon leader in the Marine Corps, with the New York City Fire Department and his relationship with his father," according to NBC News.
"He served in Operation Desert Storm, was a corrections officer at a prison, and a firefighter for twenty years," the outlet added.
Baz didn't leave 'The Blacklist' on his own behalf
When Mr. Kaplan shot Baz, The Blacklist creators left his exit open-ended. The character's health was never addressed, leaving fans to wonder if Baz might ever return. The actor, who loved his time on the show, took to social media asking fans to intervene.
Hello BLACKLIST fans who are asking if my character "Baz" was "killed off…." Unfortunately, my character and I are at the mercy of NBC and the creators, and I can't tell you what they intend to do. But you can always contact them and voice your opinions. All of you have been an amazing army of fans and supporters and I can tell you that each of you were right there with me each time I filmed…as if all of you were part of my mercenary army.

So I thank you and perhaps all of us (all of you included) will find ourselves still a part of the show or part of another show in the future. Remember, the squeaky wheel seems to get the most attention…LOL"

Bazzel Baz Instagram
It's unclear if Baz will ever show up to protect Red in The Blacklist again. Still, it's good to know he's out there with the skills to protect anyone by his side.