'The Blacklist': 5 Things Bosses Previously Said to Expect From Season 8 — Did They Get It Right?
Before The Blacklist returned for season 8, the pandemic shifted the way things were supposed to play out. The season 7 finale ended with filmed pieces strung together with animated scenes. The move to salvage content was bold but laid the foundation for season 8. That said, here are a few things executive producers said at the start of the season. How much came to fruition?
Raymond Reddington and Elizabeth Keen's conflict would worsen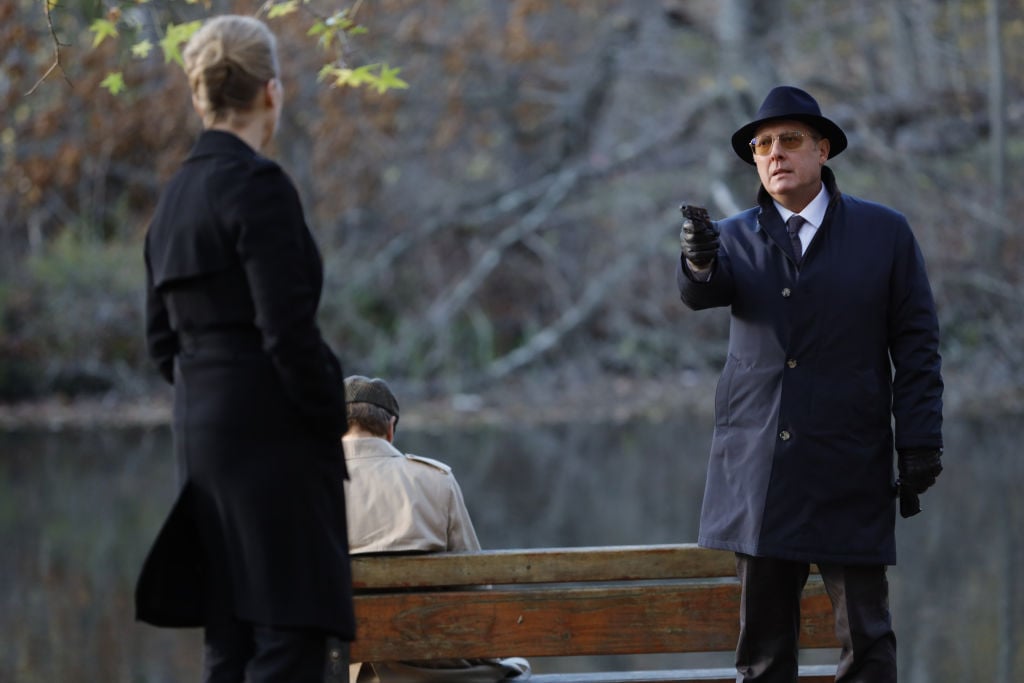 RELATED: 'The Blacklist': James Spader Once Weighed in on Reddington's Identity Saying One Answer Seemed 'Too Easy'
The season 7 finale set fans up for a big season 8 opening. The episode ended with a rebellious Liz (Megan Boone) siding against Raymond "Red" Reddington (James Spader) with the woman she believed to be Katerina Rostova (Laila Robins). She became a woman on a revenge-filled mission, but how closely did the season play out compared to what executive producers Jon Bokenkamp and John Eisendrath previously said?
"I don't think we can emphasize enough how great the conflict will be because of Liz's choice. Liz is now on a path that she insists she will stay on until she gets answers," Eisendrath told Entertainment Weekly. "This will put her more at odds with Red than we've ever seen, and it will put the task force between the two of them, forcing them to make decisions about who they're going to support in ways that we've never seen them have to do before."
The conflict climaxed in the final two episodes — something Bokenkamp alluded to.
"What is this decision going to do to her? We started out in the pilot with a very young, innocent, and idealistic FBI agent, who was very by-the-book. Throughout the show, she has dipped her toes into the dark waters in a variety of ways," he said in the same interview.
Season 8 of 'The Blacklist' promised to address Reddington's illness
Reddington's mysterious illness seems to come and go, depending on the episode. Before season 8 began, The Blacklist bosses promised to dive more into what ails him.
"We have every intention of being clear with the audience here about what it is that he has been suffering from," Eisendrath told Hollywood Life. "I think what he has been suffering from has impacted some decisions he's made that we've already seen in previous episodes, and I think the same will be true going forward."
Liz's relationship with the task force team would change dramatically
RELATED: With 'The Blacklist' Boss Jon Bokenkamp out Will Season 9 Retcon Previous Revelations to 'Save' the Series?
One thing season 8 got right is how Liz's choices changed her relationship with each of the task force members, though, Eisendrath warned ahead of the season.
"You can look at it on that same axis of Liz's journey is going to deeply affect everyone on the task force when it comes to their relationship with her. There is Ressler's relationship with her and whatever deep-seated feelings that they may have for each other that have been unspoken to date," Eisendrath told Hollywood Life.
"Given where she's going and what she's doing, some of those feelings might bubble to the surface. I think that Cooper, who looks at Liz in some ways as a surrogate daughter, is going to have some intense feelings about how he can navigate both the task force of law enforcement officers and as people who love and want the best for Liz." 
We'd learn more about N-13
As the season began, questions surrounding N-13's identity came to the forefront.
"The real meat and potatoes lie with N-13," Bokenkamp told The Wrap. "Is Katarina right? Is Red N-13, this notorious Russian spy? If so, what is his endgame? Is he using our task force for some other agenda? Will they find out about it?"
Bokenkamp promised 'big reveals' in season 8
RELATED: 'The Blacklist' Has a New Night and Time Thanks to Failed 'Law & Order' Spinoff
The final two episodes of season 8 revealed a lot about the blacklist site in Latvia, the night of the fire, the fulcrum, and young Katerina Rostova (Lotte Verbeek). Bokenkamp previously told Entertainment Tonight how ambitious the season would be, alluding to the truth about Reddington's identity.
"The show has always been so much about identity. Who people are presenting themselves to be, who they are, how they're changing, and how that identity fits into the landscape of the show and the different characters. If anything, this season, because of Katarina and Liz and their quest, it's ultimately about truth," he said.
"It's about answers and getting to the kinds of big, meaty reveals that we haven't really ever been able to do before. If there's an overarching theme, it's truth."
The finale didn't explicitly state who Reddington is, but considering the ambiguity of "Konets" and Bokenkamp's sudden exit, we can draw the conclusion that maybe The Blacklist will never give the full answer we desire.
The Blacklist returns to NBC in the fall.