'The Blacklist': 8 Things We Want to See Happen by the End of the Series
Raymond "Red" Reddington (James Spader) has captured viewers for eight seasons of The Blacklist and another season is on the way. There's no telling if NBC will renew the long-running crime drama for a 10th season or if season 9 is the last chance for answers about the elusive N-13 spy. The season 8 finale left a few things upended that, we hope, are concluded by the series finale.
Who 'The Blacklist' lead Raymond 'Red' Reddington really is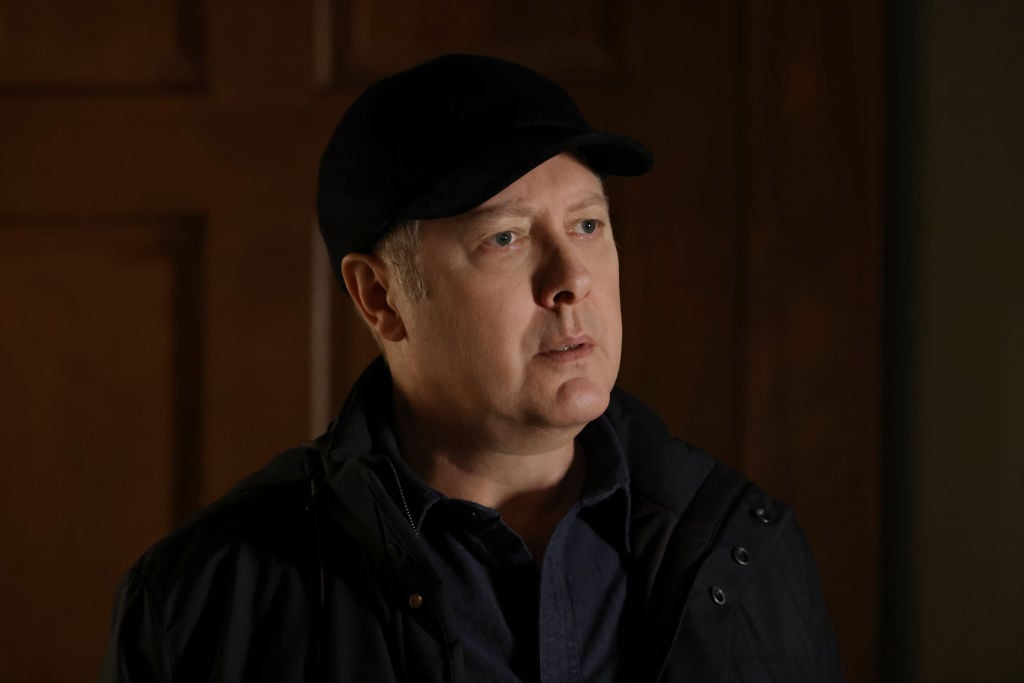 RELATED: 'The Blacklist': Did the Season 8 Finale 'Konets' Definitively Answer Whether Raymond Reddington Is Liz's Father?
The Blacklist Season 8 finale "Konets" pulled on the thread of Red's true identity without giving it all away. the episode, which ended with former FBI agent Liz Keen's (Megan Boone) death, touched on Red's true self but it didn't state it explicitly.
As explained in "Nachalo," writers hinted at the long-held fan theory that he is actually Liz's mother Katarina Rostova. In Liz's final moments she looks into his eyes while her life flashes before her — including moments with Katarina. The episode left fans to draw their own conclusions but after eight seasons of investment, we'd like to see a meaningful revelation.
How Ressler, Aram, and Cooper heal from losing Liz
Season 7 of The Blacklist also hinted at a romance between Liz and FBI agent Donald Ressler (Diego Klattenhoff). Things played out throughout season 8, just before Liz went on the run. She often pulled Ressler into her dark world of revenge to fulfill her own needs but by the end of the season, it was clear they had deep feelings for one another. Seeing as Ressler didn't always want to play nice with Red, will he blame Red for Liz's death?
Liz managed to call Aram Mojtabai (Amir Arison) and make amends just before her death but as the most sensitive and compassionate on the task force, we'd like to see how he grieves the loss of his friend. This is especially true became we know how hard he took the absence of Samar Navabi (Mozhan Marnò).
As for the head of the team Harold Cooper (Harry Lennix), he might not show his grief but we know it's there. How will he deal with Red now that Liz is gone? We hope to see all of this play out.
Whether there's another mole on or off Red's blacklist
RELATED: 'The Blacklist' Season 9: Is There a Mole on the Task Force Team?
The Blacklist has already had its fair share of moles but we think there has to be another for the sake of fulfilling more stories to be told with or without Liz Keen. Whether it's Cynthia Panabaker (Deirdre Lovejoy) and her own secret motives or Cooper's odd allegiance to Red (that goes pretty far back) — we think something is amiss and hope writers reveal what's behind it all.
What becomes of the task force team members if it's scrubbed
Outside of the FBI task force, we'd like more insight into the daily lives of the team members. What does Aram do when he goes home for the night? Does Agent Alina Park (Laura Sohn) have any other friends or connections that aren't in Alaska? Will Ressler find new love? Does Harold ever go home or does he sleep in his office and wait for Red? We've watched these characters for eight years yet know so little about them. We want more before it's too late.
More blackist revelations that tie into the central story
RELATED: 'The Blacklist': 5 Characters That Could Make a Surprise Return in Season 9
Red's blacklist is the whole reason for the show. Some of those in the top 10 spots are those who've been closest to him but betrayed him at one point or another. Liz is number one, while the fake Katarina Rostova (Laila Robins) — otherwise known as Tatiana Petrova — Mr. Kaplan (Susan Blommaert), Tom Keen (Ryan Eggold), and Dembe Zuma also make the list.
Before the series ends, we'd like to see the second spot be someone we won't see coming; someone we already know and love — someone as deserving as Liz and as loyal as Dembe who turns their back on our dear, old, Red. It's what The Blacklist is made of so do it right.
Dembe deserves to find love
Dembe's been at Red's side through it all and yet, he doesn't have time for relationships. The man would give his life for a criminal (and almost has) but the story won't allow time for a date. Just as Red had his short-lived romance with Anne (LaChanze), we want to see Demebe find love, too.
Answers about Red's mystery illness
RELATED: 'The Blacklist': What Is Red 'Dying' From? Fans Have a Few Ideas About His Lingering Illness
Season 6 dropped the first clues about Red's supposedly terminal illness. He had a few spells, saw a few doctors, and took a lot of medication. Yet, we still don't know what ails him. The season 8 finale revealed through Dembe that Red's on the mend. Still, we'd like to know what happened, if it'll eventually kill him and if it's hereditary (which would answer a lot of other questions, honestly).
What was written in Red's letter to Liz
Red made a deal with Liz that if she killed him, she could have the letter Red kept. We don't know what's in it because Liz never got to read it before she was shot and (allegedly) killed. There's a chance season 9 will reveal the contents which, we can only assume, detail Red's identity. We deserve to know just as much as Liz what that letter said.
Whether the series ends after season 9 or not, there's a lot of ground to cover. We can only hope we get the answers to all of the above before it's over for good.