'The Blacklist': 9 Series Moments That Are More Relevant Than Ever Heading Into Season 9
With The Blacklist Season 8 finale behind us, the season 9 premiere is in view. Raymond "Red" Reddington (James Spader) and Elizabeth Keen (Megan Boone) have been on this journey together since 2013. But, with the events in the finale, it's time to take a look back at a few of the most important moments from the series. We think they'll be relevant in some way moving forward.
Raymond Reddington turned Elizabeth Keen's life upside down in the pilot for 'The Blacklist'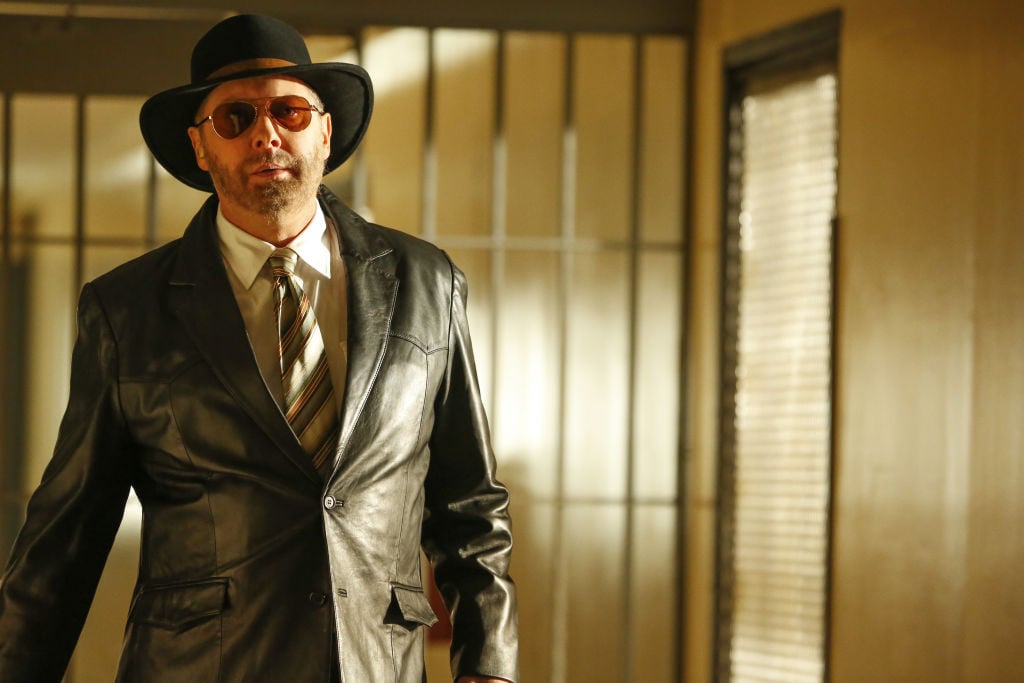 When The Blacklist premiered, Red turned himself in to the FBI building offering himself up as an informant with one request: that he deals only with new Quantico recruit Liz Keen.
"Reddington walking into her life didn't only blow up what Liz thought her life was, it began to reveal truths about herself that she didn't know," creator Jon Bokenkamp previously told Entertainment Weekly. "Red coming into her life in the pilot isn't so much strangers meeting," Bokenkamp says. "It's the beginning of her journey of self-discovery."
Remember when Liz stabbed Red in the carotid artery with a pen for answers? Even then, The Blacklist showed how far she was willing to go.
That journey — as we know now — ended in season 8 with Liz's alleged death. However, Red came into her life for a reason (other than to protect her…because she's dead) and that reason has to be revealed sooner than later.
Tom Keen isn't who he said he was
The first episode in the first season showed a completely different Liz than that in season 8. Her life appeared normal. She and her husband Tom Keen (Ryan Eggold) were in the process of adopting a child, she was starting a new job with the FBI as a profiler, and they even had a dog. Once Red came into her life, nothing was the same.
Liz learned through Red that Tom was a liar; a criminal. It's one of the many lies throughout the seasons.
"There is probably nothing more devastating than to learn that your husband, your life partner, is not who you think he is," co-showrunner John Eisendrath said in the same interview.
Eventually, as we've seen, Tom "died," then returned. He and Liz re-married and had their daughter Agnes. But the fun didn't last. About the time they found happiness and honesty, Tom was killed and Red's secrets were to blame. Another wedge is driven between Liz and Red.
The murder of Tom Connelly
A pivotal moment for Liz came when she killed Attorney General Tom Connolly.
"It reflected to the audience about how far Liz is willing to go," Bokenkamp said. "That murder is very telling of who she was, and perhaps even who she was in the process of becoming."
Other episodes revealed that Liz could have the warrior gene which can make individuals aggressive and explained her erratic behaviors as the series evolved.
Liz faked her death to escape Reddington
Season 3 shocked fans when Liz "died." Star Megan Boone was absent for a few episodes to have a child of her own, so they worked it into the script. During The Blacklist, Red grieved until he learned she faked her death to escape him and his criminal ways. Her fears of passing the warrior gene and Red's influence were never more real than these episodes.
"Since then, that has been a vital part of who Liz is and who she's become," Eisendrath said.
Dom, Iilya, and Katerina throw a wrench into Red's story
Liz and Red already had a complicated relationship but when Dom, Ilya, and Katerina entered her life, it became even more so. Dom was among the first to tell Liz more about her past, opening the door to more questions (from fans, too).
"That is the first real confirmation that she is the daughter of a notorious Russian spy," Bokenkamp said. "When she goes to see Dom, it fills in lots of blanks — not necessarily who Reddington is, but who Liz is."
Liz saw Red kill 'Katerina Rostova' but she was a fake
Katerina pretended to be Liz's mother but is later revealed to be superspy Tatiana Petrova. When she witnessed Red killing the woman she still believed to be her mother, everything about Liz's journey changed.
"It's a complete break, and it shattered any illusions [Liz] might have harbored about where Reddington's allegiance lies," Eisendrath said.
The event became Liz's primary reason for wanting Reddington dead.
"I knew the show was going in this direction where Liz was going to branch out and start to trust Katarina as much as she might Harold or Ressler, the characters that have populated her family for over seven years," Boone said. "It was whiplash-inducing, but I think everyone was experiencing that during this time."
The No. 1 blacklister revealed
The darkness Liz saw in Red is ultimately what consumed her in the end. While on a path for revenge, Liz goes completely rogue in order to plan Red's death.
"The death of Katarina really is the final straw for Liz," Bokenkamp said. "She has to go toe to toe with Red, and it's very complicated territory for Liz."
Eisendrath added: "You get to see what she has learned from Reddington about how to be a bad guy and how to operate in the criminal world. So part of the fun is to see the pupil mimicking the master trying to become someone who can compete with him."
Red takes Liz to the truth in Latvia
After planning to take Red down through Neville Townsend, it's Red who helped Liz get to safety. Without knowing he had a tracking chip, he flew Liz to Latvia to the physical blacklist site to give her the answers she's wanted all these years. The second-to-last episode "Nachalo," dives deep into the mythology surrounding Liz and Red's past, Katerina Rostova, and the blacklist.
By the end of it, Townsend and his men crashed though after tracking them down, injuring Liz. Red got them out safely (again) which led to a more understanding Liz, ready to move past the hatred she had toward him all season long.
Liz died in 'The Blacklist' Season 8 finale
In the final episode of season 8, a terminally-ill Red proposed Liz kill him to take over his empire. At first, she declined but midway through, she accepted. Red says his goodbyes while Liz planned her next steps for the future. As she was about to follow through, Townsend's hitman shot her instead. Her life flashed before her eyes and, as suggested, she silently understands who Raymond Reddington really is.
All of these moments have changed Liz Keen in some way and yet, she won't be around (so we're told) in season 9 to explore a reconciled relationship with Red. If there's one thing to take away from all of this, it's that despite Liz's resentment over Raymond Reddington, she ended up being just like him. The irony.