'The Blacklist' Star Amir Arison Reveals One of the Hardest Things He Had to Do as Aram Mojtabai
The cast of The Blacklist had to learn different skills to portray their respective characters. For instance, Megan Boone trained extensively to make FBI profiler Elizabeth Keen's fight scenes as realistic as possible. Amir Arison — who plays the FBI's IT guru Aram Mojtabai — recently explained why training for one episode was one of the hardest things he's ever had to do.
Amir Arison is the heart of 'The Blacklist'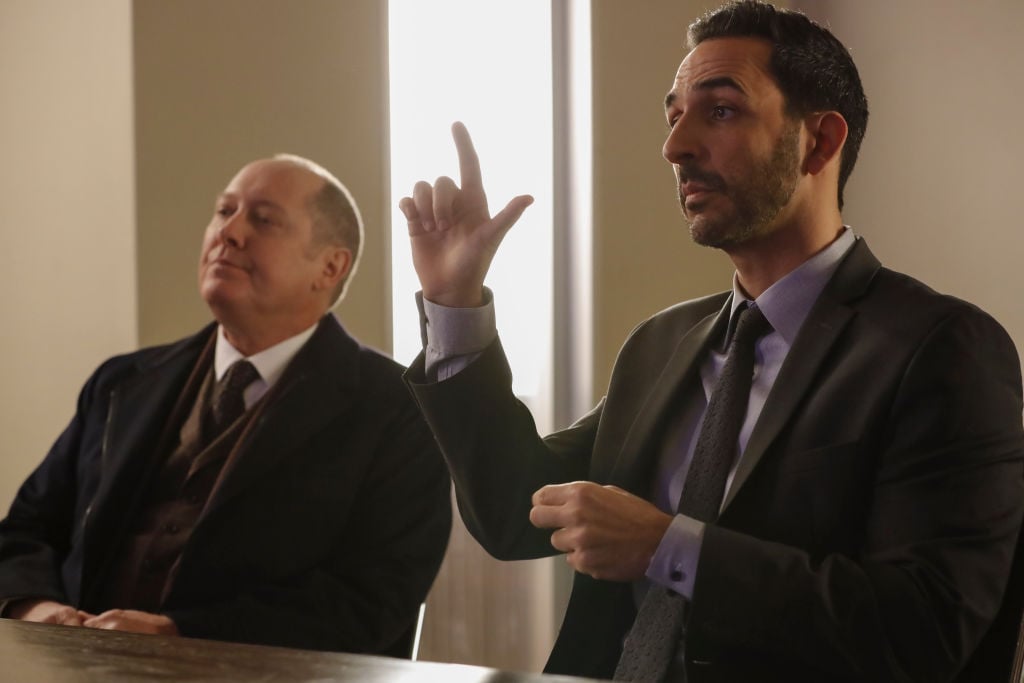 The Blacklist is eight seasons strong with another on the way. Each character has their fair share of adversity throughout the series — including Arison's alter-ego Aram Mojtabai. The eternal optimist offers hope when odds are stacked against the secret FBI task force team.
Likewise, Aram is a loyalist and truth-seeker who ensures the agents get where they're supposed to be exactly when they need to be there. In season 8, Aram was tasked with having to hunt down his friend, former FBI agent Keen (Boone). The events weighed heavily on the character. By the season 8 finale, the two seemingly reconciled just before Keen's (alleged) death.
Fans of the show love Aram for giving balance to the chaos. His all-too-real dedication to the job — and his friends — prove he's not only worthy of praise but also a happy ending by series end.
Arison had to learn four pages of 'The Blacklist' dialogue – in American Sign Language
Aram is a character who can do it all which means Arison had to go the extra mile for the season 8 episode "The Wellstone Agency."
"One of the hardest things I've been tasked with in my career was being given four and a half pages of American Sign Language. And I'll just admit, I don't know ASL or any sign language," the star recently told Nerds and Beyond.  "I've always been fascinated with it; at one time in college, I wanted to study it but they didn't offer the class. I had about four weeks to prep for the scene and it wasn't like a few lines, it wasn't like a single page, AND it was for both characters."
He continued: "Signing for Red and his long paragraphs and the charming, scary, direct way that Raymond Reddington can handle scenes as well as speaking for the wonderful actor Bob Hiltermann that The Blacklist had cast, who also happens to be deaf."
The star said it's the most preparation he's ever done for a role
Arison praised the show for hiring someone deaf for the role saying, "authenticity makes a difference."
"I was doing everyone's dialogue, including my own. I was speaking for Bob, speaking for me, and signing for Red. And I also had to be believable as an interpreter who has to be absolutely fluent and efficient in sign language. The scene required multiple levels of undercover acting," he said.
Arison added that it's "the most preparation" he's ever done "for anything" in his career. The Positive Peeps host credited his ASL teacher Alexandria Wailes for helping him master the scenes. The two worked over Zoom in silence, communicating through chat when communication failed.
Arison was so inspired by ASL, he signed up for a beginner six-week course after the episode.
"That would probably be the most personal thing that has affected me in the course of this season," he said adding, he "wanted every second to feel truthful."
What's ahead for Aram Mojtabai in season 9?
It's been well over a month since The Blacklist Season 8 finale "Konets" aired but the final moments are still a controversial topic amongst fans. It's no spoiler at this point to remind viewers that Liz Keen was shot and killed (allegedly) by one of Townsend's men. This is likely due to Boone's exit from the hit show. Her character and Aram made peace but we think he'll carry the burden of their season 8 friendship woes until the end.
As for the task force team, Cynthia Panabaker (Dierdre Lovejoy) previously threatened to shut it down, "kick Reddington loose," and scrub Keen. With Keen gone, we don't yet know how the rest will play out. If there's still a task force team behind Reddington, we think Aram and Agent Donald Ressler (Diego Klattenhoff) might have it in for Reddington — who could be blamed for Keen's death.
In just over two months, we'll see how writers choose to move on with the story. Until then, we'll stick with Arison's BFI (Butterfinger) commercials to tide us over.
The Blacklist returns this fall on NBC.