'The Blacklist': Another Big Exit Announced Ahead of Season 9 — Will the Show Survive?
The end of The Blacklist Season 8 finale aired but not without more questions. This time, it's not just the storyline fans are torn over — it's the news of another exit from the show. This comes after the renewal for season 9 was announced earlier this year. Now the biggest question is, can the show survive?
[Major spoilers for the finale of The Blacklist Season 8 episode "Konets" below]
'The Blacklist' Season 8 finale only tied up one loose end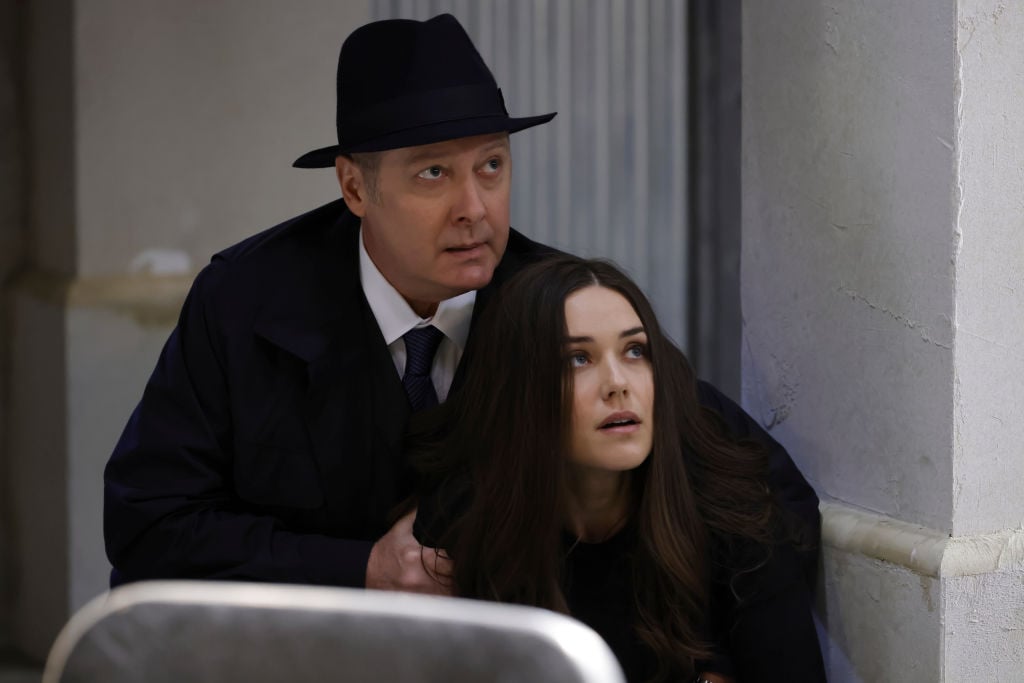 RELATED: 'The Blacklist' Fans Want a Character Arc Redemption for This Task Force Member — and It's Not Liz Keen
Without giving it all away, the season 8 finale "Konets" showed a reconciled Raymond Reddington (James Spader) and Elizabeth Keen (Megan Boone). Red elaborates on his illness saying he's "dying," and he asks Liz to kill him and take over his empire.
The plans were in motion long enough for Liz to ask for forgiveness, to get a little more insight on the mysteries of her past — but still, not really — and to plan how the night will go down. In true Blacklist style, however, things don't go as planned.
Instead of Liz killing Red, she is the one who loses her life. This was anticipated since the news broke of Boone's departure from the show. Although, writers could've written the character as they did Samar Navabi (Mozhan Marnò), where there's a possibility of a return. Instead, they erased the one character that Red's world revolves around.
Bokenkamp released a statement announcing his exit following the season 8 finale
RELATED: 'The Blacklist': The Biggest Answer of the Series May Have Been Hidden in Plain Sight
Just after the finale, series creator Jon Bokenkamp announced his exit via Twitter.
"I wanted to write you directly to let you know that I've made the difficult decision to leave The Blacklist," Bokenkamp told fans in a tweet on Thursday. "I love this show with all of my heart, and it's been an incredible journey, but after eight years I feel it's time for me to step out of my comfort zone, try something new, and explore a few of the other characters and stories that have been crawling around in my head."
He explained he has "mixed emotions" about leaving and gives thanks to the fans for being huge supporters since the series premiere back in 2013.
"I am likely biased, but the Blacklist fanbase is not only the most dedicated and ravenous in television, but whip smart and hard as hell to fool," he continued. "You are the lifeblood of our show, and it's your enthusiasm that leaves me feeling — more than anything — grateful. I genuinely believe the series remains full of life, creatively strong, and that bright days lie ahead."
Can 'The Blacklist' survive without its creator and star? Fans want answers
RELATED: 'The Blacklist' Stole Content From Previous Episodes Due to Shrinking Budget
We've all had a collective moment to breathe since Boone's news made the rounds last week. She posted her own heartfelt farewell on Instagram following the finale.
"This experience, for me, has been an entire life inside of my own life. These eight years playing Liz Keen have helped me better define the world and myself, as she set out to do the same. Liz sought incorruptible familial bonds, and collided with powerful forces to reveal the boundaries where a cruel, indifferent world ended and she began," she wrote.
He continued: "As her story ends I am grateful, most of all for the people I shared this time with: my fellow cast members present and past, our incredible crew who carried every single day for all involved, and those of you we entertained."
Boone went on to show gratitude for the guest stars and being a part of over 150 episodes of the show, which she deemed "a dream."
The post came after Deadline announced Boone's new production company Weird Sister with a first-look deal at Sony.
Some 'Blacklist' fans say it's all been 'ruined'
The news of both exits is tough for many dedicated Blacklisters. For eight years they've waited for real, concrete answers about who Red is and why it's taken all the way to Liz's death to barely reveal anything important. Some say Bokenkamp had plans to end the series at 8 and all things would've concluded which makes his announcement ironic.
"This whole damn show is imploding," one Redditor said.
"Why would they keep the show going without the creator and the main character?.. This was the perfect opportunity to end it. Instead, they ruined the whole story," another said.
"They should have ended the series last night with that letter being read in Lotte's voice as the final scene," another added.
Countless other fans reiterated the same on different threads proving you can't mess with a dedicated fanbase. As for season 9, we don't know what writers will do without Boone at Spader's side — and without its creator. But, like all other Blacklisters, we'll tune in to find out.