'The Blacklist': The Biggest Answer of the Series May Have Been Hidden in Plain Sight
A new episode of The Blacklist steamrolled into Wed. night with the first of the final two episodes of season 8. Viewers were treated to a deep dive into the mysteries of Raymond "Red" Reddington (James Spader) in the aptly titled "Nachalo," which means "the beginning." The one-hour block revealed many answers about Red's past — except one: who is Reddington? Here's why fans think it's been hiding in plain sight.
[Spoilers from The Blacklist Season 8 Episode "Nachalo" below]
Raymond Reddington has been toying with Elizabeth Keen since 'The Blacklist' Season 1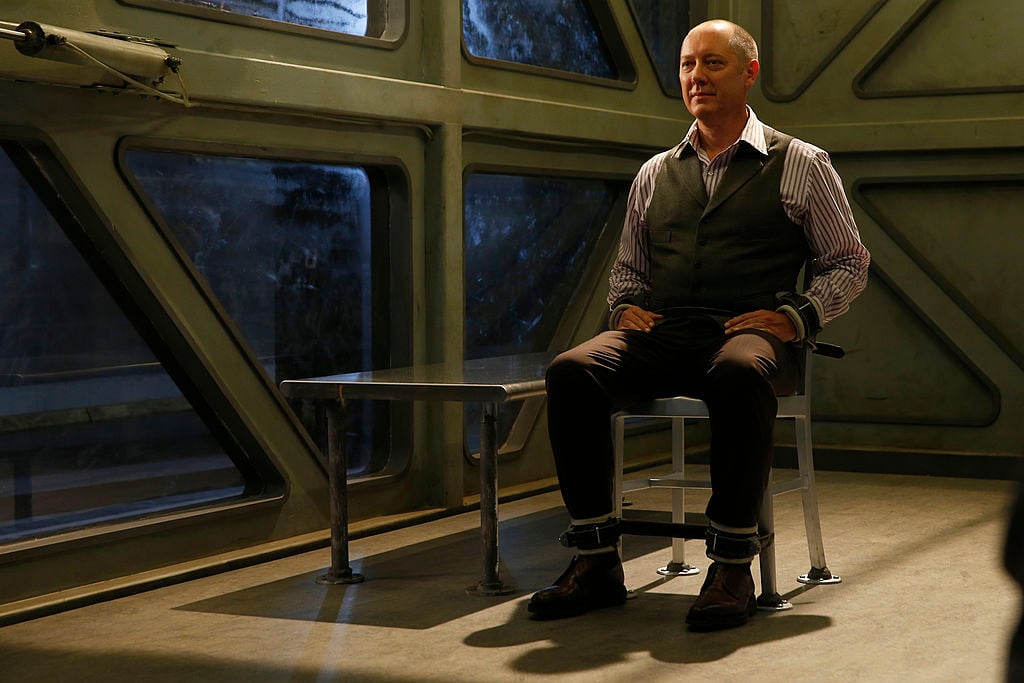 RELATED: 'The Blacklist' Season 8 Fans Still Think This Old Reddington Theory Holds Up
Since 2014, The Blacklist has been one of NBC's top-rated crime dramas, and rightfully so. The Spader-led series has managed to keep fans guessing for eight seasons with another one on the way. The premise of a wanted criminal turning himself in, then trading the elusive "blacklist" in exchange for immunity is only one piece of the puzzle. The other is why Reddington is set on protecting a resistant Elizabeth Keen (Megan Boone).
The question is never fully answered, with breadcrumb hints handed out each week. Somehow, writers have kept the biggest secret under wraps with diversions, red herrings, and sort-of reveals to keep fans interested. However, some think there's no need for the show to address who Red really is — because it's been there all along.
Fans say 'The Blacklist' has already answered the biggest question
RELATED: 'The Blacklist' Creator Teases 'The End of a Story' Is Coming but Fans Aren't Buying It
In the latest episode, Red — who already confessed to being spy N-13 — takes Liz back in time through a black and white story. It's revealed that Katarina Rostova (Lotte Verbeek) was also a spy who had an affair with the real Raymond Reddington (asked by Dom and the KGB) to gather intelligence. Through the affair, she became pregnant with Liz, allowing her husband Constantine Rostov to believe he's Liz's — Masha — father.
The night of the fire, all came to a head when Liz shot her father in her mother's defense. Her real mother, by the way, is not the woman Liz believed her to be. The Katarina Rostova (Laila Robins) who entered Liz's life was a fake. Her real name is Tatiana Petrova and she was sent by Dom and Ilya Koslov to assume the identity to keep the real Katarina and Liz (who was sent to live with Sam) safe.
The Raymond Reddington the audience knows was created by the real Katarina to keep the death of the real Red a secret. Got that? The biggest answer of the series, however, might be in the context of a few loose lines.
"What does that mean, constructed?" Liz asks, whom she believes to be her mother.
"It meant a complete transformation."
The scene cuts to images of surgery with James Brown's "It's a Man's World." This Red, the one the audience knows, picks up KGB intelligence packets. This version of Red is a way to keep Liz safe while expanding "the blacklist." Things end before Liz gets an answer of who the "constructed" Red is.
Fans have theorized this for eight seasons
Fans say this version of Red has been Liz's mother Katarina all along.
"Every single thing in this story points to Katrina becoming Reddington. From him turning to Katarina as the narrator, to the bubble girl scene where the view was the same as our Reds memory. I don't see any other option at this point," a fan posted on Reddit.
"I've always hated that theory but at this point I don't think there's any other option," another said.
"I'm remembering Reds scars on his back in season 1. Burn scars. Red is Katarina," another said in this thread.
And finally, the theories spiral in this thread with one fan stating what many others feel: "Katarina being Red was made so obvious Red being anyone else would literally not make sense."
The consensus is largely due to one key point another fan asked:
"If Red is not Katarina, why does Townsend so desperately want to kill Liz in front of Reddington as payback? What other alive person is so close to Liz that Townsend would want them to watch her die?"
The only explanation, many believe, is that Red took over the real Katarina's identity to hide in plain sight, and to keep Liz safe.
Will there be a season 9 of 'The Blacklist'?
RELATED: 'The Blacklist' Key Player Exiting Ahead of Season 9, Confirming Months of Fan Rumors
NBC has officially renewed The Blacklist for season 9 back in Jan., but with one less character. Deadline broke the news on June 15 that Boone won't return to the series. Her final appearance will be in the season 8 finale.
Series creator Jon Bokenkamp previously stated that the final two episodes of season 8 "are incredibly surprising," according to Entertainment Weekly.
"It's really hard after eight years to find new surprises, and I think these next two episodes have some of the biggest surprises we've had in eight years."
We don't have all the details regarding season 9 without Spader's leading lady but we'll update once we do.
The Blacklist finale airs Wed., June 23 on NBC.