'The Blacklist': Every Episode Not Named After a Criminal
Most episodes in 'The Blacklist' are named after the high profile criminal the task force is trying to catch. The few episodes not named after criminals have unique storylines.
In every episode of The Blacklist, the FBI hunts down various high-profile criminals with the help of Raymond "Red" Reddington. Almost every episode is named after the criminal that the episode focuses on. With the exception of the pilot episode, here's every episode not named after a blacklister.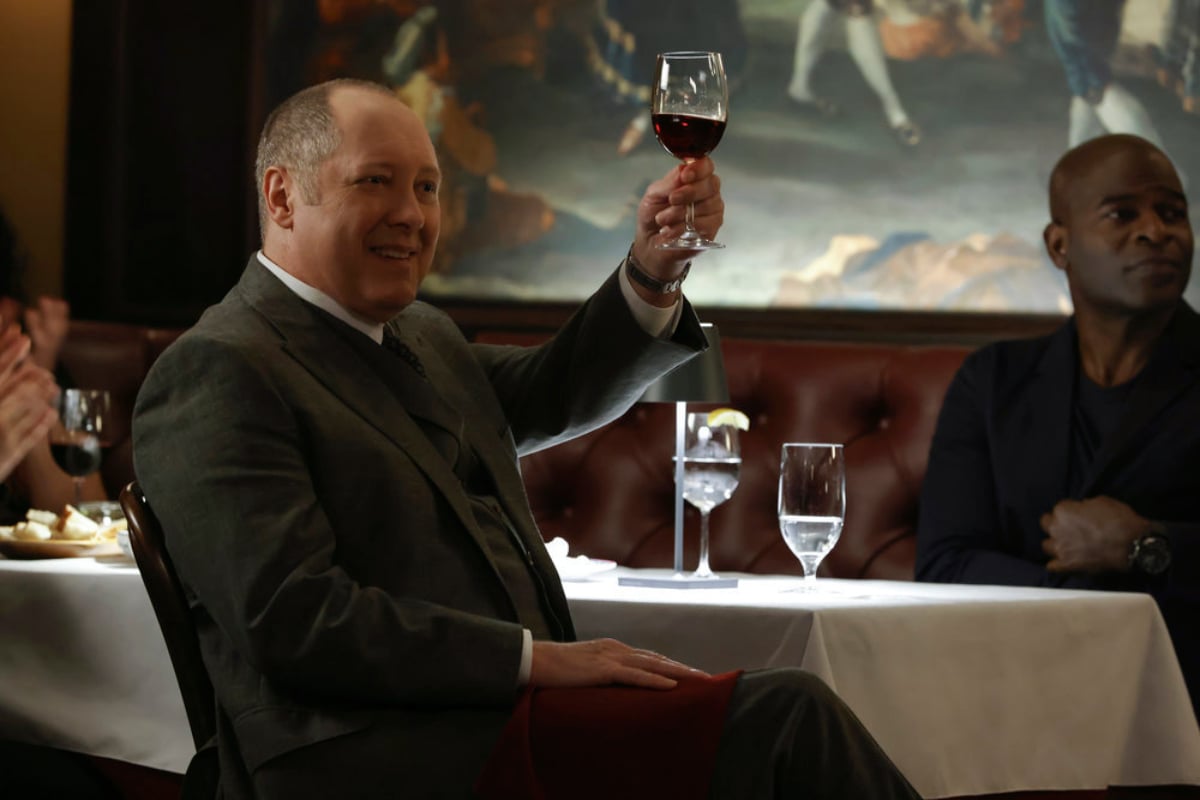 'The Blacklist' Season 3 Episode 19 "Cape May"
In the aftermath of Liz's (fake) death in The Blacklist Season 3, Red travels to Cape May, New Jersey. There he saves a mysterious woman from drowning and helps defend her from attackers that are after her. In the end, the woman and her attackers were all in Red's head. This episode is unique in that it focuses only on Red and his psyche. It is the first time Megan Boone, Diego Klattenhoff, and Harry Lennix are absent from an episode.
Season 4 Episode 17 "Requiem"
This episode's story is mostly told in flashbacks and centers around Mr. Kaplan collecting bodies she had previously cleaned up for Red. The episode reveals that Mr. Kaplan, then Kathryn Nemec, was hired as a caretaker for Liz by her mother. After a fire, Kate is instructed to give Liz to Sam Milhoan. Later, Kate meets a woman named Annie Kaplan, and the two fall in love. The origin of Kate's blacklister name is revealed when a man kills Annie and calls Kate "Mr. Kaplan" before shooting her.
'The Blacklist' Season 5 Episode 9 "Ruin"
Like "Cape May" ruin follows the aftermath of an important character's death. Liz is living in a remote cabin after Tom is killed. There she finds an injured man in the woods. Four other men soon follow, and Liz learns that they are hunting the man, who is a federally protected witness. Liz manages to kill the four men, before returning home to begin her quest to avenge Tom's death.
Season 6 Episode 19 "Rassvet"
"Rassvet" is another story told mostly through a series of flashbacks. Liz pays a visit to her grandfather Dominic, who tells her the truth (or so she thinks) about Katarina Rostova. In a flashback, Katarina narrowly avoids drowning and enlists the help of her friend Ilya Koslov. Dom tells Liz that Ilya assumed Red's identity to get to a large sum of cash in Red's bank account. Dom is later revealed to have been lying about certain aspects of the story. "Rassvet
is also the Russan word for dawn.
Season 7 Episodes 4 and 17 "Kuwait" and "Brothers"
"Kuwait" begins with a flashback to 1989. A younger Harold Cooper serving in the Navy in Kuwait witnesses his fellow officer Daniel Hutton taken hostage. Back in the present, Cooper learns that Hutton survived. He travels to Kuwait to retrieve his fellow officer, only to find that Hutton turned on his country.
In The Blacklist episode "Brothers," it's Donald Ressler's turn for a backstory. The episode flashes back to a teenage Ressler, whose police officer father is murdered by his corrupt partner Tommy Markin. Ressler shoots Markin and his brother Robby cleans up the crime scene. In the present, the brothers must dig up Markin's body. Robby reveals that Markin survived the gunshot wound and Robby finished him off with a shovel.
'The Blacklist' Season 8 Episode 3 "16 Ounces"
This is another episode that follows the theme of grief over a lost loved one. In "16 Ounces" Liz resigns from the FBI and begins to plan her revenge on Red for killing her mother. The FBI begins to hunt down Liz while she attempts to kill a hospitalized Red. Liz also gets into contact with Ressler.
Season 8 13-15 "Anne," "Misère," and "The Russian Knot"
In "Anne," Red reunites with his newfound love but ends up putting her in danger of Townsend's men. Later, Red finds an armed figure who he believes to be Liz pointing a gun at Anne. "Misère," named after the French word for misery, serves as a recap for the previous 10 episodes. In "The Russian Knot," Liz tries to get ahold of a cipher machine that Red uses to communicate with the Russians.
Season 8 Episodes 21 and 22 "Nachalo" and "Konets"
The final episodes in season 8, "Nachalo" and "Konets" appropriately translate from Russian to "the beginning" and "the end," according to Deadline. In "Nachalo," Liz learns the truth about the creation of the imposter Raymond Reddington. However, she is interrupted by Townsend before she can learn Red's true identity. Red kills Townsend and his men.
In "Konets," Red shares his plan for Liz to kill him and take over his criminal empire. Liz agrees and meets Red to kill him, but in the end, she can't do it. She is shot in the back by one of Townsend's men and dies in Red's arms. Red flees with Dembe and the task force find Liz's body.