'The Blacklist' Fans Noticed Something Interesting About Brimley's Interrogation Techniques
Raymond "Red" Reddington (James Spader) is nothing without his trusted group of "associates." The Blacklist criminal employs the likes of a DMV worker, a brother and sister "cleanup" duo, and a longtime professional interrogator, Brimley, who fans adore. Who plays Brimley and what does his unique technique involve?
Who plays Brimley in 'The Blacklist'?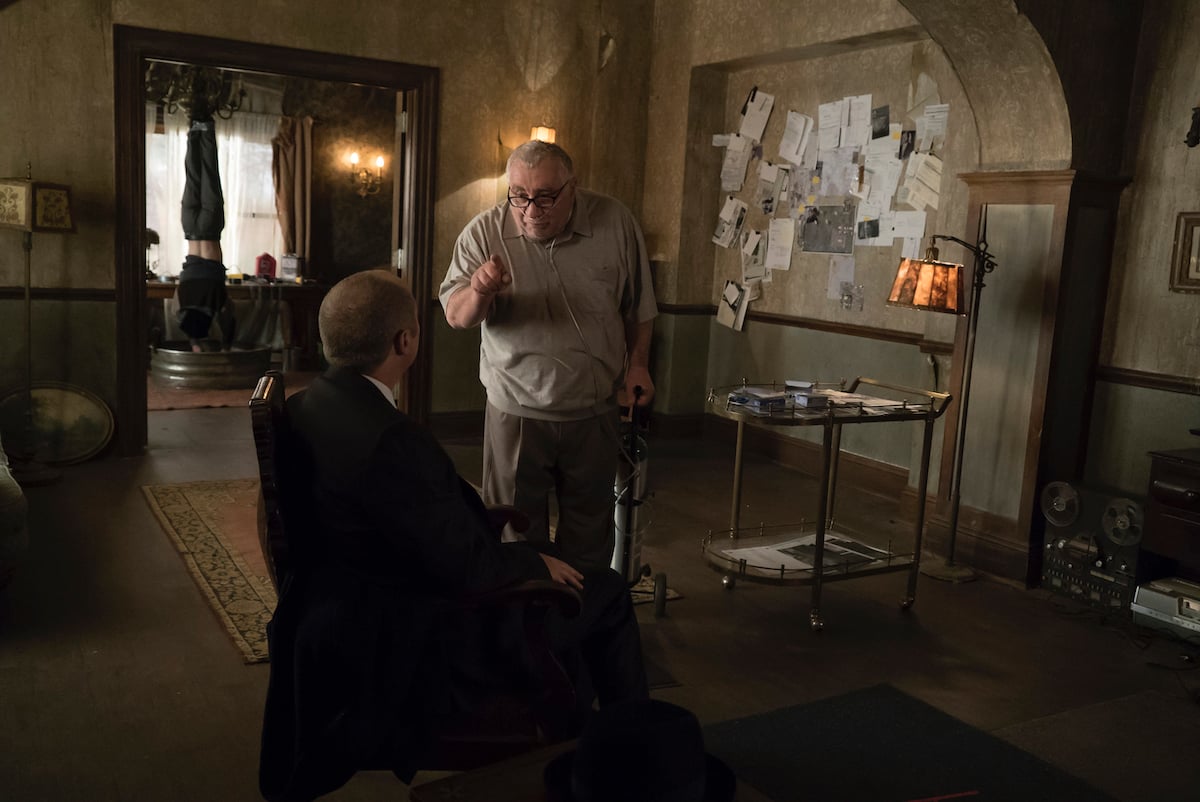 Without Raymond "Red" Reddington's (Spader) crew of misfits, he couldn't possibly run his criminal empire. The premise of The Blacklist lies in Red's ability to locate and confront and/or capture any "blacklisters" he deems a threat.
From the pilot episode when Red turned himself in to the FBI as an informant in exchange for immunity, he's utilized different people from his pool of (mostly) trustworthy acquaintances to find underground criminals.
Dembe Zuma (Hisham Tawfiq) is Red's bodyguard and most trusted companion. Mr. Kaplan (Susan Blommaert) was Red's original "cleaner" before he shot her. Glen "Jellybean Carter (Clark Middleton) uses his DMV job to find anyone Red is looking for.
And finally, Brimley has been Red's interrogator for 19 years. Teddy Culoca has played the role since 2014, with a total of 18 appearances throughout the last six years.
Coluca has been a working actor since 1990 where he first starred as an uncredited hot dog vendor. In the 30 years since then, he's taken on projects like 30 Rock, Younger, and The Marvelous Mrs. Maisel. However, most of his other roles are minor. The Blacklist seems to be Coluca's most notable role to date.
What fans noticed about Brimley's interrogation technique
If you've never caught an episode of The Blacklist in which Brimley appears, his interrogation techniques are what make him so interesting. The older gentleman is small in stature, carries an oxygen tank to breathe — and sometimes the use of a walker or walking aid — and is not in the best of health (to say the least).
Still, when Red calls, Brimley rises to the occasion like a champ. His interrogation method of choice involves the use of his many beloved animals. They aren't harmed during each process (which is never shown), and it remains a comedic mystery as to what Brimley actually does with his plethora of animals that span from a llama to a beaver, and everything in between.
Redditors who adore Brimley noticed an interesting fact about his animals.
"I love that all the names of his animals start with "B." Bernice, Betsy, the llama had a B name too. Now we have bees. The fish was the burrowing kind. Bernice the badger was a digger. Betsy the boa squeezed the guy. What the heck did he use the llama for?" one Redditor commented.
Others chimed in with various examples of Brimley's odd yet amusing ways. In fact, some think his character and a few other misfits should have their own show.
Fans want a spin-off featuring these 'Blacklist' stars
Red and FBI Agent Elizabeth Keen (Megan Boone) are the main stars of the show, but sometimes the humor from Red's "associates" is the only thing that keeps an episode flowing. Some think a Blacklist spin-off is in order.
"I want a spinoff of Glenn and Brimley," one fan commented via Reddit.
"This needs to happen with guest appearances from the showrunners," another said. See what they deal with regularly at the DMV and the doctors office, who else they associate with, what kind of criminal mini empires they run, and HOW THEY ACTUALLY TORTURE PEOPLE (wood briquettes and a squirt gun?!?!?!)."
The star of the show isn't really Red or Elizabeth, according to fans. The Blacklist Season 8 is due soon. Hopefully, writers will give viewers what they want: more Glen and Brimley.