'The Blacklist' Fans Still Scarred From This Season 1 'Distraction'
An overwhelming number of fans found a big distraction in season 1 of NBC's 'The Blacklist'. What is it and why are viewers still talking about it?
NBC's The Blacklist crams a lot of information into every episode. Seven seasons and over 150 episodes later, fans still point out the one thing they can't forgive from season 1. With everything that's happened with Raymond "Red" Reddington (James Spader) and FBI Agent Elizabeth Keen (Megan Boone), you might be surprised at what it is.
Fans have mixed reactions about Megan Boone's place in 'The Blacklist'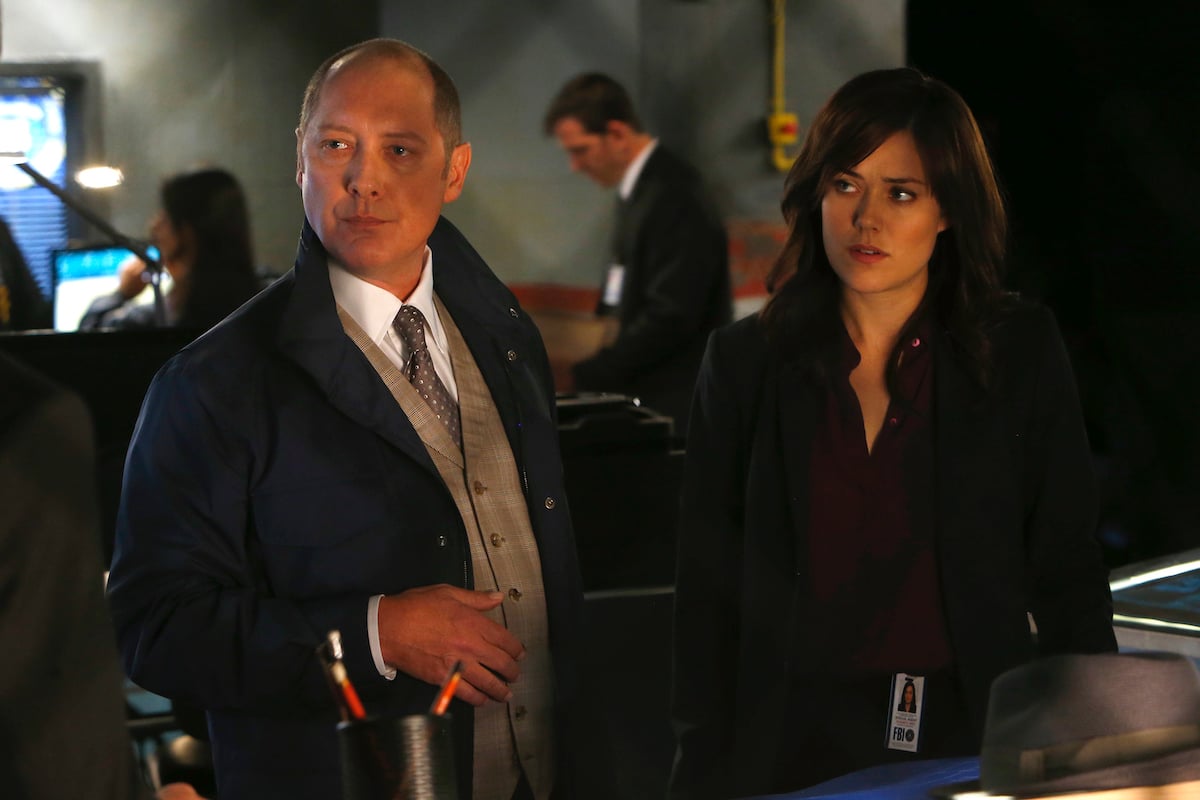 Love her or hate her, FBI profiler Elizabeth Keen is a mainstay of the show's success. Megan Boone, who was the first star cast for the hit NBC crime drama, seems to garner a polarizing reaction from Blacklist fans.
Unlike her legendary cohort, James Spader ("Red"), Boone is a relative newbie who hasn't earned the same level of acceptance just yet. While some argue the comparisons drawn are often unfair — highlighting longtime sexism issues within the entertainment industry — others say she isn't a fit for the role.
Likewise, as the first actor cast for the show, which is going into its 8th season, creators and producers felt she's the only one for the job.
"We looked pretty far and wide for the character of Liz. Casting is so subjective, but when Megan came in — and she did audition — it was one of those auditions where, right away, we were like, 'There is something specific about her,'" producer, John Eisendrath told Collider. "I felt like there was a darkness that she could access."
He continued: "From the first time she auditioned, we felt like she was the one that we wanted.  When you want to cast someone who's unknown, as a centerpiece of your show, you've got to do some lobbying to make sure everybody is okay with that and comfortable with that.  And we really felt comfortable, from the beginning, that she was the right person."
Fans continue to say their peace on Twitter, clinging to one camp or the other.
 "Don't really like Megan Boone as the lead actress in The Blacklist," one fan tweeted.
"so annoying how people don't like Megan Boone on The Blacklist but I absolutely adore her," another argued.
Whichever side fans fall, there's one Blacklist detail nearly everyone seems to agree on.
Many refuse to get over this season 1 detail
In season 1 of The Blacklist, Boone sports something that's difficult to un-see: a wig. After an outpouring of viewer complaints, the star appeared on TODAY and explained.
"British actors wear wigs a lot," she said. "I find it to be a nice ritual at the end of the day, take the wig off, clean the makeup off, go home, leave work behind me."
Whatever the explanation, fans are still talking about it seven years later. Through the many Reddit threads about the biggest star of season 1 (the wig), the sentiments are all similar.
"The wig was extra bad tonight. They aren't even trying anymore!" one Redditor posted.
"What's up with that ugly *I want to speak to your manager* wig she is wearing?" another added.
Some comments note Boone wore a wig due to her shorter haircut at the time while others hoped the wig became part of Agent Keen's storyline in the show itself.
After season 1, the wig disappeared but will it ever make a comeback?
Will it ever happen again? Here's what producers say
Blacklist's producers are aware of the lack of fandom Boone's hairpiece has.
"We've all talked about it, God knows, more than we ever thought we would," Eisendrath told Entertainment Weekly. "We are aware people talk about it. Megan is a great actor. It seems like it's not as consequential as what she's doing [on screen]."
Writing partner, Jon Bokenkamp, noted the double standard of Boone getting complaints about her hair while Spader's shaved head didn't receive the same criticisms.
"She's probably going to grow her hair out, so the wig will be a thing of the past," Eisendrath added.
Rest easy, Blacklist fans. Writers will be a little more careful with how they portray Agent Keen's hair in future episodes.