'The Blacklist' Fans Want a Character Arc Redemption for This Task Force Member — and It's Not Liz Keen
Season 8 of NBC's The Blacklist began with Liz Keen (Megan Boone) who was on the run with the desire to kill Raymond "Red" Reddington (James Spader). It's now ending with her at his side showing how much things have changed. That season-long character shift isn't the only one fans have noticed. Here's why some demand a redemption arc for one of Liz's former associates.
'The Blacklist' FBI task force has changed since season 1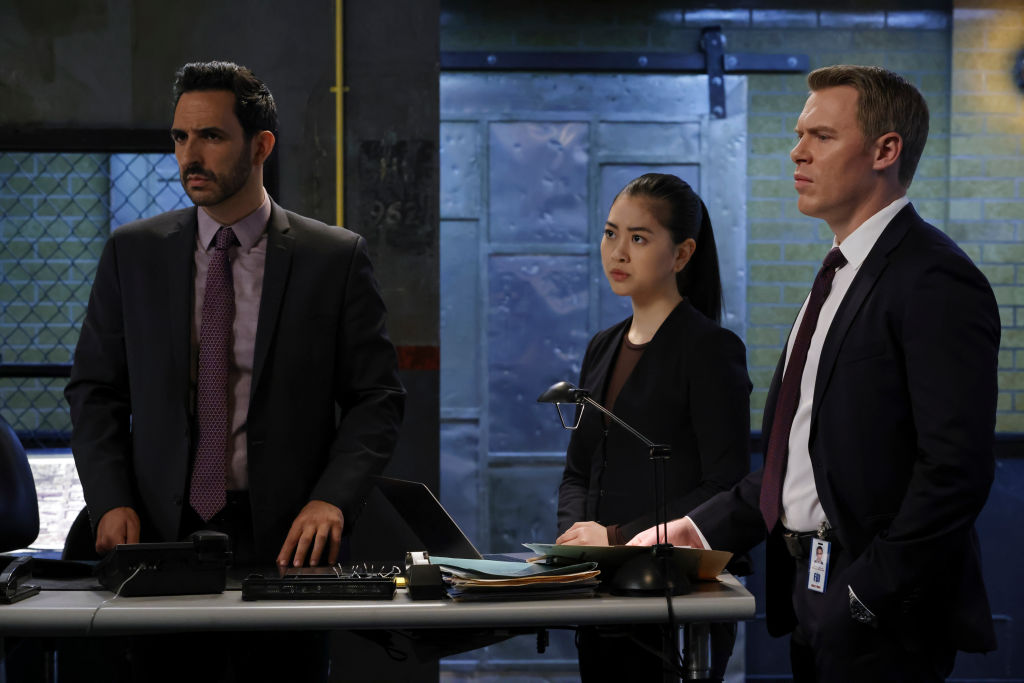 RELATED: 'The Blacklist': The Biggest Answer of the Series May Have Been Hidden in Plain Sight
Way back at the beginning of the Spader-led series, the FBI task force had a few different faces. Liz had only just joined as a profiler, alongside Diego Klattenhoff's Donald Ressler, Harry Lennix's Harold Cooper, and Parminder Nagra as Meer Malik.
The show has seen a few others come and go such as Mozhan Marnò as Samar Navabi and the newest face Laura Sohn as Alicia Park as well as a few others. All the characters have grown and changed throughout eight seasons, including Aram Mojtabai played by Amir Arison whom fans beg to change.
Fans want redemption for Aram Mojtabai
RELATED: 'The Blacklist' Fans Have a Few Theories About the Series Endgame
As the friendliest task force member, it seems Aram has taken a hit from The Blacklist fanbase for not being hard enough — or sometimes too hard.
One Redditor wrote: "Am I the only one who finds Aram slightly annoying? Especially this season (in the beginning at least) with his inability to grow a spine and arrest Liz when she was standing right in front of him or letting the cyranoid overpower him when he had a gun. Paired with his nonsensical ranting, I sometimes find it hard to take him serious as an actual FBI agent."
Others didn't hesitate to weigh in on one of the show's longest-recurring characters.
"You're not alone, I'm with you and for the same reasons," one fan said.
"I enjoyed the kind of bumbling, way too trusting computer guy in the early seasons, but I really liked his moment in the hospital room talking to Liz on the phone (next time I see you, you'll be in cuffs). And I wish they would not have allowed him to be so wishy-washy on that, it seemed like good character development only to have the pendulum swing back again," another fan said.
Some wish writers could be a little more consistent
A few more centered on how much Aram has changed — for the worse — with the hope that writers might write him back to his original self. However, some defended the character.
" I see Aram as the person I believe Amir Arison to be…a good hearted and forgiving person. He's been that way since the first season and I haven't seen much change in him at all. He's loyal to friends and colleagues no matter what and he's one of the few on the TF that believes Red is on their side," one said.
"It is easy to relate to Aram. He is very intelligent but still an average person and a follower. Many like him because of he respects and fears Reddington. Out of all members of the task force, his has the most favorable view of due to his lack of field experience working with the criminal," another added.
The biggest grip, however, is that writers haven't been consistent. With season 9 ahead, only time will tell if Aram can ever revert back to who he was before. The bigger question is, should he?
Will 'The Blacklist' Season 8 finale finally reveal who Red is?
RELATED: 'The Blacklist' Stole Content From Previous Episodes Due to Shrinking Budget
Regardless of what happens with Aram, the season 8 finale airs soon. The previous episode answered a few lingering questions about Reddington and Liz's past, but not the only one fans care about: who is he?
It's clear many have grown tired of the vague answers and diversions to distract from the truth, but it wouldn't be likely that The Blacklist answers all of that in the finale. However, news of Boone's exit definitely sets up a different season 9, so there's always a chance Red will come clean for the sake of typing up a loose end.
If history taught us anything, it's not to count on a direct revelation, so just enjoy the ride.
The Blacklist Season 8 finale airs Wed., June 23 at 10:00 p.m. on NBC.