'The Blacklist' May Have Foreshadowed the 'Konets' Ending Earlier in Season 8
The Blacklist Season 8 finale "Konets" was a shocker. The alleged death of former FBI profiler Elizabeth Keen (Megan Boone) changed the trajectory of the series for informant Raymond "Red" Reddington (James Spader). While the events in the finale might have surprised some, the series foreshadowed Liz's demise earlier in the season — if you were paying attention.
'The Blacklist' Season 8 put Liz Keen through a lot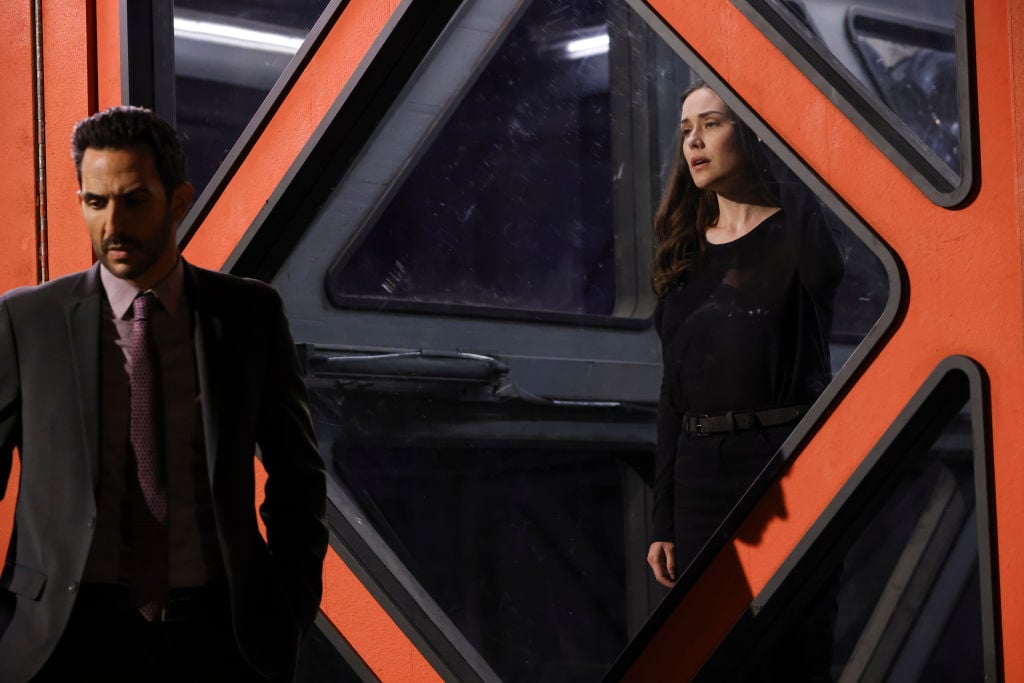 RELATED: 'The Blacklist': Did the Season 8 Finale 'Konets' Definitively Answer Whether Raymond Reddington Is Liz's Father?
When season 8 began, Liz was on a revenge mission of her own making. The season 7 finale — which was partially animated — revealed a darker Elizabeth Keen, intent on siding with the woman she believed to be her mother Katerina Rostova. Siding with the woman (who was found out later to be Tatiana Petrova) meant going against Red. Thus set-up season 8.
The bulk of season 8 involved Liz's vengeance after witnessing [fake] Katerina's death by Red. Without knowing the whole story, Liz went rogue. Her own FBI task force chased after her throughout the season, while she reached deals with some of Red's worst enemies.
Liz's desperate need for Red to die clouded her judgment in every way, ultimately ending with her own (alleged) death in the season 8 finale. Some think this was all foreshadowed earlier in the season, thanks to an old friend.
The episode viewers learned that Liz isn't OK
RELATED: 'The Blacklist': 5 Reasons Season 9 Might Be the Best of the Series
In an April 2021 episode, "Misère," Liz experiences hallucinations of Mr. Kaplan (Susan Bloammaert). As many remember, Mr. Kaplan was killed off the show in season 4, but she returned as Liz struggled with the war against Red.
"We last saw Elizabeth Keen in the fourth episode of this season when she went underground to prepare for her war with Reddington. This next episode — which plays with both time and perspective — will tell Liz's side of the story," creator and executive producer Jon Bokenkamp told Entertainment Tonight at the time. "It explores Liz's journey since we last saw her, and yes… Mr. Kaplan is a part of that journey."
Those conversations with a dead woman showed another side of Liz — something that goes a lot deeper than her external motivations and into the psychological territory.
"In times of high stress and emotional turmoil people de-compensate and hallucinate," one fan said on Reddit.
"The only way the writers could make her coming back to the task force work (if the actress chooses to remain with the series), is if Liz had some sort of temporary mental illness. How can she go back to the task force instead of prison after everything she has done?" a fan said on another thread.
If Liz began hallucinating Mr. Kaplan, what else has she hallucinated? How much of what we think Liz knows is real? This glimpse into her deteriorating emotional state shows why there's always more than meets the eye. Since her death, some fans are referring back to one crucial detail from earlier in the series.
'The Blacklist' fans also think it might be in her head
RELATED: 'The Blacklist': Will Raymond 'Red' Reddington Die in Season 9?
The episode "Nachalo" opened the door to the mythology behind Red's blacklist but some question how much of it was in Liz's head.
Maybe, Liz finally had a total mental breakdown and she is hallucinating things, and the whole thing was Red using Liz and the chip to draw Townsend into the fort in Latvia, to go in the nest and cook Townsend, and instead, Liz stood there hallucinating with people who do not seem to notice she is there, even as she screams 'there is more' and who after being killed seem to disappear. Maybe Liz is still on the plane, or she is in some mental institution, or she is recuperating from a face job that leaves her looking and sounding different," one fan said on Reddit.
"If NBC hated Bokenkamp's ending this left room for a retcon for what happened at the end of season 8. It really was weird that Liz switched to all happy and at peace with Red, along with Mrs. French being contacted by Red, and everyone being one big happy family at the park. It really did feel like Liz entered Alice's Wonderland," another said.
Did Liz have the 'warrior gene'?
Many others pointed out that Liz likely has "the warrior gene," which has been discussed at length. First mentioned in season 2, the gene is said to make people into killers when triggered. Liz has, on many occasions, acted on this.
"Lizzy is the original warrior gene trial and her entire life has been a lie," another fan said.
"I think she did have the warrior gene, and like other issues, such as mental health, it has been there the entire time, and when a traumatic event happens, it triggers it into action," another added.
In previous seasons, Liz also revealed things about her past that many may have forgotten. She admitted to being treated for anxiety and depression in college and even had her stomach pumped for taking too many pills. This along with her multiple instances of aggression — stabbing Red in the neck and shooting Tom Connelly to name just two — could've contributed to the culmination of "Konets" and Liz's death.
If you rewatched all eight seasons and made a list of Liz's behaviors, the finale suddenly makes sense. If only we knew then what we know now. Here's to season 9 and (hopefully) real answers.