'The Blacklist': James Spader 'Instigated' Red Reddington to Have a Shaved Head
The first seven seasons of the NBC dramatic series The Blacklist starring James Spader are currently streaming on Netflix. The season 8 finale, which aired in June 2021, is expected to hit the streaming service later this year.
NBC has already signed on for what many expect to be the final episodes of highly anticipated season 9.
Spader plays the leading role of Raymond "Red" Reddington on the popular television series. The veteran actor has a creative influence on many aspects of the multi-dimensional character. He even is behind the shaved head appearance of the criminal mastermind he portrays.
'The Blacklist' has had an 8-season run
The long-running crime drama focuses on Reddington, a terrorist who has been on the FBI radar for decades. He mysteriously appears and promises to turn himself in, but only if he can speak to rookie FBI criminal profiler Elizabeth Keen (Megan Boone).
The criminal turned informant was once a U.S. Naval Intelligence officer that decides to come out of hiding. He provides valuable information in exchange for his freedom, offering a list of highly sought-after notorious criminals.
Spader, known for his role as Robert California from The Office, effortlessly characterizes Reddington. He masterfully follows the ebbs and tides and twisting storylines with unbelievable intrigue.
How Spader 'instigated' the shaving the head of his character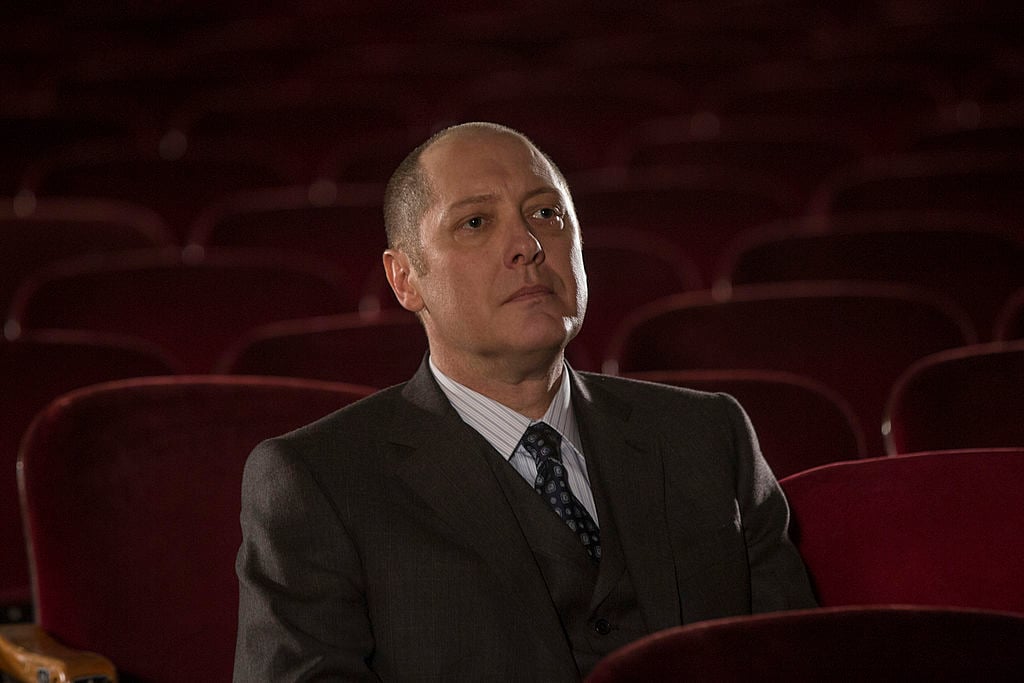 In the pilot episode of The Blacklist, Spader took off his signature black hat and surprised viewers with a bald head. At the time, he told reporters, "I thought it would be a great moment when he surrenders himself and takes his hat off and the juxtaposition of the shot with him in the long hair [that you see in his mug shot]."
The Avengers: Age of Ultron actor explained that he thought as an international criminal, Reddington should have "low-maintenance hair" and clothes that "can go from a bank to a cave."
Alluding to the depth of his character portrayal, Spader explained, "The way his life has been for the last 20 years, he's moving from place to place. I thought that he should have a haircut that he could do himself, if he cares to, or he could go to some barbershop in Cambodia and cut his hair in 10 minutes."
Cinema Blend reported that in 2013 Spader said, "I'd had my hair long for, I think, the last few projects that I'd done. And it just felt – it felt like the right thing for him, so I – it was an idea that I instigated, and I think it was the right choice."
Spader continued, "It just seemed to fit his lifestyle, and he's someone who has to move – travel lightly and more swiftly – and it seemed eminently practical for him."
The New-U blog begs to differ with this reasoning for shaving his head, saying Spader "started to show thinning hair in his 40s." They claim, "He initially covered it up with toupees but has now embraced his baldness."
Spader also inspired his character's signature fedora
A fan of wearing hats himself, Spader also reportedly inspired producers to allow Reddington to don the signature fedora, which has become his trademark look. In a 2014 interview with Today, the Boston Legal alum said he liked the idea of Reddington wearing a hat since "he doesn't have any hair."
Spader no longer personally wears a fedora, saying, "I've always worn hats, but I've had to put my fedoras on the shelf and pull out my homburgs and caps."
The iconic fedoras are made from beaver felt and retail for $550 on The Penman Hat Company website. The hatter credits Reddington with bringing "style back to TV."