'The Blacklist': Megan Boone's Favorite Scene With James Spader Is Kind Of Disturbing
The first scene Megan Boone shot with James Spader for 'The Blacklist' is her favorite. It's also one of the more disturbing. Here's why.
In a world where a wanted fugitive surrenders to the FBI, anything goes. James Spader and Megan Boone rule all in NBC's The Blacklist. The series showcases Spader as fugitive, Raymond "Red" Reddington, and Boone as Elizabeth Keen — the only FBI Agent Red will deal with. Of all seven completed seasons, there's one moment Boone recalls as her favorite and it's a little unpleasant.
Executive producer John Eisendrath explains why 'The Blacklist' needs Boone and Spader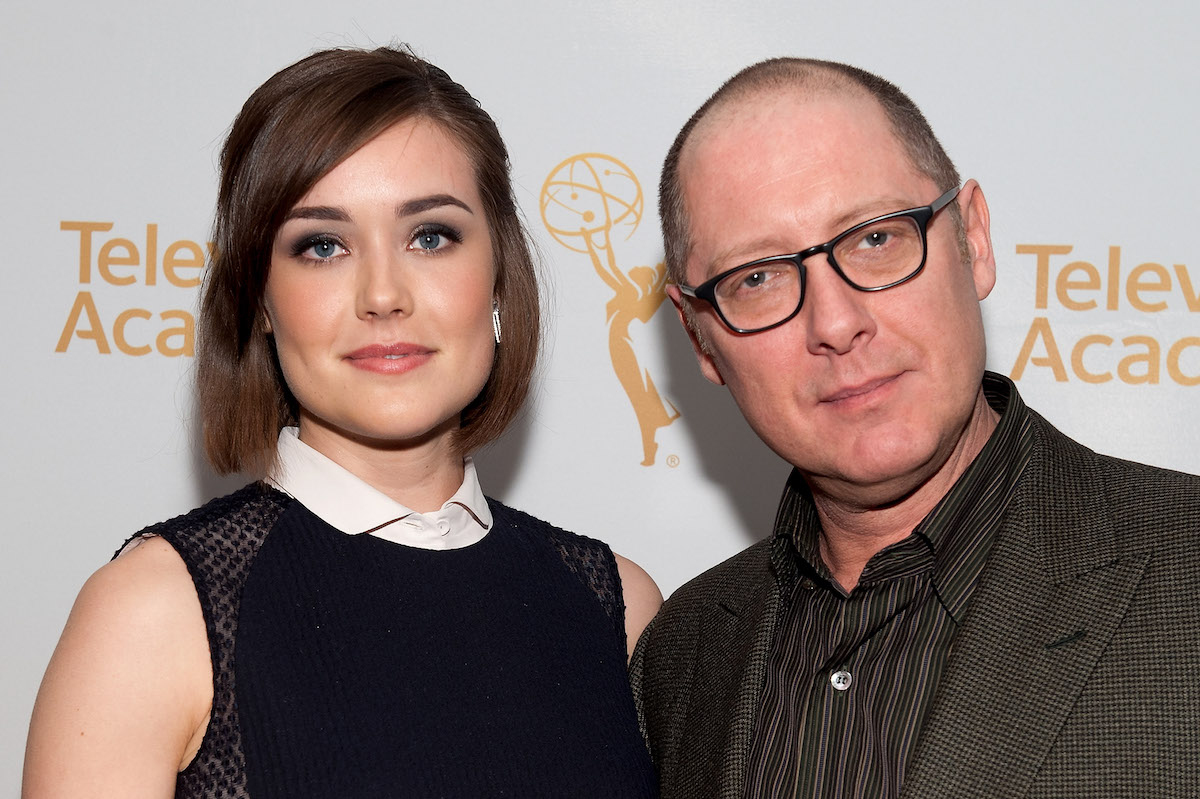 The Blacklist isn't your typical procedural crime show. Unlike Law & Order, Criminal Minds, and all others that have followed the procedural formula," The Blacklist has a recipe all its own. That, in part, has to do with the way creator, Jon Bokenkamp, developed the show's characters.
Executive producer, John Eisendrath, called Bokenkamp's creation "incredibly compelling." He added that there's a bit of luck that goes into the longterm success of a show.
"Finding people, like Megan and like Spader…you can never count on going out to cast something and getting people who understand the parts and who in many ways, bring from their own lives something that both adds to the part, but also relates to it," Eisendrath told Daily Actor.
"I think in both Megan's case and Spader's, there is something about each of them as individuals that molded with the character that was on the page. That is essential to having a successful show because at that point then, they really become dimensional."
He continued: "I think it's a combination of the script and the right cast. We were incredibly lucky."
Boone was the first to get a job with The Blacklist. It took longer to find the perfect person to play Red. The network wanted to push the pilot until the show's co-lead was found. Spader didn't sign on until three days before the pilot.
"It was always very chaotic. You have to be very, very lucky to have it work. Then, once those pieces come together, moving forward, each episode is like the chapter of a really good novel where you've started with a great first chapter and the pilot. Hopefully every episode we can deliver a new chapter that's, you know, as good as the first one," Eisendrath added.
Boone reveals her favorite scene with Spader
Of all the episodes filmed over seven years, there are a lot of moments for Boone to choose from. Her favorite, she told the outlet, is a disturbing one.
"The scene in the pilot where I stab Red in the neck was really an incredible day. We were on the 29th floor of the Waldorf Astoria on Park Avenue, which for me was just kind of larger than life, you know, just an experience that felt a little bit like I had gone into a different paradigm or something," she explained.
"It was my first scene shooting with James. That was the first time I learned what an incredible co-worker and collaborator he was going to be. I did not know what to expect, as I'm sure anyone going into a working relationship that doesn't know, but it was so refreshing to me to be kind of nervous."
She continued: "I kept to myself and worked as hard as I could that day. He would pull me aside in between scenes and ask me how I felt the scene was going and what I needed from him. By the end of the day, I was just as open and sort of collaborative involved and free as I could be with anyone. That's a huge testament to him that he made me feel that comfortable."
The star has certainly grown more comfortable over the years. From that first scene with Spader — stabbing him in the neck — to becoming a wanted fugitive, and everything in between.
Why working on 'The Blacklist' has been a 'difficult experience' for Boone
The final product of The Blacklist is seamless. The cast works long days with a lot of editing magic to make it what it is. Boone said The Blacklist is "one of the most difficult experiences" she's "never had."
"Without that difficulty and level of challenge, I don't think that the colors would be there to play Elizabeth Keen. She is entirely overwhelmed. It's about funneling all of it and dumping all of it into the scene work as much as I can," she said.
The fatigue, the exhaustion, the feeling of being overwhelmed — but maintaining that inquisitive, joyful feeling for the work — that is what keeps me going and it's a huge lesson that I learned from James."
The star added that the reward in those experiences comes from getting through each week.
"You see a scene put together from that week and it's really good. That is a very satisfying and rewarding feeling," she said. "I feel like every day, I wake up and I read something. I try to engage in something new that will inspire a new thought that will inspire a new moment on screen that will add to the episode."
Other pieces Boone enjoys include the journey of uncovering the series-long puzzle as well as collaborating with co-stars.
"I feel like everyone around me has an intelligence that I can draw from and that can influence me and help me to do a better job," she said. "Everyone on this show has a very generous nature and is willing to give and receive and trade ideas. It's a very creative environment, so that's been extremely rewarding as well."