'The Blacklist': Did Raymond Reddington Make a Deal to Test Liz?
In The Blacklist, nothing is as it seems. From the very start in 2013, criminal-turned-informant Raymond "Red" Reddington (James Spader) told a story of partial truths and misdirects. Reddington is nothing if not three steps ahead of everyone else. With that in mind, did he conjure that life-ending deal to test Elizabeth Keen (Megan Boone)?
Elizabeth Keen took the top blacklist spot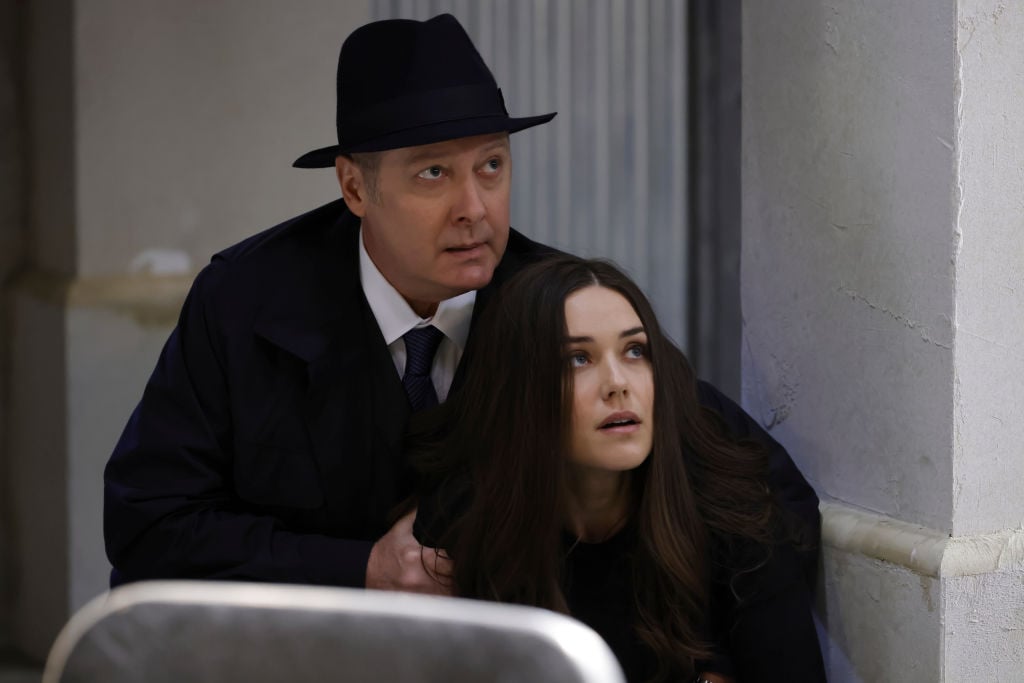 RELATED: 'The Blacklist': Yes — There's a Raymond Reddington Shoe Collection and It's 'a Gas'
Of all the criminals and underground terrorist organizations on Reddington's blacklist, viewers had a feeling Liz Keen would end up there. Season 7 spent time setting up the story of a pseudo-Katerina Rostova (Laila Robins) as she infiltrated Liz's life, pretending to be her long-lost mother.
The partially animated season 7 finale ended with Liz declaring war. When Liz watched as Reddington shot and killed [who she believed to be] Katerina, she sought revenge which meant going rogue from the FBI task force team, working with criminals, and making decisions that made Liz the number one blacklister.
The final three episodes put mythology in the driver's seat so that Liz got some long-awaited answers about her past, her mother, and Reddington. By the season 8 finale "Konets," Liz and Reddington have made amends but she dies before viewers ever get to see what relationship comes from it. Was Reddington's deal all a test?
Did Raymond Reddington make a deal to test Liz?
RELATED: Why 'The Blacklist' Season 9 Could Parallel This Season 1 Tragedy
As viewers know, Red was diagnosed with a mysterious terminal illness in a previous season of The Blacklist. However, in "Konets," Dembe (Hisham Tawfiq) mentioned things looking up. This didn't matter to Red because he'd already created this plan to leave his empire to Liz.
Reddington came to the conclusion that the only way to keep Liz and her daughter Agnes safe was if Liz killed Red. The result, he said, would show other blacklisters she's a force to be reckoned with. After all, if she could do the one thing none of them could do — kill Red — they'd fear and respect her.
When it came time to pull the trigger, Liz couldn't do it. Red told her, "it's alright," just as Townsend's mercenary VanDyke shot and killed Liz. While moments from her life flashed as Reddington held her, it left some to wonder if the deal was a test to see if she'd come back from the dark side. Because she couldn't kill him, he realized in the final moments she had and therefore she'd been redeemed in his eyes.
If Liz had shot Reddington — an alternate 'Blacklist' finale
RELATED: 'The Blacklist' Star James Spader Once Revealed He's 'Not Interested' in the Lives of His Colleagues: 'This Is How It Was and It Is and It Will Be
While it does no good to stay stuck in the past, it's worth thinking of how things would play out in season 9 if Liz had shot Reddington either before she died, as she died, or in place of her death. Or, if VanDyke hit Red and completely missed Liz.
Since Boone already announced her exit from the show, her absence from future episodes was inevitable whether they killed her not. Had it been Red who took the bullet, Liz could've gone into hiding or died trying to protect him. Then, he could've whispered the truth to her as he's also sustained injuries with no direct mention of whether either survives or not. Something more ambiguous in terms of the deaths while allowing Liz to hear the truth would've felt a lot more satisfying than what unfolded.
However season 9 begins or ends, we're pulling for you, Blacklist.
The Blacklist returns Thursday, Oct. 21 to NBC.