'The Blacklist': What Is Red 'Dying' From? Fans Have a Few Ideas About His Lingering Illness
For a few seasons now, NBC's The Blacklist has teased the illness of Raymond "Red" Reddington (James Spader). Without directly stating what's ailing Red, we've heard on multiple occasions that it's terminal. The long-running series likely wouldn't survive losing the main antagonist. What exactly is Red suffering from and will it be addressed in season 9?
'The Blacklist' season 8 finale revealed that Red's illness is getting better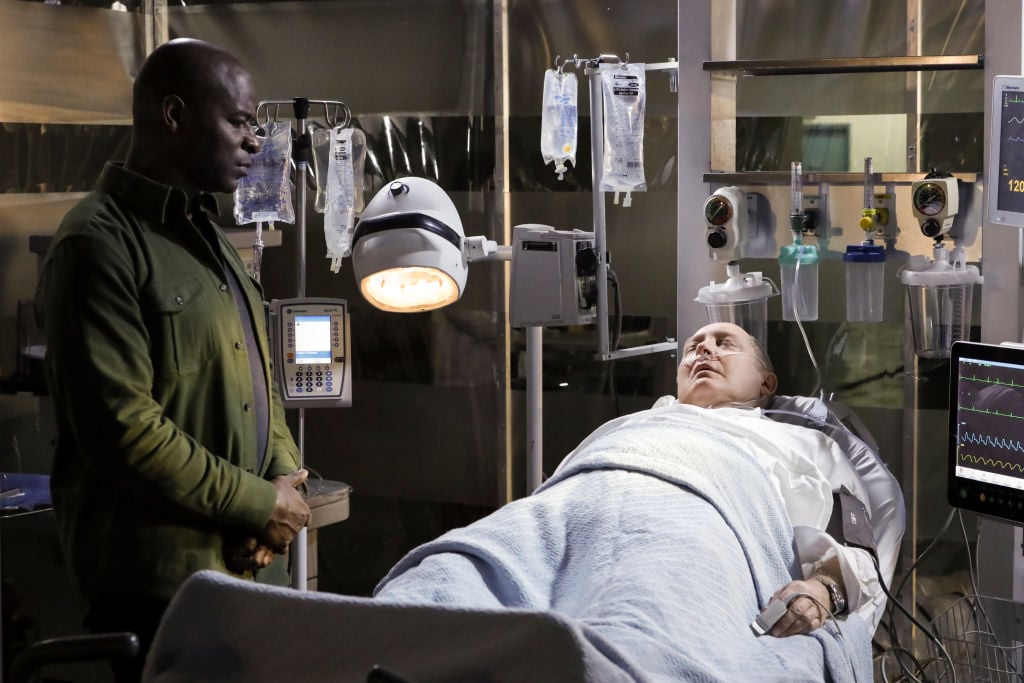 RELATED: 'The Blacklist' Season 8 Finale 'Konets' Final Scene Explained
Red's mysterious illness first surfaced in season 6. His deteriorating health — which he vaguely mentioned was neurological — led to him collapsing in season 7. By the time the partially animated season 7 finale rolled around, his illness was at an all-time low when he couldn't see or hear Liz (Megan Boone).
At the time, series creator Jon Bokenkamp told Entertainment Weekly is "very real" and "very present."
"That ailment, which has been lurking in the background, as we saw in the finale, is very real and very present, whether Reddington wants to acknowledge that or not," he said. "It seems that he's trying to wish it away, but everyone else in his life is really worried for him. Reddington's ailment is something that is not going away. It's a story that we're going to be opening up and leaning into and learning more about when we get into season eight."
However, in The Blacklist season 8 finale "Konets," Red made the decision to have Liz kill him in order to save her life and take over his empire. Much of that rested on the notion he would die anyway. Dembe (Hisham Tawfiq) said he was getting better, not worse, but Red already had his mind made up.
We know now that Liz was shot in the final moments of "Konets" — not Red. With that said, he is still sick from something and some think they know what it is.
Fans think they know what's making Red sick
RELATED: 'The Blacklist': 6 Things You Forgot Happened in the Pilot Episode
With Red's symptoms ranging from fainting to memory lapses, it's hard to pinpoint what all those private nurses and doctors are treating. Fans, however, have a few theories.
"The most likely explanation is that Red has residual effects of the poison that Kate put in his scotch in The Apothecary. If you remember, he had a lot of breathing problems and lung issues. It probably damaged his lungs," one fan theorized on Reddit.
"I'm thinking it's something hereditary and will eventually lead to figuring out who he really is and whether or not Liz is related. A concussion, if it did cause major damage, would require surgery and possibly some short term medication, but not anything long-term other than something for pain/headaches, which wouldn't require a specialist working on a cure," another said.
"I believe that Red's illness is one of either two illnesses one being small cell lung cancer or tuberculosis (TB)," this fan stated.
Season 8 should've revealed his illness
In the episode "The Wellstone Agency," we learned that the illness would eventually cost Red his memories. This could play out in a number of ways in season 9, beginning with the revelations about Katerina Rostova in "Konets." Executive roducer John Eisendrath previously told Hollywood Life they intended to spell it all out in season 8.
"I think that, yes, we have every intention of being clear with the audience here about what it is that he has been suffering from," he said. "I think what he has been suffering from has impacted some decisions he's made that we've already seen in previous episodes, and I think the same will be true going forward."
That didn't exactly come to fruition. Seeing as Dembe mentioned things are on the mend, it makes us wonder if writers are hoping we'll believe he's OK just before Red meets his fate.
Will Red ultimately die in 'The Blacklist'?
RELATED: 'The Blacklist': 5 Characters That Could Make a Surprise Return in Season 9
Season 9 has already been confirmed and will begin with the NBC fall lineup. We also don't know if it's the final season of the series which would inspire writers to tie up all the loose ends — like Red's mortality. Without Liz to protect, Red's new journey also remains unclear, leaving room for his character to do a few things: run from enemies, stay to protect Agnes, and/or succumb to his illness.
Some do think Red will ultimately die by the time the show wraps for good, but not sooner.
"I think that Liz shot him when she was 4 and he has a bullet lodged somewhere that's causing his illness but James Spader IS the show, killing him off would kill the show so if it happens it'd be at the very end otherwise there's no chance," another fan said.
"I think the series will end with Red's death but not from the disease. Walter White wasn't killed by cancer, he was killed by a bullet. So I can see Red's disease affecting Liz's final dynamics with him and then him sacrificing himself to save Liz. This may only happen in the penultimate episode and then we have everyone picking up the pieces in the finale and moving on to life without Red. Even then, Spader can still feature in the finale via flashbacks or a final video message from Red," another added.
Whether season 9 is the last or not, we hope we get answers about what's ailing Red and how it'll affect his journey ahead.