'The Blacklist': What Was In Raymond Redington's Letter to Liz Keen?
Of the more infuriating moments for fans of The Blacklist is that of the final moments of the season 8 finale "Konets." The episode spent the first half showing that Raymond Reddington (James Spader) wrote a letter for Liz Keen (Megan Boone). However, he said she couldn't have it until after he died. The catch is that he asked her to be the one to kill him. Things didn't exactly go down the way Red planned. So, what was in that letter?
Megan Boone's journey as Elizabeth Keen is complex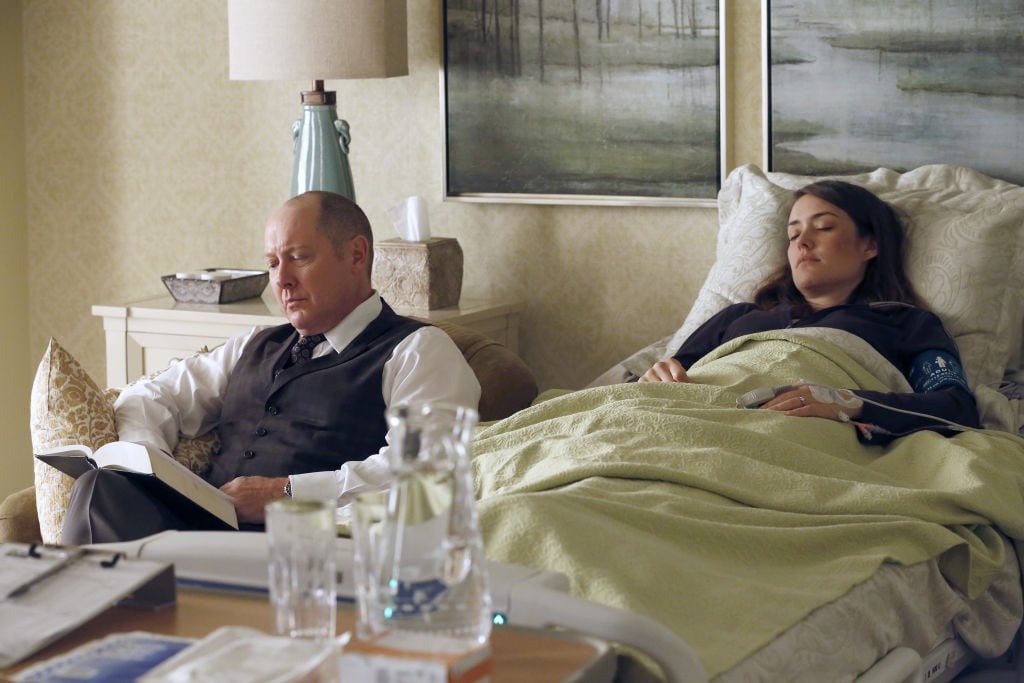 The pilot episode introduced Boone as new Quantico graduate Elizabeth Keen. She and her husband, Tom Keen (Ryan Eggold), were in the process of adopting a child when Reddington turned himself in to the FBI and requested he speak with only her. From there, her life ultimately turned upside down.
"Reddington walking into her life didn't only blow up what Liz thought her life was, it began to reveal truths about herself that she didn't know," series creator Jon Bokenkamp previously told Entertainment Weekly. "Red coming into her life in the pilot isn't so much strangers meeting," Bokenkamp says. "It's the beginning of her journey of self-discovery."
That self-discovery led to other discoveries, such as the fact that Reddington was responsible for the deaths of Liz's father figure, Sam Milhoan (William Sadler), and close friend, Mr. Kaplan (Susan Blommaert). It's also revealed that Liz had a so-called warrior gene, which explains why she was so easily drawn to the dark side in later seasons.
What was in Reddington's letter to Liz?
With season 9 set to premiere on Oct. 21, we want to believe Reddington will reveal the full contents of the letter somehow. With Liz supposedly dying on the street after Townsend's righthand man Vandyke shot her, Reddington doesn't use the time left to read the letter's contents to her.
What happens instead are the flashes of memories that Liz "sees" as she takes her last breaths while Reddington holds her. Season 9 could go one of two ways. Either they'll have Reddington, Dembe, or someone read the words he wrote, or they'll ignore it and never speak of it again. The problem lies in how relevant the letter is if Liz is dead.
That said, fans have a few theories as to what the letter contained.
"I think the letter contains Red's true DNA results for Liz to compare against her own. Liz begins to read the letter, excited for the truth to be revealed finally. But wait a minute… Liz looks up from the letter to Red with clear confusion on her face," one fan wrote.
"Instructions most likely, details on a new life, new identity, place to live," another said.
"DNA results. The whole season 8 was a mirror to the whole season 4. From fake to whisper to letter with DNA results," another added.
Without fully knowing the contents of the letter — and we might when season 9 begins — it's hard to say what direction the show will take with or without Boone.
'The Blacklist' without Megan Boone could look drastically different
Without its series creator or lead star, it might be the end of an era. Bokenkamp's vision for the series has remained fairly steady, and he's spoken about it ad nauseam via various outlets. When season 9 premieres, we could see flashbacks of Liz that were filmed before Boone left the series. They could also say she lived and replace her with a different actor and say she "changed her identity" for safety.
However, if Boone and her character are completely out with no return, it's unclear how writers will move the story along. The truth about Reddington's identity — and keeping the truth from Liz — was the primary focus for eight seasons. The show would essentially start over with a new motivation for Red to keep his identity hidden without relying on Liz to carry the questions about it.
The Blacklist returns Thursday, Oct. 21, to NBC.