'The Blacklist' Season 9: Will Dembe Be Charged as a Co-Conspirator?
In season 1 of The Blacklist, Raymond Reddington's (James Spader) sidekick Dembe Zuma (Hisham Tawfiq) brought viewers the bromance of the century. Their kinship is nothing short of majestic despite the fact that the criminal underworld is what led them together. That said, with everything Reddington's done — including jail time for his crimes — why hasn't Dembe been charged as a co-conspirator?
Dembe Zuma is Raymond Reddington's right-hand-man — except for the time he made the blacklist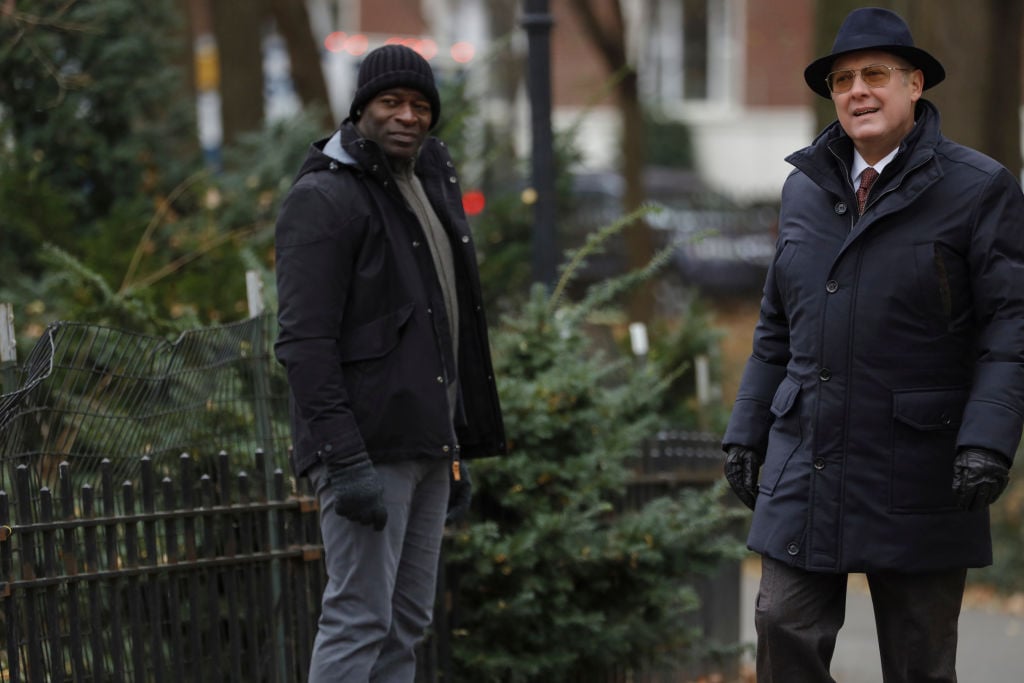 RELATED: 'The Blacklist' Producers Give an Update on the Future of the Series
Former Marine and retired FDNY firefighter Tawfiq has played Dembe since the season 1 episode "The Freelancer." His fierce loyalty to the man who saved him (Red) has been at the forefront of the NBC series. Though the character of Dembe was only meant to have a short stint, Spader lobbied for Hisham to stay.
Nearly every episode reveals just how close Reddington and Dembe remain, but that doesn't mean Dembe is OK with the criminal informant's choices — especially when it comes to keeping the truth about his identity from Elizabeth Keen (Megan Boone). This is one area the two disagree on.
Dembe is generally the yin to Reddington's yang, but he didn't make the No. 10 spot on the blacklist for nothing. In season 4, Red's most trusted friend was on the run after Red believed Dembe poisoned him. Dembe and Aram (Amir Arison) teamed up to find the real culprit. All of this culminated into Reddington's discovery that Mr. Kaplan didn't actually die when Reddington shot her. Out for revenge, she poisoned Red and used Dembe as a patsy.
That said, Dembe has taken part in a lot of Reddington's shenanigans without much consequence. Is it inevitable?
Could Dembe face arrest in 'The Blacklist' Season 9?
RELATED: 'The Blacklist': The Two Lines From 'Godwin Page' That Could Explain Where Season 9 Is Headed
With how much trouble Reddington's caused over eight seasons, some want to know why Dembe hasn't had any legal consequences.
"I'm halfway through season 6 and wondering why Dembe was never arrested as an accessory to RR crimes. After RR arrest in the court, you hear testimonials from agencies with a RR task force who talk about their investigations but they never care about Dembe," one fan wrote on Reddit. "I'm I the only one that thinks this is odd? Surely if you know about RR crimes and the fact Dembe is his right-hand man you'd be calling for his arrest as well."
It's a fair concern and plenty of fans agree. Reddington's history of killing people (good or bad), his escape from prison, and a multitude of other high crimes should in and of itself find Dembe in contempt for aiding and abetting a fugitive. Some of this led to Dembe's season 6 decision to walk away. Albeit, his absence didn't last long, but his character continues to have issues with Reddington's often immoral decisions.
At some point, we have to believe Dembe will be arrested and charged for something Reddington's done, and maybe it'll be the turning point for the most-wanted criminal.
'The Blacklist' Season 9 might be an entirely different story for Reddington and Dembe
RELATED: 'The Blacklist' Boss Jon Bokenkamp on Series Finale: 'We Have a Story and It's One We're Sticking To'
With the season 8 finale "Konets," viewers witnessed the death of Liz Keen. Her safety was Reddington's primary focus for eight years. Now that she's gone, we foresee a new motivation for Red and his trusted cohort. Some thoughts on the season to come suggest a retcon of series creator Jon Bokenkamp's brainchild to avoid consequences for things semi-revealed.
The "Rederina" theory is one circulated most, stating Katerina Rostova transformed into Raymond Reddington for various reasons. Not everyone believes this theory but whether it's what Bokenkamp intended or not, it begs the question of how complicit Dembe's been throughout Reddington's life of lies. If he's not caught by authorities, will he acquire Red's empire when Red succumbs to his terminal illness?
Whomever Red turns out to be, Dembe knows the truth. It's time he shares with the rest of the class.
The Blacklist returns this fall to NBC.